28.11.2003
---
SUBWAY TO SALLY SALTATIO MORTIS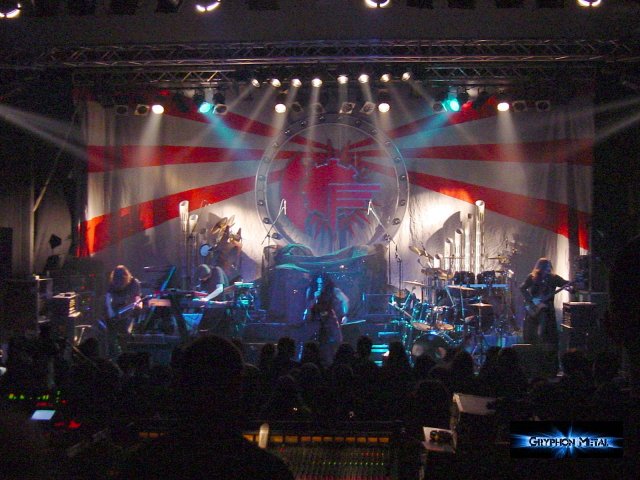 AKA PROFOUND
October 30th 2003 - ABC Mixx Club - Luzern
review by dalia "gryphon_spirit" di giacomo - pic
©
by Stefan Vogelaar
The public use of this pic
is strictly prohibited without written permission
INTRO
AKA PROFOUND
SALTATIO MORTIS
SUBWAY TO SALLY
AFTER SHOW
INTRO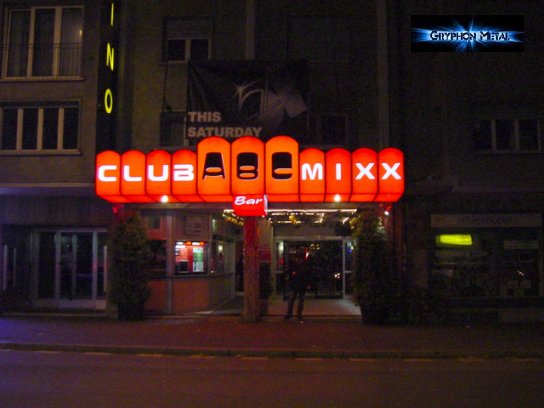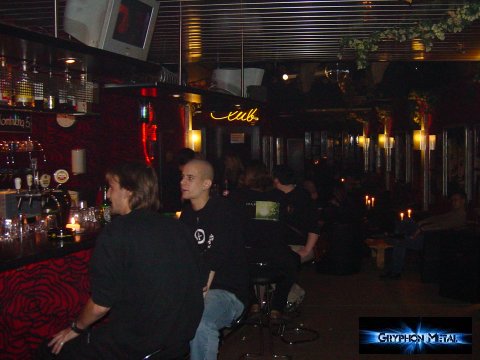 Oh finally Profound again! after some months of abstinence! or, better said, Aka Profound cause recently they have changed name, guitarist , look and a bit style. The band is starting again playing live with full rhythm and with some important dates like this one: a concert that sees them play with Saltatio Mortis and Subway to sally. Supporting Cinema strange is also planned in November and the Transit festival 2004, which will guest nothing less than Morbid angel, is one of the highlight of the upcoming year concerning Aka Profound engagement. Since when i saw Profound supporting Paradise Lost on that fatidical june 2001 at Z7 and Fri-Son, i began to appreciate really so much their music and they have become one of my fav bands ever. You can imagine who is my target this evening, so. Right! Aka Profound , and at the same time, i will take the occasion to know a new venue: the ABC Mixx Music Club , nice atmospheric venue in Luzern, fully suitable for Gothic and Industrial/Medieval music which will make stronger the already well known series of Swiss music Clubs, whose national and international importance is growing and growing. The ABC Mixx is also very easy to be reached by car if you come from Zürich cause it's near the motorway but being full involved in the city cause it's placed on a big road artery which leads directly to the center (and lake) of the beautiful town. But unfortunately in order to pay the parking for our gryph-van, we enter the venue with a bit delay , and Aka Profound are already on the stage.



AKA PROFOUND
www.profound-nation.com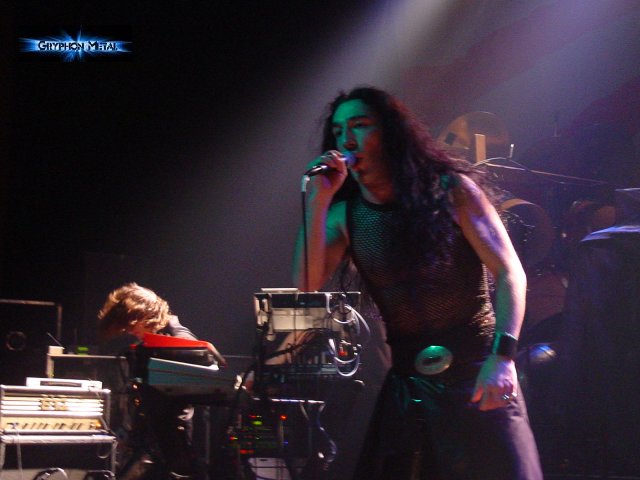 Like just mentioned above i reach the venue when Aka Profound have already taken the stage . the beautiful notes of song Secrets are in the air, the venue is good crowded (there will be more than 400 entries) and the fact that i don't know how long they have played makes me simply sick. From the moment there was a certain doubt concerning the time table and beginning of this performance i can only hope the show has just begun. Nervous and rather pissed off i enter the concert room that has the structure of a former cinema, nicely re-designed now for concerts. I remain on the lifted plateau, though one can easily reach the pit. well at least i see the band very well from above. And here they are: "my " Aka Profound! the first thing i notice is that the band has no much space on the stage, so that they are all arranged in a line , drunmkit included. First of all the stage is long but not that much deep and the kit for the other bands was taking much of the place at disposal. In this way Aka Profound must give a performance, which is running not under the best logistic conditions. Bass-player Lennon, whose look is now absolutely great making him appear a real gothlord, begins the line-up from my right, and, moving to the left, we meet Spiga's drumkit, singer g.m. the Krow, whose new look is great too, and then Mesna's keys and finally the new guitarist Cyril Montavon. Useless to say that there is no possibility to show the usual well confident stage acting, moreover the guitar sound appears to be rather low , right because Mr Montavon is between amplifier and boxes and has to hold the sound of his guitar a bit low in order to avoid annoying whistles and back echoes. In this way, keyboards, who are anyway almost the fulcrum of Aka Profound's music, seem too loud now , and this spoils a bit the homogeneity of the whole gig. Anyway the general impression is very positive: g.m. the Krow's acting is energetic, concentrated and of good taste, less headbanging but more class. Drums are mighty and precise, solid and elastic; Cyril Montavon appears at once to be an experienced and very good guitarist. Mesna the mastermind, and Lennon's bass providing percussive good vibes as always. And though no fan will forget former guitarist Kurt QD (now playing in another band) and his aggressive chords, all seems to be regenerated in Aka Profound's home. At 22:00 big applauses mark the end of the new song breathe with me. g.m. the Krow presents now the new lad Cyril Montavon welcomed, by another wave of warm applauses. After months, i am witness a new "Profound" era and Tragedy is cathing me myself full in thoughts. Tragedy the mythical, well known in the underground -Swiss scene. Tragedy the flagship . The audience, a bit sophisticated, is involved more and more and is very appreciative. It follows, under red atmospheric lights,another new song " And the World stood still": romantic, it begins a bit slow, but is developping more and more incisiveness and heaviness with that typical rhythmic compression, which is a mark of the band. Ohh i am a happy bunny now! One of the songs from Profound i adore is announced : Red Raisins for my Wounds, finally i hear it again. It was one of the last created before QD left the band, and belongs to the new stuff as well. Cannot wait the moment it will be recorded on a new album once and for good. Unfortunately due to the stage and sound setting it sounds to me not so harmonic with heavy passages like it has, but it remains beautiful and live is live, not always a track can find its best environment. it follows another new song Lucy : atmospheric rhythmic gothic rock. Again keys are much underlined : they sound gothic but also with some cyber flavour. But is this the last song?? yes unfortunately! Aka profound cannot play another track, though the audience wants clearly more, and Watery Cage is almost announced. at 22.17 the show must be finished , very likely due to time table reasons, but Aka Profound leaves much satisfaction, got here a nice impact, had a good part of the crowd enthusiast and even banging . I say "even", cause there are no many typical metallers or gothic rockers here, but more haughty "gothic-wannabe" elitaire people, for the series "i'm more beautiful than you", thing that makes me sick again. And if Aka Profound were winning also this kind of target well, it is positive anyway. So applauses and congratulations for these Aka Profound that have new identity and above all, really excellent melodic/heavy songs among old and much new stuff, that work well in (almost) every condition! And music is always the most important thing!.

Triple Six
Secrets
Breathe within me
Tragedy
And the World stood still
Red Raisins for my Wounds
Lucy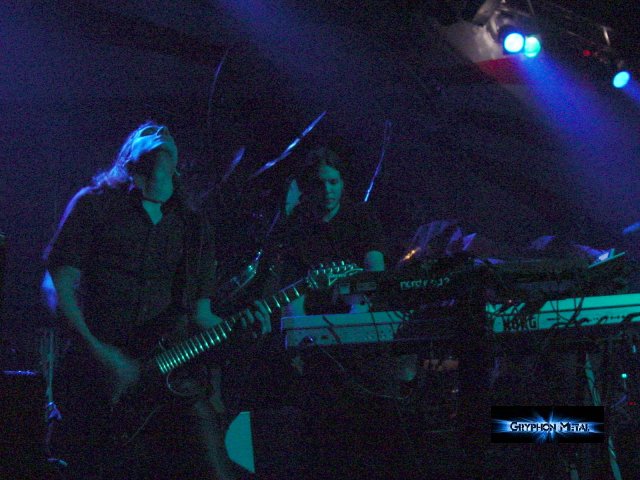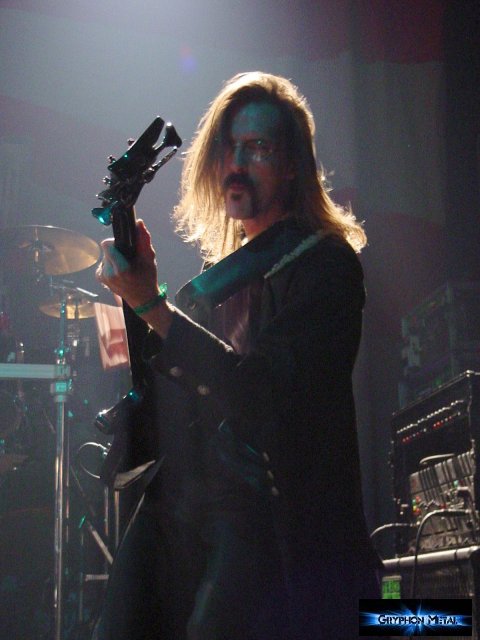 SALTATIO MORTIS
www.saltatio-mortis.de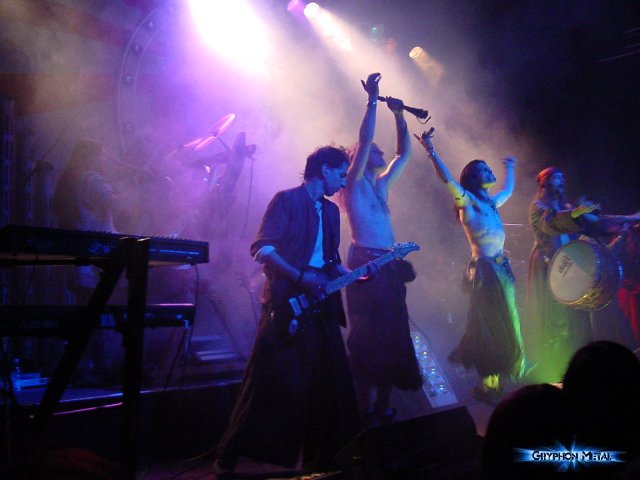 Though i like very much the middle- age, , and in particular i am interested in the history of barbarian folks and reigns, i usually keep my fingers out from the so called folk-medieval music simply cause i don't like it that much. And moreover we could open a discussion if the so called medieval music is really medieval or more Renaissance (there is a quite wide difference). So it's with a certain scepticism that i wait for Saltatio Mortis. I honestly say i have still not heard a single note from them . But well,let's be open-minded and let's give a chance for getting definately an impact wit this band. And i still don't know i'm doing the very right thing. Saltatio Mortis are themselves a folk! they are a lot of people: 8 guys, if icount well with nice interesting clothes , long hair and an unmistakable charisma: let's see!
At 22.:30 an agreeable intro and the lights fading down should point out that the band is hitting the stage. People goes on speaking one another , but when the music starts, the applauses run. Saltatio Mortis really catch the real attention immediately anyway: their music sound yes "medieval" , but above all with a good quantity of Heavy catchy Metal inside. There are historical instruments but not ostentated in an excessive way. Like minstrels and troubadours they present their songs like they were telling a story. Highly interactive and joking, but with no excesses at all, and always with good taste, they carry on a show that is an adventure, a journey lost in a past but with a music that is able to sound very modern and effective too. In few words: much more better than In Extremo, imo, and this explains pretty all. Without mammouth choreography and improbable dances they perform a high self confident show. Good vocals, entertainment, good mood. Singer Alea der Bescheidene shows good round vocals and very good acting, supported by electric strings, up to date equipment, 2 drumming and percussive placement (one of them with gong and stand -drum directed by the robust Thoron Trommelfeuer) , bagpipes, synths. they deliver a music that makes you jump, clap your hands and banging too, simply cause it's impossible to stay indifferent. Modern and ancient , they are fully involving and , like mentioned before, interactive. An interactivity who sees the absolute leader in Lasterbalk der Lästerliche, who , like a Minnesänger, presents almost every song, entertains, tells stories, makes jokes with words and situations. Musically, without the shell of ancient instrumentation, they could play a crunchy classic Heavy metal as well. Not the kind of show i would attend every day, but very good to change a bit mind from time to time. Exceptional of course for all admirers of the style.
Among the songs presented: Falsche Freunde, Dunkler Engler, Heuchler, and Mea Culpa (presented around 23:00 among the general enthusiasm before the encore). But also the formidable cover of Kiss' "God Gave Rock 'N' Roll To You" is impressing everybody, arising involvment and joy in the gothic haughtiness: miracle, miracle , people of sea , valleys and mountains! is this the power of Kiss, or of saltatio Mortis that cover this mythical song so well? And among funny talk in german about Switzerland Land der Berge, and catchy riffs, we arrive to the encore where they present the song Licht und Schatten (from "Das Zweite Gesicht" album), but only if the audience in chorus will shout loud again the word that has been the funny password all concert long "Schweizkram!" or something similar! at 23:12 the big medieval family of Saltatio Mortis says goodbye and announce Subway to sally, while the acclaiming audience is calling so much another encore of the modern minstrels.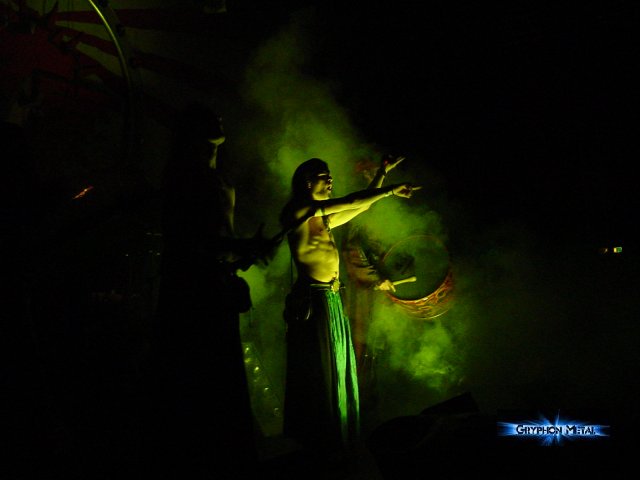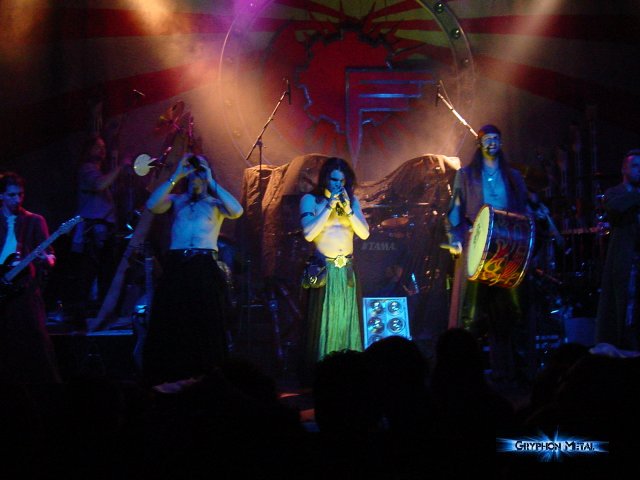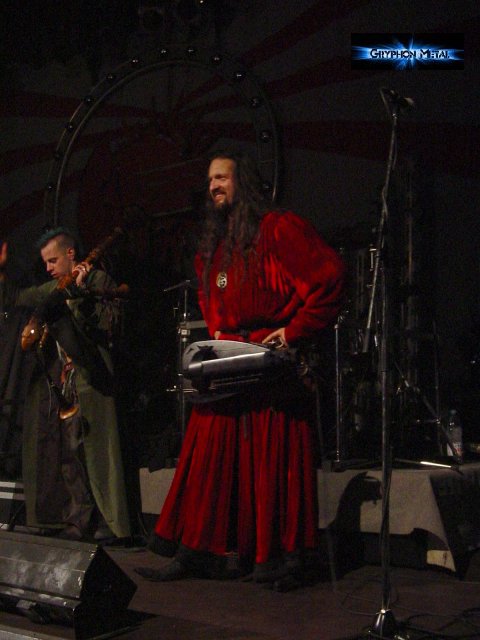 SUBWAY TO SALLY

www.subwaytosally.com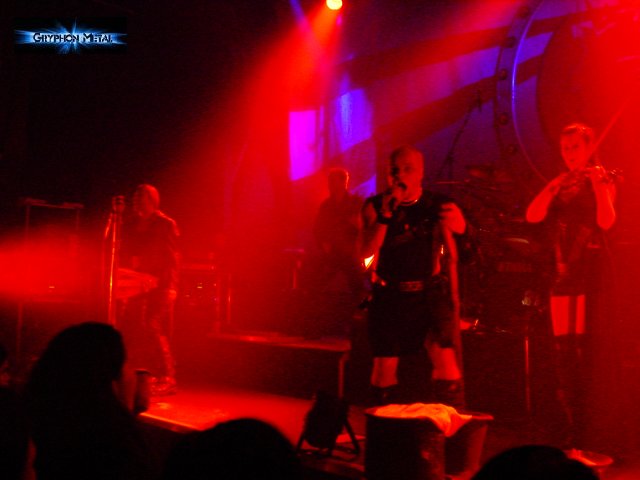 The stage is re-set for a geometric, essential,metallic and severe scenography. Around 23:30 the band starts off with their typical eclicticism. Very modern but with nostalgic moments, Subway to Sally is an intelligent band , who play a music which shows melodic, heavy but also raw contours, with some very futuristic tones bound with a reverbering soul which reminds me of the Weimar Republic atmosphere. Not an easy music with a lot of brilliant modern starting points and passages which unfortunately are spoiled by other passages who don't match together imo, and by a drop of arrogant attitude. A song which explains all this is also one of the first presented by the band this evening: Geist des Kriegers (from latest Engelskrieger album), which i enjoy anyway.

Gebenedeite Dunkelheit,
die Nacht ist klar und heilig.
Ich spür so sehr, es ist jetzt Zeit,

Der Geist des Kriegers ist erwacht,
flammt durch die Nacht,
nehmt Euch in acht,
ich hab die Macht!


The same qualities are shown by Eric Fish' vocals: round, awsome and raw and arrogant at the same time. Among gothic vibes , dark feelings of a Germany that will come no more and heavy determination, they appear to me this evening like they came out from a movie of Fassbinder and sometimes they are heavy like Rammstein, ecleptic the guitar, ecleptic the violin. "Lass euch hören!" shouts Eric, and the crowd is in rapture! but after the first 3 songs i go out . Balladesque, only incidentally medieval, much more militaresque and obscure, virtually dripping blood, Blut, Subway to Sally is a band to understand but i don't want to understand them tonight. Allow me a night for Aka Profound. For Subway to Sally admirers, anyway: here a couple of pics .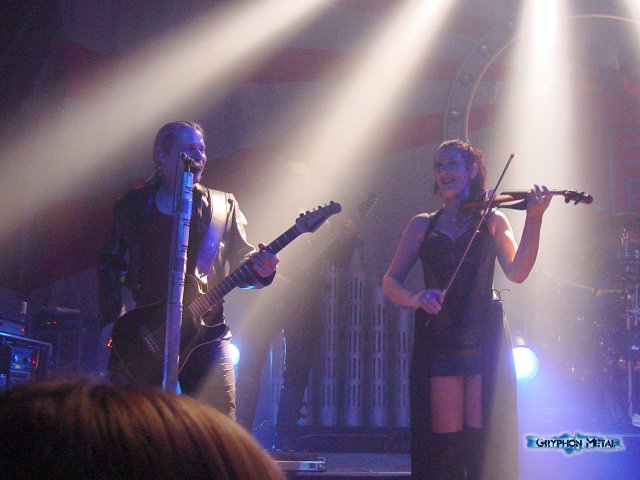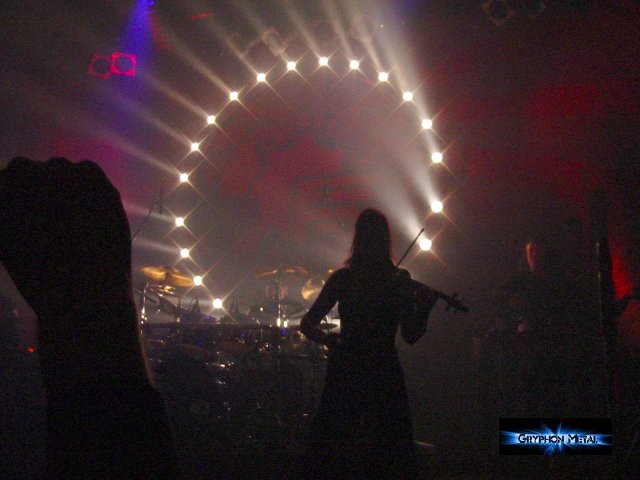 AFTER SHOW