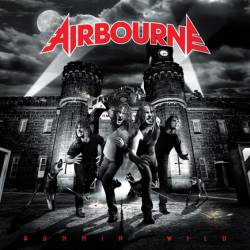 Stand up for Rock 'n Roll
Runnin' WIld featuring Lemmy on the video
Too much, too fast, too young
Diamond in the Rough
Fat City
Blackjack
What's eatin' you?
Girl's in Black
Cheap Wine & Cheaper Women
Hearbreaker
Let's ride
Joel O'Keeffe - Vvocals/lead guitar
Ryan O'Keeffe - Drums
David Roads - Guitar
Justin Street - Bass guitar

Guitar solos to keep any 'air guitar' band busy.

Building up a solid following in pubs and clubs around the Melbourne area the band has
gained a foothold in the States and the rest of the world. It has a Heavy Metal/ Hard Rock
attitude following in the footsteps of another famous band from the area - AC/DC. Their music
can be heard on some video games including; "Tony Hawk's; Proving Grounds", and "Grand Theft
Auto IV". "Stand up for Rock 'n Roll" was the official theme song for WWE's Royal Rumble 2008,
and "Runnin' Wild" was used in the commercial for the game 'Army of Two.
"Too Much, Too Young, Too Fast", the 3rd track seems to sum up the album that is fun, heavy
and an excellent start to the summer. "Stuck my finger in the Honey and my Doller in the Well"
is a line from "Diamond in the Rough" which is standard of the catchy lines in this driving and
likeable CD. The CD "Running Wild" consists of 11, hard-n-heavy tunes with plenty of guitar solos
to keep any 'air guitar' band busy.
rating: 9/10
Steve Rautner 16.06.2008
---