15.11.2002
---
PROXIMA CENTAURI - METAL EVENT

- UNLIGHT - IPSUM

Sursee - Switzerland - 08.11.2002
review by dalia "gryphon_spirit" di giacomo
- all pics © by Stefan "Absolut_Evidence" Vogelaar
The public use of these fotos is strictly prohibited without written permission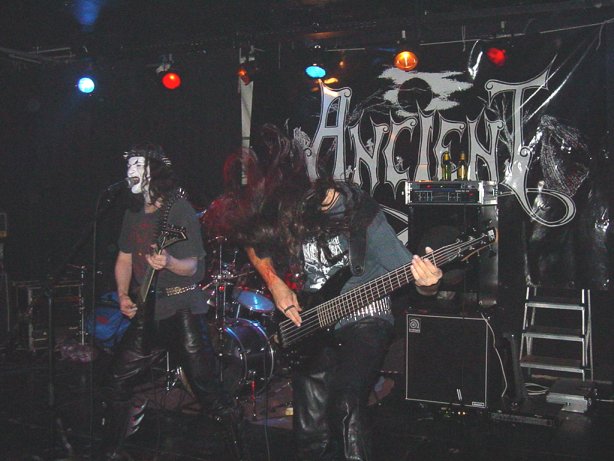 This is an evening dedicated to the darker metal genres of the Metal , from a kind of atmospheric dark to Black, the audience has the opportunity to plunge into a magic heavy obscure atmosphere, enjoying firstly the taste of the newest underground tendencies of the Black and then the performance of headliner Ancient from Metalblade label. We can consider Ancient nearly as a cult band, and after the success of their album Proxima Centauri (whose tracks Proxima Centauri and Satan's Children had the honour to be also included in the CD compilations of the biggest German magazines) one can only be very interested to attend their gig.
Ancient are supported this evening by Unlight and Ipsum. The Swiss Ipsum (www.ipsum.ch ) open this "diabolical" and fascinating evening with a nice performance: and even nicer if we consider that Unlight present in their line up also really beautiful and clever girls like for example vocalist Michelle and guitarist Sarah . They play a kind of melodic and slightly bombastic Black Metal, and Michelle is singing with a cool Death voice, that somehow reminds me Sinister. This is (unfortunately) still something rare to be seen and heard, therefore i am very pleased when i can report some female cool appearance, and in particular in so difficult and important genres like Death or Black.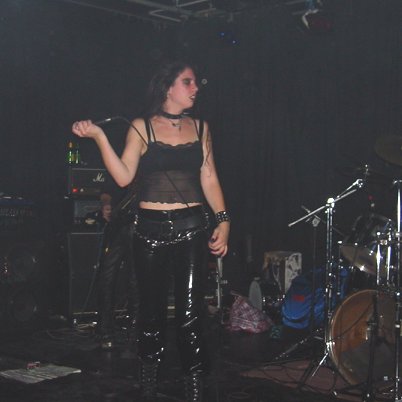 Aphazel and Michelle



After Ipsum, we see on the stage a Swiss-German band: Unlight (www.unlight.org) , with another nice girl and precisely Lamia behind the keys. I have to say that the crowd is liking Unlight so much, there are some fans of them and many underline the good music with headbanging and moshing. The better feature of Unlight is that they are playing a melodic music too, and are able to create an intense atmosphere. Touches of epic and spheric Black can be recognized, powered by a thunderous drumming. Unlight are a little bit static on the stage (in spite of the elegant headbanging provided by Lamia) but the alternation of violent bursts of angriness with melody, choruses and romantic moments can establish a general feeling of dynamism. Among the songs proposed there are Stormbringer and Mandragora: sorry i don't know the whole repertoire of Unlight , should I ? No. And from the moment that i'm still waiting for the setlist asked to their vocalist - guitarist Blaspherion, whose voice is agreeable, but whose memory is maybe too short, i even don't bother to look for more infos about their discography (well they have released a 4 songs demo called "Des Baphomets Rückkehr", ok?) . Anyway, for the record, i have to say that some of their songs are really cool, and in particular a melodic fantastic track has been presented too, its title? , pity i don't know. The sound is not bad and the instruments can be clearly heard. Someone is saying that they are a kind of "answer" to Dimmu Borgir. No , sorry but we are very far from Dimmu. The way is still long....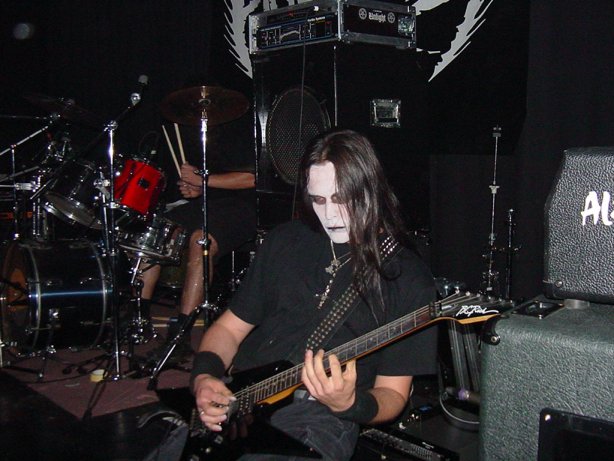 www.ancientband.com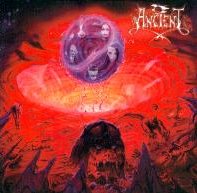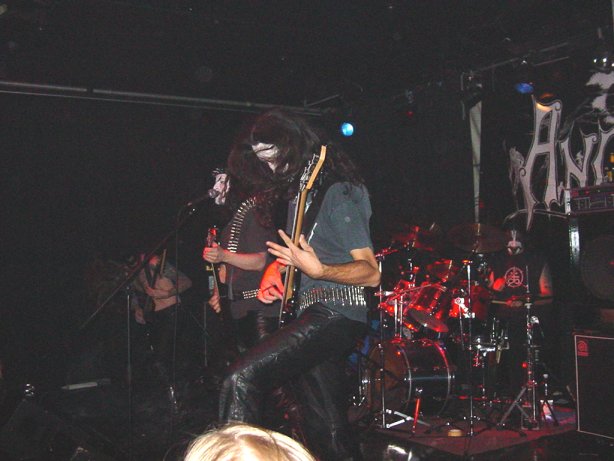 Anyway the time is running quickly and we realize that Ancient will be on the stage very late. and indeed: at 0:53 Aphazel is appearing with his typical crown, testing a last sound check for his guitar. And few minutes later: here we go with Ancient and their Proxima Centauri!! Norway's Aphazel and his Italian fellows are beginning with a style i appreciate so much cause they propose a king of serious but not arrogant behaviour which is simple and effective in the same way: in few words their attitude on the stage is representing one of the best facette of the Metal spirit. their dresses are not so complicated, the make-up is moderate and reasonable. Perfect stage acting straight to the goal: they sound interesting and solemn, even with few gestures. the capacity to be great is that to exploit any possibility of the personality and of the instruments without being too pretentious during the performance, Music is music and not carnival, and Ancient are a so nice representation of how a Black Metal band should be, well balanced between show-requirements and naturalness . The performance seems to be a success , though a part of the audience, due to the late hour, has gone away (unfortunately sigh, sigh! tomorrow or better said today is a working day, sorry). But the crowd remained is fully pleased with the music. I cannot say that Ancient play a canonic Black metal: so much the better !, cause they present a rich and varied music with a Black base on which more modern and persuading chords are inserted. The bass is often played without plectrum by Dhilorz, the rhythm is generally galloping, drums are sounding heavy, directed by a very concentrated Grom.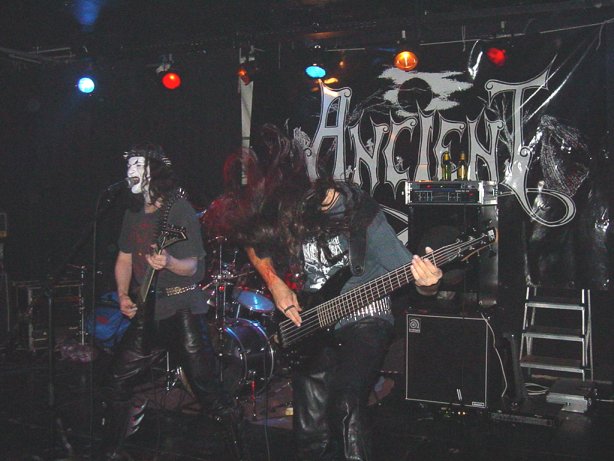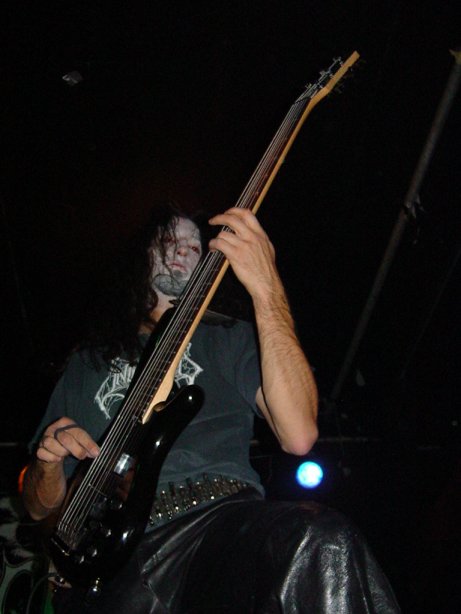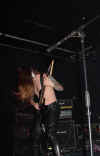 The band is supporting very good their frontman Aphazel that has found a valuable line-up : good sign for Italy : if we go on this way , Italy will be one of the new horizons of Metal, about time too!!. Unfortunately the show is not lacking in problems: Azrael's voice is often overwhelmed by the instruments, this is to say the sound is not well calibrated, and the show has also a stop cause there are problems concerning the drums. And when i'm wondering where Deadly Kristin is, i realize how strange and amAzing is Aphazel 's voice when he is announcing the tracks or launching messages to the crowd: terrible and evil, but, at the same time, with velvety echoes, like belonging to a dark angel shouting very far, from the abyss of another sky. Among up and mid tempos Ancient are developping on the whole an interesting gig anyway, where the songs have the lead role more than Aphazel's boots, and the gig is long and articulated in 2 big parts, each of them opened with an intro. The tracks presented offer a wide summa of the Ancient discography: from the very beginning era (Eerily howling Winds) , passing then through Svartalvheim, Trolltaar, The Cainian Chronicle, Mad grandiose Bloodfriends, Halls of Eternity, God loves the Dead and finally Proxima Centauri. A first class setlist, cool, i am not disappointed at all, i only hope to see them live again and maybe in a kind of event like the No-Mercy Festival.
SETLIST:
Intro - Proxima Centauri - The Ancient Horadrin- The Draining - Eerily howling Winds - Lilith's Embrace - Trolltaar - The Call of the Absu Deep - intro - On blackest Wings - Born in Flames - Cosmic Exile - Homage to Pan - Det glemte Riket
dalia di giacomo

zum Seitenanfang

top - inizio pagina