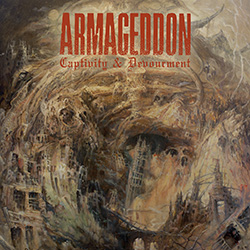 ARMAGEDDON
"Captivity & Devourment"
coming on 26/01/2015, featuring Chris Amott (Ex ARCH ENEMY).

Review by dalia di giacomo
1) Captivity and Devourment
2) Locked In
3) Rendition
4) Fugitive Dust
5) Conquer
6) Thanatron
7) Background Radiation
8) The Watcher
9) Equalizer
10) Giants
---
Discography
Crossing the Rubicon (1997)
Embrace the Mystery (2000)
Three (2002)
Captivity & Devourment (2015)
---
---
Line up
Matt Hallquist - Lead Vocals
Christopher Amott - Guitars and clean Vocals
Joey Concepcion - Guitars
Sara Claudius - Bass
Márton Veress - Drums
---
Vortex of creativity and monument to the essence of Metal.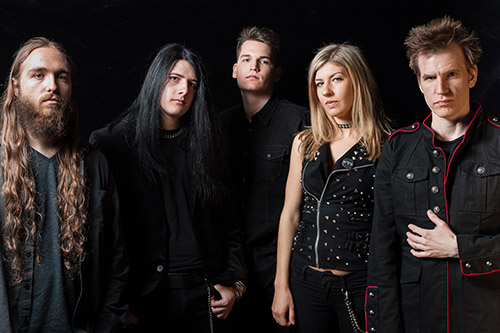 Armageddon, led by former Arch Enemy guitarist Christopher Amott, strikes back in Januar 2015 with a powerful album that represents a crafted, fluent, modern-oriented essence of Heavy Metal mixed mainly with Melodic Death, spiced up by other inspirational sources too. This album is a vortex of creativity, the vision of the future but, at the same, it is a great monument to the roots and essence of Metal rhythmics. "Captivity & Devourment" is both ravenous and captivating: Characterized by excellent guitar-shreddings, groovy rhytmics/bass lines, cool sound quality, and memorable magnetic hooks that come from great technical skills. Yet the album is not technical "per se", it is pure energy and enjoyment. Immediately we can dive into this new crushing material with the opener, title track Captivity & Devourment, whose official lyric video can be seen and appreciated below.
Yes, Armageddon, who first came to life in Sweden in 1997 ( based out of New York City now) as a studio project with the sci-fi themed concept album "Crossing the Rubicon", couldn't "resurface" better . The proof is the album in its entirety. The second track Locked In is awesome. Not only rasping growls and clean vocals are well balanced here, also the influences between Heavy and Melodeath are so structured and so well molten that we can only admire this force and its new-born feeling.
Listen to Locked In here:
https://myspace.com/armageddonsweden/music/song/locked-in-96425673-107459417

The track 3 Rendition is even more powerful, a true bonechrushing badass upheavel, tempered by melodic slowdowns. The sequence of very pounding Metal, started with Rendition, goes on with Fugitive Dust, an incredible, fantastic mid-tempo- paced hybrid, made of Heavy Metal and Melodeath, an ear-worm, tainted with European Rock tunes. It's dark, it's bright. This track is not based on complicated notes, yet it goes behind expectations and will mesmerize a wide range of metal listeners, from Gotthard till Arch Enemy and Before The Dawn fans. Moreover Fugitive Dust is synth-characterized and is getting this way a drop of futurism.
The hammering, solid Conquer reaches the border with epicness with classic heavy metal rhytmic riffs. Track number 6 Thanatron could be defined as masterpiece. It begins with a great acoustic guitar but it soon turns into robust, merciless yet enthralling music. This is more than a simply crafted song. It delivers a mighty wall of riffs and enough brutal and breathtaking rhytmics.
Here Thanatron's official lyric video:
Acoustic skilled melodious yet haunting guitar-arpeggios are the protagonists of the instrumental track 7 Background Radiation. The quiet before the storm. The storm has a name: The Watcher. The Watcher is, in my opinion, the absolute top track in this album. Classic Heavy/Melodeath with unpredictable soaring involving hooks, it is a triumph of guitar-shreddings, the drumming blows your mind away, vocals are growls and clean. The Watcher is such a beast of a song, it too goes behind any expectation. The album should be bought just only for this track. When it fades away, in a quite unexpected way, you can listen and perfectly distinguish each note of the final solos till the very last second.
Equalizer is a great song, we could say it is balladesque yet strong, with wide stellar melodic breath, with dual vocals, with a lot of guitar-riffs which intertwine with robust Metalcore rhytmics . This is a song that could interest All That Remains fans. Nonetheless this track is slightly spiced with Power Metal, so i suggest it to Helloween fans too.
Here the official guitar playthrough video that shows Chris Amott playing Equalizer on two Jackson models:
Giants closes the album in a superb way, with another compelling mix of Heavy Metal and Melodic Death, supported again by a driving drumming and virtuoso-guitars.

The new album CAPTIVITY & DEVOURMENT really consists of ten ingenious songs. No fillers. Every cent worth. Let's begin the new year with an injection of energy in one of its best forms. Buy this album and "abuse" of it! Thank you Chris Amott, thank you Listenable! Hopefully Armageddon is here to stay!
10/10
Review by dalia di giacomo