Well, well, Freiburg is a small, but beautiful city, and the people are always friendly. Okay, let's say most of the time. Once, we have to ask for the way and so we're shouting "Hello, hello?!" out of the car to a woman . But as answer, she cries "Nothing hello!!! Go away!!!" in such an aggressive voice that we're all really perplexed.
But after a while, we finally find the KTS, the centre of the autonomous in Freiburg. It's small, there is place for let's say 250 persons, and the whole building spreads a very punky charme. Unfortunately, it will be the last event in the KTS, because it will be closed soon because of the noise. Sad but true.
On the flyer is written that the concert starts at 9 o'clock, but it's already passed 10 o'clock when Shardless finally enter the stage. There aren't too much people or better, the KTS is very empty, but Shardless give 100% from the first second on. Altought they don't really fit to the rest of the billing, they get warm applause for their original Gothic Rock. Vocalist Corinna looks good and has a great voice, never too sweet, always forceful and variable. The one guitarist is banging all the time, the second called Dominik Voigt sings every song along and has some very cool special effects on his 6-string, once he plays the keyboard-parts on it. The sound is good and Shardless seem to be motivated, and the first people begin to dance in front of the stage, but there isn't any headbanging. Sometimes Shardless are very hard, then with more pop-appeal, and then again pure Metal, and they remind me to such bands as Nightwish (without keyboard) or Lacuna Coil. Their goal are of course the melodies which are often really great, and the band appears also very sympathetic. After half an hour, Shardless finish their gig with the ballad "Jewel", where only Corinna, Dominik and the drummer are left on stage. Not a perfect and, a crusher would have been better, but it doesn't matter and Shardless get once more warm applause and cheering before they leave.
Setlist Shardless
Intro
Once More... Again
Farewell
Here Comes A New Day
Wind Turns Back
In June
Today
Friday Lover
Eleanor
Jewel
Then it's time for Assorted Nails, a band from Freiburg, and so it's logical that there are a lot more people in front of the stage than before, and there are some really crazy guys, with posters on which things like "Grunz!" are written. Assorted Nails play a kind of Death Metal, most of the time very fast, a bit in the US Death Metal-style and with a lot of obscure dark humour. Shouter Bob is a great entertainer, he "thanks" the city Freiburg for closing the KTS, he's banging a lot, but the best thing is a "morning star" made of plastic. First Bob himself swings it, then he gives it to the people in the first row and we have a lot of fun. Once, a string from one guitarist breaks, and during the reparation break, the rest of the band plays a very cool version of "Angel Of Death" from Slayer. Now, there's a lot of action in the audience, and one of the highlights of Assorted Nails' set is the song with the funny title "Fleisch Winter", a Death Metal-hymn par excellence, with fast riffs, a groovy bass and lots of double basses. There's a lot of cheering, shouting and applause from the audience, and so it's clear that Assorted Nails have to play an extra-song. Now the atmosphere is very good, and Assorted Nails leave the stage with loud and enthusiastic applause. Great gig, guys!
Setlist Assorted Nails
Intro
Hallo!
The Media
Cancer Warfare
Near-Death Experience
Black Journey
Dying Slowly
1939
Sick
InsAne
False Gods
Get Assorted!
Fleisch Winter
Morpheus
War
And finally it's time for the Black Metal-band from Basel, for Atritas. I can't remember that I was once so tensed of a gig. And now it begins: First a dark, majestic intro, and then hell is opened! A high scream, cold riffing guitars, mystic keyboards and a destroying double bass. Hell, this is great! The whole band except for keyboarder Hysteria is in full corpsepaint, chains and cartridge belts, and it doesn't matter if you know all the guys, it looks very impressive and evil.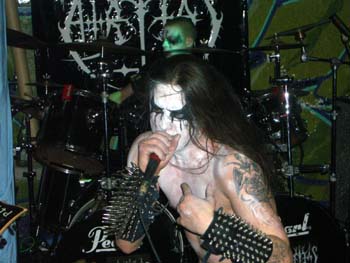 Gier makes the most action on stage, he screams inhuman, bangs, motivates the people to make some noise and he just appears true and honest. This is melodic Black Metal they way it should be played, and it's definitely the best Black Metal-gig I ever was on. The atmosphere is pure evil, dark and aggressive, and in the first row, the people are banging all the time. The first two songs are new ones, and I can say that they will be highlights on the upcoming album. The guitarist-duo Baal and Swart plays tight, but at the beginning, the sound on stage is not optimal and Swart can just hear himself, but during the gig, it gets better and better. The sound is good, you can hear every freezing, cold and kind of hateful-beautiful guitar-melody, and like on CD, also live the key fits perfect and is never too loud. Highlight of the set are "Vanitas Atra" and "Das Tier" from "In Regressu Diaboli", "Luzifers Blutpfad" and of course all the new songs, which fit perfect to the old Atritas-material.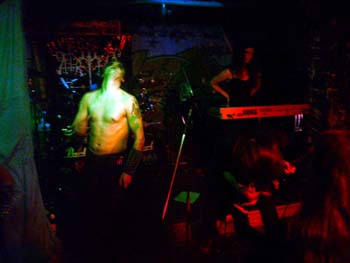 Also here breaks a guitar-string, in this case from Swart, and because there's a break for some minutes, it's time for a cigarette on stage. Also some words to drummer Ork: His blastbeats are just impressing, and he doesn't make any fault in playing his parts. As great as the concert is, as hot are the temperatures in the KTS: insane. But hey, this is a Black Metal-gig, so let's continue banging! Then, much too early, the last song "Primat Des Geistes" is finished, and a fantastic concert comes to its end. That was indeed a special event, my compliments to Atritas! Thanks Satan that soon, there are more live-dates…
Boris Witta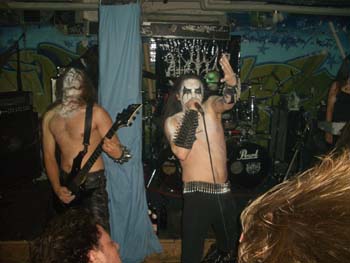 Setlist Atritas
Devil's Throat
Where Witches Burnt
Metal
Vanitas Atra
Mongrel Monument
Thou Shalt...
Das Tier
Key Kurz (kein offizieller Titel!!)
Drums Of Doom
B.C.
Nosferatu In Monde Mortente
Luzifers Blutpfad
Primat des Geistes