The seal that will consecrate Belphegor's mature musical conception. Hell cannot wait!
It's with a kind of "blasphemous" pleasure that i review Goatreich-Fleshcult , the fifth studio album from the Austrian Belphegor. After the much acclaimed "Lucifer Incestus", there was no doubt that Belphegor evolved to be definitely one the best Death/Black acts of the European scene. And now i can say with satisfaction that Goatreich_Fleshcult is the "dignus" follow - up, ultimately proving that Belphegor can be much respected as talented and creative musicians. Goatreich-Fleshcult will surely represent one of the greatest albums of A. 2005, will be another important pillar supporting the concept that Death and Black ARE the Metal Genres (hehhe i don't lose any occasion to proudly underline it!). Goatreich-Fleshcult is the seal that will consecrate Belphegor's mature musical conception. This album has many merits and only one flaw : the second track "Bleeding Salvation" which is actually quite boring; but for the rest, Goatreich - Fleshcult is another superb opus which is gifting us with many surprises. For example there is much Death and Old School, there is demonic brutality but also melody and cold sorrow. It is sinister , it's malignant but vigorous, full of temperament. The rhythmic is solid while the lead guitar provides for decadent profane melodies or piercing short solos and overdriven tunes. We can discover even an insertion of Doom (Sepulture of Hypocrisy) and melancholic chords. Belphegor are not only those who set their music in high flames, they can add that touch of sadness. A kind of infernal feeling. Drumming is awesome delivering impressive double bass, swift support and even well calibrated and enjoyable blasting passages. Of course Goatreich-Fleshcult is rich in typical Belphegor-ian impious features, nonetheless it's important that Goatreich offers to the fans something new, something varied and mature. It's not a copy of its predecessor. On the contrary, it evens surpasses "Lucifer Incestus" concerning the pure musicality in itself, maintaining the high level of destructive force and sparkling irruption that made "Lucifer Incestus" unmistakable.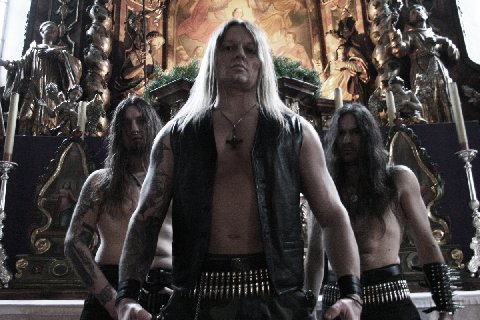 The high-speed and even blasting Cruzifixus - Anus Dei (the passage from Agnus to Anus is made quickly) is a tight fast inclement opener that just prepares the mood of the listener but still not reveals the rich horizons of the album: it's from track3 Fornicationium Et Immundus Diabolus that Goatreich opens its wings with brilliant, catchy , appealing disposition. Among the following formidable tracks, Sepulture of Hypocrisy shows a great Doom intense atmosphere , enriched by the elastic Torturer's drumming , which can be swift or slower but always equally impressive . Nefastus has now substituted Torturer, and, being presented as "Blast-Machine", we can imagine he will carry on Torturer's work in the best way. This stuff will be surely his cup of blood. We get acceleration with Goatreich-Fleshcult which will appeal even to Deicide fans . Swarm of Rats is the killer that will possess the listeners, filling them with total rapture thanks to the screaming fastness and the slower walls of steamhammering enthralling monster- riffs. The Crown Massacre is delightful, threatening and gloomy.
Goatreich- Fleshcult was recorded at Mastersound Studio, again under Alex Krull' s guidance. The production is again flawless. The sound is refined but not aseptic: it perfectly gives the opportune powerful emphasis to drums and guitars. We can also appreciate a certain underground harshness, that Belphegor fortunately have not forgotten.
The coverart comes from Ralph Manfreda's creative mind. Ralph Manfreda is an Austrian artist whose insane, unholy, necrophilic pictures are simply sharp, horrifyng and ghostly at the same time. Intangible but terrible fear.
Goatreich-Fleshcult : Hell cannot wait!
rating: 9.6/10
---