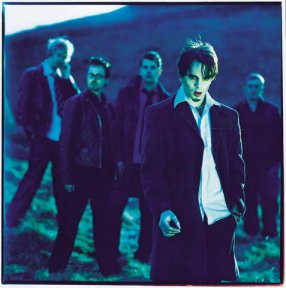 When I watched the video of the single "If the Gods" I though that the inspiration of this band were HIM.
Listening to all the songs of this cd i have to admit that the sound is very different from Valo's band! Sascha has an extremely melodic voice that that gives a melancholic approach to the songs...His voice seems a mixture between Him and Muse vocalists!!!
"If the Gods" get the classic HIM-structure song...A strophe sung with passion and a melodic refrain ...a very intense song that is the first single of this cd!This song could be loved by all HIM fans!
I have to underline that the sound of this band is very far from gothic .....Black Milk plays alternative rock ...with a melancholic taste that makes them similar to Muse but Placebo as well.So if you like Him...may be you'll not appreciate this album!!!! if you listen "If the gods" before to buy this album ...try to listen to the others songs!There's nothing to say about the good quality of this cd...but this is an alternative rock-band!!!Let's give a look to the songs.......
"Only one"is a very special ballad characterized by a dreaming vocal melody while "Small Beliver" is another hit song in which i notice the good care for the melodic refrain.I notice that they've made a good work in the mixing....the title track shows the ability of this band to create a good sad song with special studio effects.