review by dalia "gryphon_spirit" di giacomo____
Dynamic Gothic Rock made in Italy
Rosemadder: a very interesting metropolitan Gothic Rock music, whose rhythmics deliver a certain metal attitude, created by this young and fresh band from Italy . I'm simply very tired that every time something cool comes from Italy the international press comments amazed :" oh from Italy... unbelievable!" But what is unbelievable ladies and gentlemen?? Without appealing to Venice and to the many lakes and churches and dark traces, to the many wide seas, Italy is offering however a gothic feeling almost everywhere. Sometimes delicate, sometimes very tangible, the gothic soul is in the air throughout this Land: it's up to you to breathe and identify it . Musically, Bloody Mary put us in connection with part of this dark feeling in a dynamic way. Above all there is much of Milan in Bloody Mary's spirit, flying among the alienation, the hidden melancholy, the stories and metropolitan legends and the sensuality of a new generation , with a decadent vampiric motion. And indeed, starting exactly from Milan , they are gathering a strong national consense and , at the same time, the international approval is now following, growing more and more. Bloody Mary express their talent through catchy but not predictable melodies and rhythms, resolute drums, measured leads, hammering heavy riffs and flexible vocals . The same modern talent that you can find also in Deathstars for example, the main difference is that Bloody Mary have nothing of Industrial or "synthetic, and even the electro- sounds are very few.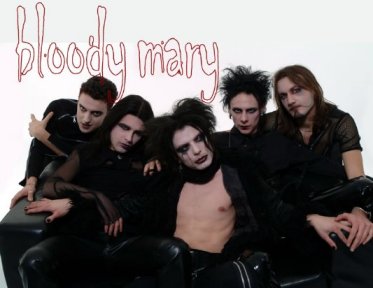 To show modern decadence using mainly guitars, bass, drums and the versatility of vocals , without sounding artificial even not for one second, is something that deserves our applauses. So let's dive into the musical contents of this Gothic Heavy Rock EP , which is very coherent in style, and let's begin with opener Ici Blue. Ici Blue is agreeable, catchy , rhythmic, percussive, suitable for Gothic Clubs but fortunately without having pop qualities. It delivers also varied clean vocal tones which range from a velvety bass to a more biting, aggressive timbre, with a outro which could be "signed" by Lacuna Coil. It's too late is another track which offers a gothic metropolitan and almost geometric feeling, a melodic but highly rhythmic and dynamic tempo, where vocals are enriched by well measured echoes and occasional higher timbres: it sounds sexy , a bit morbid and nocturnal but at the same time you can touch a ray of light . Learning to Fly is melodic, slow and sad , a bit haunting, melancholic anyway: a Gothic ballade which will hypnotize through vocals full of emotions and through an able gentle reverbering instrumentation. Before the Rain closes this EP in a full Rock- oriented way , but can also offer distorted sound techniques of effect, found also in the previous track.
Imo Bloody Mary show convergence with new Scandinavian gothic bands, but above all with that kind of style that we could call Italian Modern Gothic school, just think of Lacuna Coil, Cayne and Nude, among others. When guitarist Alessandro Stranieri and bass-player Marco Russo met Anno Domini 2000 and started just within one month this band with a motivated stable line up maybe didn't imagine how good the project was, but i presume they can only be proud now: in short time Bloody Mary have collected experience through gigs of importance, playing recently also in that dark temple called Transilvania Live in Milan. From the moment this is an EP with "only" 4 tracks, i cannot give a rating higher than 8 points out of 10, but, of course, i'm already looking forward to the next full length album. Anyway this enjoyable EP is well worth to be played loud: if you are a Gothic Rock lover Rosemadder IS a must to have. Keep up the good work, "Bloody" guys!