BREED: "Breed" breed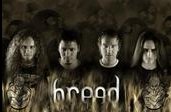 distributed in Germany by True Music Promotion
distributed in Switzerland by Irascible Distribution

Produced by Anders Gjesti and Breed
Recorded at Caliban studios, October 2006 Mixed by Patrik J.Sten and Fredrik Nordström at Fredman Studios, Sweden.
Mastered at Tailor Maid by Peter In de Betou, Sweden.
All songs written by Breed, except "Hole in the sky", written by Osbourne, Iommi, Butler, Ward.(www.breedmusic.net)
Taking the metal world
by storm.


Taking the metal world by storm, Breed slays the weak with its loud, energetic, aggressive self-titled album. With brutal abandon, Maurice Adams provides the vocals while Damage Karlsen shreds the living with solid riffs on guitar and the dark backdrop is provided by the bassist, Mods Mowinckel. The Breed team is like a well oiled locomotive speeding to your town.

Not since old Pantera and Damage Plan have we felt this much wrath. Breed leaves now stone unturned in its metal assault offence sitting wannabes metal heads. Adams voice is unrelenting and unwavering in his emotional call to metalheads. Mods electric and Karlsens' lines seem to be pushing the others to antagonistic, dueling destruction in which #10 Whitefaced, is a perfect example of.
Breed were picked up by Facefront who realeased their first album. The album was recorded in Caliban studios(N) and mixed in Fredman studios(S). Even though the band kept on getting hit with great reviews, the band suffered the loss of a drummer but never stopped for a second. Breed is currently on the lookout for a new drummer. In the meantime Erlend from Stoneguard fills the spot.
Great, hard-hitting, bone crushing, boot stompin' music!


"The only way out is in a bloody bag and a John Doe tag..."
rating: 9/10
---