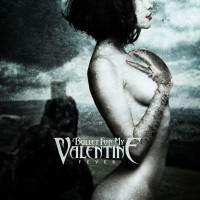 01.Your Betrayal
02.Fever
03.The Last Fight 
04.A Place Where You Belong
05.Pleasure and Pain
06.Alone
07.Breaking Out, Breaking Down
08.Bittersweet Memories
09.Dignity
10.Begging for Mercy 
11.Pretty On the Outside
Matthew "Matt" Tuck
lead vocals, rhythm guitar
Jason "Jay" James
bass guitar, vocals
Michael Paget
lead guitar, backing vocals
Michael "Moose" Thomas
drums, percussion
The catalyst in a fusion genre.
The 2005 debut's album The Poison was already a success, but for many, it was just kiddies stuff. It wasn't...The band got not only a great success, opened for Metallica , and, in short time, the band became heavier, and definitively thrash oriented in the second album "Scream Aim Fire" (just think of the beautiful song "Waking the Demon"). After "Scream Aim Fire", charts were conquered and important bill positions in metal festivals were reached. Now, after the release of the band's third album "Fever", Bullet For My Valentine is praised as the future of Metal. What future? Good question because this music is strong, many times appealing... but, all in all, for me it's just the very minor version of All That Remains and still an undecided version, considering that "Fever" has too many various influences. Well, it's also true that Metalcore is the fusion genre par excellence. Bullet For My Valentine has a big aggregative role and "Fever" can be even a catalyst in this fusion genre...It is a case of "the winner takes it all" pushed by a young generation, the same young people that listens to Breaking Benjamin, 3 Doors Down, 3 Days Grace...where Bullet For Valentine have always represented for them a welcome door to even harder stuff. What stuff? Metalcore mixed with Old School Rock yet with elements of hardened Post Grunge and much more. Sometimes the result is excellent, sometimes not.
"Fever" is build up with some few formidable harsh vocal lines that hammer in contrast to the main mellow clean vocals (even more mellow after Tuck's throat disease), many solos and bursts of riffs lots with exceptional guitar settings and some good composition. Catchy rocking hook-lines, some aggressive guitars, intense breakdowns, lyrics sung in comprehensible way (The biggest problem for me is, on the contrary to accept too much sung in clean). This is what the "Halo generation" wants to hear. Example is a song like the Breaking Out, Breaking Down which has some Metalcore elements but even more harsh alternative mood . Your Betrayal is an imposing opener, in particular the intro is majestic, pity that the refrain is disappointing because it is banal. Pity because while hearing the beginning of this opener you have the impression to witness the rise of a beast. Pleasure And Pain is a good track with aggressive verse and rock and roll- sing along refrain, enriched by a remarkable crystalline lead guitar. Dignity is not bad, a fine try in order to compose something interesting with different metal influences and rock solar energy, with a touch of melodic shadow too. By the way melodic, great and heavy melodic balladesque intro for A Place Where You Belong, kind of stronger version of Breaking Benjamin mixed with Def Leppard style, and excellent guitars. The best song of the album , in my opinion with incredible depth. A song that perfectly match with the gloomy aqueous and sexy cover art. It exactly all what the title track isn't. The track Fever is indeed for me less than a filler. But is it not strange that the best and more memorable song in this album is a sweet sorrowful ballade?
Anyway another good structure is shown in Pretty on the Outside, which is a well produced and memorable conclusion of the album; here the technique of Bullet Of My Valentine reaches the peak by showing uptempo metal verse (thrash/death), then melodic rocking refrain and impressive bridge. Emo echoes in the romantic but weak Bittersweet Memories. No Emo echoes in Alone which is a badass romantic song with great guitar -percussion. Horrible is The Last Fight which should mix Metalcore and Alternative with a refrain ą la Power metal. Begging for Mercy is a strong shot with a solo in American style that deserved a better composition.
We can find tons of lights and shadows in this album whose best trademark is, above all, the brilliant way the instruments are played. I too think that "Fever" is the reapproaching to "Poison", it is a cd under a lot of different metal influence and can be seen as "party cd" too. "
08/10