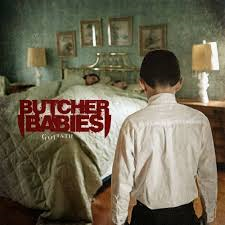 BUTCHER BABIES
"Goliath"
Century Media Records
Review by Dominic Latscha
01. I Smell A Massacre
02. Magnolia BLVD
03. C8H18 (Gasoline)
04. Grim Sleeper
05. Goliath
06. In Denial
07. Give Me A Reason
08. The Mirror Never Lies
09. Dead Poet
10. The Death Surround
11. Axe Wound
Produced and mastered by Josh Wilbur
---
Discography
Butcher Babies EP (2012)
Goliath (2013)
Uncovered EP (2014)
---
Websites

www.butcherbabiesofficial.com


www.facebook.com/ButcherBabiesMusic


www.twitter.com/ButcherBabies


www.instagram.com/butcherbabies


www.reverbnation.com/butcherbabies

---
Line up
Heidi Shepherd – Vocals
Carla Harvey – Vocals
Henry Flury – Guitar
Jason Klein – Bass
Chris Warner – Drums
---

go to the review in German

go to the review in Spanish
Modern Kick Ass Metal band.
You take the groove from Pantera, mix it with the aggression and melodies from Slipknot, add a pinch of Shock Rock, add two beautiful mannequins, who worked as TV- and Radio hosts for the Playboy Channel in the USA and the Butcher Babies appear. That's the way you could describe the Modern Kick Ass Metal band from Los Angeles.
2012 launched the US Modern Kick Ass Metal band their self-titled EP and caused a sensation with th EP and the video clip to "Mr. Slowdeath". It wasn't long before they had a record contract by The German record label Century Media Records.
Their debut "Goliath" was released in 2013. "Goliath" was produced by no one else than Josh Wilbur. This guy has strengthened records from Lamb of God, Killer Be Killed and Hatebreed.
But the Butcher Babies have with the front women Heidi Shepherd and Carla Harvey not only about two pretty women who look great, but also convince vocally.
"I Smell A Massacre" starts with full throttle and Heidi Shepherd kicks ass first and her fellow musician Carla Harvey draws immediately after with her voice. The whole is a tasty appetizer through the catchy riffs of guitarist Henry Flury.
"Magnolia BLVD" is the second to none, because the number goes down like honey. Crisp guitar riffs with the outstandin' chorus Chorus "THE CITY CREEPS DOWN THE ALLEYS OF DISEASE / WHEN YOU'RE HANGING BY A THREAD / AND NO ONE CAN HEAR YOU SCREAM" leaves goosebumps and a lastin' impression.
Professional video clips were filmed for these songs. You experience what's goin' on during a Butcher Babies show in the "I Smell A Massacre" video. At "Magnolia BLVD" you get a glimpse behind the facade of Los Angeles, a superficial glitterin' metropolis with depths of human psyche.
In the same way convince the other songs on "Goliath". To be honest, it's not possible to name highlights. Here you only find killers and no fillers. Generally the music is as fresh and unspent by the excellent production by Josh Wilbur that I can listen to "Goliath" again and again. There's no room for boredom.
You can compare "Goliath" with the Italian noble wine Amarone. Once you got the taste you don't want stop. The Butcher Babies visited Europe after the release of "Goliath". Unfortunately they played only a handful of concerts and this went to Switzerland empty-handed. Hopefully honor the Butcher Babies Switzerland one day with their presence.
10/10
Review by Dominic Latscha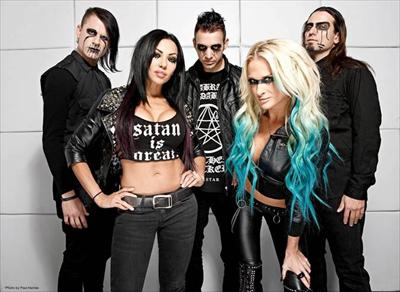 ---
Man nehme den Groove von Pantera, mische die Aggression und Melodien von Slipknot dazu, gebe eine Prise Schock Rock hinzu, addiere zwei Models, die als TV- und Radiomoderatorinnen beim Playboy Kanal in den USA gearbeitet hatten dazu und heraus kämen die Butcher Babies. So könnte man diese Moderne Kick Ass Metal Band aus Los Angeles beschreiben.
2012 sorgten die US Modern Kick Ass Metaller aus Kalifornien mit ihrer selbstbetitelten EP und dem Videoclip zum Lied "Mr. Slowdeath" zum ersten Mal für Aufsehen. Es dauerte nicht lange und sie hatten einen Plattenvertrag von der deutschen Plattenfirma Century Media Records in der Tasche.
2013 wurde ihr Debüt "Goliath" auf die Welt losgelassen. Produziert wurde "Goliath" von niemand geringerem als Josh Wilbur. Er hatte mit seinen Produktionen schon Alben für Lamb of God, Killer Be Killed und Hatebreed veredelt.
Aber die Butcher Babies verfügen mit den Frontfrauen Heidi Shepherd und Carla Harvey nicht nur über zwei hübsche Frauen, die toll aussehen, sondern auch gesanglich etwas auf dem Kasten haben.
Schon mit "I Smell A Massacre" geht es mit Vollgas los und Heidi Shepherd tritt dem Hörer zuerst in den Hintern und Kollegin Carla Harvey zieht sogleich mit ihrer Stimme nach. Durch die knackigen Riffs von Gitarrist Henry Flury wird das Ganze zu einem geschmackvollen Appetitanreger.
"Magnolia BLVD" steht dem in keiner Weise nach, denn die Nummer geht runter wie Honig. Fette Gitarrenriffs mit dem herausragenden Refrain "THE CITY CREEPS DOWN THE ALLEYS OF DISEASE / WHEN YOU'RE HANGING BY A THREAD / AND NO ONE CAN HEAR YOU SCREAM" sorgen für Gänsehaut und hinterlassen einen bleibenden Eindruck.
Zu diesen beiden Liedern wurden professionelle Videoclips gedreht. Bei "I Smell A Massacre" erlebt man hautnah was bei einer Butcher Babies Show abgeht und bei "Magnolia BLVD" bekommt man einen Einblick hinter die Fassade von Los Angeles, eine oberflächliche Glitzermetropole mit menschlichen Abgründen.
Auf dieselbe Art und Weise überzeugen die anderen Lieder auf "Goliath". Um ehrlich zu sein, ist es mir nicht möglich Highlights zu nennen. Hier befinden sich nur Hits und keine Totalausfälle. Allgemein kommt die Musik durch die ausgezeichnete Produktion von Josh Wilbur so frisch und unverbraucht daher, dass ich "Goliath" immer wieder hören kann. Langeweile stellt sich überhaupt nicht ein.
Man könnte "Goliath" mit einer Flasche Edel Wein der Marke Amarone aus Italien vergleichen. Ist man einmal auf den Geschmack gekommen, will man nicht mehr damit aufhören. Nach der Veröffentlichung von "Goliath" besuchten die Butcher Babies Europa für eine Tournee. Leider spielten sie nur eine Handvoll Konzerte und dabei ging die Schweiz leer aus. Hoffentlich beehren die Butcher Babies eines Tages die Schweiz mit ihrer Anwesenheit.
10/10
CD-Kritik von Dominic Latscha
---
Se toma el groove de Pantera, mezcla el agresión y las melodias de Slipknot, se añade una pizca de Shock Rock, se añade dos modelos que trabajieron como presentadoras de Televisión y Radio para el canal televiso Playboy de los estados unidos y el resultado es la banda de Butcher Babies. Se podría describir esta banda de Modern Kick Ass Metal de Los Angeles.
En 2012 la banda de Modern Kick Ass Metal de California atrajo la atención con su disco autotitulado y el video para la canción de "Mr. Slowdeath" para la primera vez. No pasó mucho tiempo para un contrato de la compañia discografia Century Media de Alemania.
En 2013 su premiero disco "Goliath" se publicó. Josh Wilbur produció "Goliath". El trabajaó con las bandas Lamb of God, Killer be Killed y Hatebreed.
La banda de Butcher Babies no sólo tiene dos cantantes, que son lindas pero tambien saben.
Incluso con "I Smell A Massacre" se comineza rápitismo y cantante Heidi Shepherd occure con su voz y su amiga Carla Harvey mueve hacia con su voz. Los riffs de guitarista Henry Flury hacen esta canción un apetito estumulante.
"Magnolia BLVD" no tienen nada que enviar porque la canción bajar como miel. Graso riffs de la guitarra y el estribillo excepcional "THE CITY CREEPS DOWN THE ALLEYS OF DISEASE / WHEN YOU'RE HANGING BY A THREAD / AND NO ONE CAN HEAR YOU SCREAM" causen gallina sobre y dejar una impresión que perdura.
Clips de vídeo quieron para estas canciónes. Se vive un concierto de Butcher Babies en el video de "I Smell A Massacre" y "Magnolia BLVD" manifesta una mirada detras la fachada de la ciudad de Los Angeles, una ciudad superficial con humanos abismos.
De la misma manera, las otras canciónes convencen en "Goliath". Yo no puedo mencionar highlights. Aqui sólo éxitos y no canciónes malas. General la musica en este disco es fresca y nueva por la excelente produción de Josh Wilbur. Yo puedo escuchar "Goliath" una y otra vez. No se aburre.
Es como comparar "Goliath" con una botella de noble vino italiano "Amarone". Descubierto una vez no quiere terminar. La banda de Butcher Babies visitó Europa para una gira después de la publicidad de "Goliath".
Labelamente sólo tocó unos conciertos pero no concierto en Suiza. Espero que la banda de Butcher Babies honra la Suiza con su presencia algún día.
10/10
Crítica de Dominic Latscha