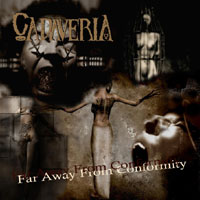 Blood And Confusion
Eleven Three O Three
Irreverent Elegy
The Divine Rapture
Omen Of Delirium
Call Me
Out Body Experience
Prayer Of Sorrow
Vox Of Anti-Time
Cadaveria - Vocals
Frank Booth - Guitars
Baron Harkonnen - Synths
Killer Bob - Bass
Marcelo Santos - Drums
Cadaveria saw light in April 2001. When Cadaveria and Flegias, quitting Opera IX, decided to discharge their metal instincts in a new musical project. Their first album was to be released in 2002.
The second opus from Italian band Cadaveria is a mixture between Death/Black and Thrash metal.
The difference between "The Shadows Madame" and "Far Away from Comformity" is that the sound of the new CD is more 'in your face', cleaner, more technical. The guitar sound is very much like that
of a heavy metal band with catchy riffs, they know how to write songs that you keep in mind. Very strong structures combined with the voice of Cadaveria. It's a good combination.
A minor detail is that the vocals are a little bit soft in the mix compared to the guitars.
Some people said that 'The Shadow's Madame' sounded like the last Opera IX album. With this album
they really got their own face, their own sound.
Opener 'Blood and Confession' starts off with a good death metal riff with strong lyrics: a song
where I can't stop banging. The attention of the listener can't go any further than the CD player,
because this has got everything Cadaveria stands for; death, black and good atmospheric parts combined with the vocals of Cadaveria. She uses every aspect of her voice, screaming, whispering, clean, shouting.
After two songs that, in my opinion, are a bit more experimental you get 'The Rapture Divine'. It's a mid tempo song with an Epic Black part in the middle. It's a relaxing point to get ready for the next
5 songs.
The thing that really surprised me was that they did a cover 'Call me' from Blondie. This one is a really
good song. I didn't expect this from them, it's just a good version. What can I say more about it, just listen!!!
After 'Vox Of Anti-Time' are a few seconds that really sounded strange, I don't know, but is it a mistake or a funny joke?! Just listen for yourself.
Cadaveria shows she has guts and surprises, because this is an album to please all who are into the extreme sounds of today!

Rating: 7.5/10
Jarno Wilde