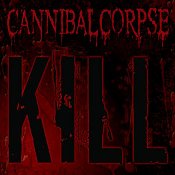 The Time To Kill Is Now
Make Them Suffer
Murder Worship
Necrosadistic Warnings
Five Nails Through The Neck
Purification By Fire
Death Walking Terror
Barbaric Bludgeonings
The Discipline Of Revenge
Brain Removal Device
Maniacal
Submerged In Boiling Flesh
Infinite Misery

George "Corpsegrinder" Fisher - Vocals
Alex Webster - Bass
Rob Barrett - Guitars
Pat O'Brien - Guitars
Paul Mazurkiewicz - Drums
You can hear the drums far clearer and they beat with a sonic punch!
I'm walking to my car holding in my hand Cannibal Corpse's 10th studio album, and follow up to 2004's "the Wretched Spawn". One of the first and most prominent features of "Cannibal's" recent musical excretion is the album cover. It's not the usual gory scene of some zombie like creature giving birth to demon spawn or a brutal display of sadomasochism or sadistic self-infliction. In fact, it's actually quite plain, much like "the bleeding", though not nearly as suggestive. The title, as well, is as nearly as plain and straightforward as the cover. Looking through the song titles I eye a few promising tracks that sound as if they might be "good" since they seem to run in the same vein as their older works. "Submerged in boiling flesh", "barbaric bludgeonings", and "five nails through the neck" just to name a few. As I get in my car I immediately slide the disc into the CD player. My ears are met with a train wreck of a sound as singer George "Corpsegrinder" Fisher opens with one of famous banshee like wails and and the kick drum beats away with savage force! Just the way I like it.
The sound is barbarous and inhuman and remains that way for the entirety of the CD. Another major point of note about this disc is the production. It's absolutely astounding and a great change as you can hear the drums far better and they beat with a sonic punch. This is truly a change for the better. Track twelve sees us with another great instrumental from the band (which they have done on previous works). Cannibal Corpse is know for not evolving their sound over the span of their releases, though this is a good thing, since they constantly remain satisfying to their long time fans and continually draw in new one's with each release! This disc is proves no different. If the formula is correct don't change it! I must confess I'm not typically a huge fan of George Fisher headed Cannibal Corpse, however with this CD I have had my mind changed. I can't quite put my finger on it, but this is definitely better then their any other George Fisher fronted releases in my opinion. Another thing to touch on is the fact that this album marks the return of former guitarist Rob Barrett, Whom played on the "Vile" and "the Bleeding " albums. Hate Eternal Guitarist Erik Rutan has produced this Release. He even lends his voice for backing vocals on the first track "The Time To Kill Is Now". The European version of the album comes with a live DVD filmed in Strasbourg in 2004 entitled Hammer Smashed Laiterie. The album track time weighs in at 46:18 and with a total of 13 brutal tracks. Some may be be led to think that The boys of Cannibal Corpse have finally toned down some of their antics But I must say in their stance that this is in no way the case! This is by far one of their best releases thus far as I'm sure after hearing this you will agree!