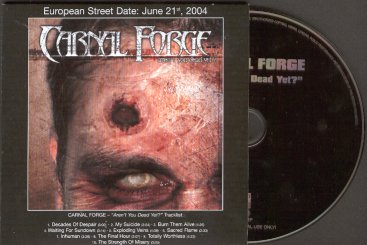 Decades of Despair
My Suicide
Burn them alive
Waiting for Sundown
Exploding veins
Sacred Flame
Inhuman
The final Hour
Totally worthless
The Strength of Misery
Jonas Kjellgren - vocals
Stefan Westerberg - drums
Jari Kuusisto - guitar
Petri Kuusisto - guitar
lars Linden - bass
Judging by the name, say, if I haven't heard of Carnal Forge, I would've thought it was another
trendy Hammerfall-type "fa-la-lah" band (which I hate, btw). But I have, and oh does this release punish.
Do you all remember when Metal was all about raising those devil horns up in the air and made you
want to grab a beer rather than a kleenex? This is that album, thankfully devoid of the overused
blast beats. The sound in itself is akin to a Slayer/At the Gates hybrid, performed with excellent
musicianship and class. Although not completely original, this record pummels anybody that would
criticize into submission.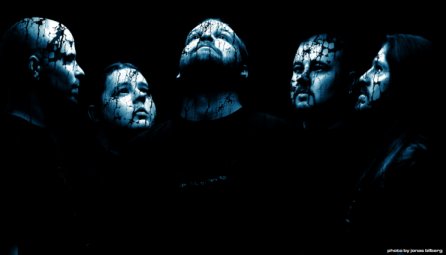 After about 5 songs the vocals do seem monotone, even annoying at times, but it is essential to this kind of music. Think Tomas Lindgren at his finest, alongside "Low"-era Chuck Billy-type backing vocals. One band that comes to mind, although they don't exactly sound like them is Witchery, because of it's Swedish "retro-thrash" leanings...

"Decades of Despair" opens the record fittingly, hard, hitting and furious. If I was at a listening station and this track comes on, there's no reason why I shouldn't buy this record. This is exactly how I would like my metal, modern sounding yet an obvious nod to the old school.

Listening to the remainder of the album, there's really nothing much to say about this, as the songs seem to revolve around the same orbit, but definitely "reliable", so to speak. Unquestionably, this won't disappoint, if you're an advocate of furious death/thrash or even of Metal in general.

There are occasional bursts of genius not unlike the harmonies on "My Suicide", or the cool spoken word on "Exploding" which acts as a prelude to some oh-so tasteful twin-lead work. Think the pairing of Michael Ammott/Bill Steer on "Necroticism".
The drums are outstanding, performance-wise, but if you're not too fond of triggered drums (or maybe too sterile-sounding bass drums) this may tend to annoy at some point. Over-all the production is excellent, clear and ripping.

In conclusion, this is a superb alternative to the endless legion of Black Metal pretentiousness. Do yourself a favor and get a real Metal record like this, and celebrate in excess and debauchery. Horns up!

Rating: 9/10