Chaostar is for anyone into dark music and into music that inflicts

emotion
I can say this without a shadow of a doubt that it doesnít matter which type of metal you are into. Weather it would be death metal, black metal, gothic, melodic death, doom, power, hardcore, old school, nu metal, or whatever. The darkest of the dark have its origins. It isnít gospel. It isnít old school rock and roll. Itís classical music. There is a reason why we listen to the type of music we do and I will tell you what that is.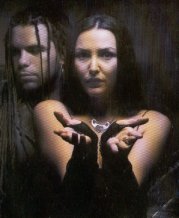 Chaostar is not a band. As a matter of fact, I really wouldnít know what to call it. Itís basically one guy writing and arranging everything. Itís classical music with operatic singing with a full-scale sounding orchestra with it, playing the darkest possible pieces. I am unable to pick apart song by song. This CD must be listened to from start to finish. Because if you start from the middle of the CD, you lose something and that something is momentum.
When I received this music, I started to listen to it expect a full-fledged death metal or black metal band to emerge. Everything started with a crash and horns for a split second and it stops and it slowly creeps up on you. Then I realized that this is not just any ordinary group. I listen further and further and I noticed that music like this should be in dark mysterious movies. I divulge more into Chaostar and just the emotions this CD brings out is so great. There are so many dramatic passages that bring the listener to new heights begging to hear more. I then realized by ďThe Arab MerchantĒ (track 6) that this is definitely not for anyone. Chaostar could only appeal to those who crave the dramatic in their entertainment needs.
The listeners of metal tend to listen to music that drives them. Metal is not for the casual listener, our genre encourages us to think, to think about complex melodies and to draw emotion from them. Rather it would be anger, hatred, and feeling of being related to, depression, lost, discovery, lust, wonder, and other emotions. Chaostar brings out many of those emotions in their music.
Chaostar is for anyone into dark music and into music that inflicts
emotion. I recommend buying this CD for the listener who craves the same things I crave. If you listen to Gothic mostly, this will be a very nice edition to your collection.
Friends, Buy this one. When I got it, I went to wal-mart and I bought a box full of candles and started to study with this playing in the background. I highly recommend it.
rating: 9,5/10