Review by Dimitris "Heartcollector83" Theodoropoulos
---
Cornerstone is the band of Steen Mogensen (bass) and Doogie White (vocals). All
the other musicians are session players. It's a classic hard rock album in the style of
Deep Purple and Rainbow (Doogie sung on Rainbow's VERY good album 'Stranger In Us All' in
1995) but with some 'modern' metal feel as well. Although their previous album Arival
didn't quite amaze me this new album of them is simply ASTONISHING! Excellent music by 2
experienced musicians and I am sure that all kind of listeners can enjoy it, whether you
like heavy metal or rock. It has both heavy and 'soft' elements. There are total of 10 tracks
from which 6 are AMAZING and the other 4 ones are just a good/average ones.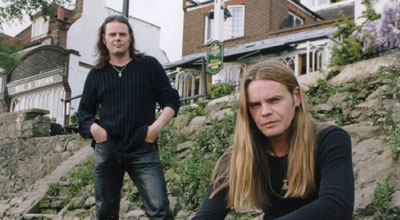 I didn't find any boring tracks in there so it's worth it's money!The only problem is that you might
have some difficulty finding this cd on record stores.I couldn't find it anywhere here
in Greece and I heard that some people in England had same problems.It is released by
Massacre Records if you can't find it and wanna order it,i got my copy from
www.massacre-records.com or you can also try www.ebay.com where you can find everything there.

RATING 9.5/10

Dimitris "Heartcollector83" Theodoropoulos