DISC 2 - live material
preview - review by dalia "gryphon_spirit" di giacomo____
---
A live concert as summary of Dark Tranquillity's career till now. A concert balanced between extreme temperament and elegant melodies. Dark Tranquillity as one of the best bands ever and as one of the best live bands , ever. Well known tracks are of course presented in a bit different form in comparison with the album versions. Therefore, for those who don't have the Damage Live DVD, nothing will appear foreseen, everything will be heard with pleasure. Those who already have this concert in DVD will be happy to have the audio trace of the Polish concert.
---
Live in Krakow, Poland. Exposures disc 2 delivers the audio portion of the concert included in the recently released "Live Damage" DVD . A concert that starts off in the best way i could imagine, this is to say with the song The Wonders at your Feet (Haven) , one of the best songs from DT, a track that can work as sensational opener with its potent piano, its hook lines and its mighty charge. Brilliantly executed and sung, it represents 3:47 minutes of pure rapture. Mikael Stanne presents then the band and announces the next song "we are Dark Tranquillity from Gothenburg, Sweden !!" The Treason Wall (Damage Done) runs energetic and pushing, and yes they are DT from Sweden, if there is necessity to introduce them! Mythical DT that celebrates their 15th birthday with this double CD: CD 1- rare stuff + CD 2 - live. The elegant booklet shows many pics of different DT-era's, brings the lyrics of disc 1, and is ennobled by a prologue from Hegel's "The Philosophy of Nature", everything under the art direction and design by Cabin Fever Media.


But let's go back to our concert and its optimal sound return as far as it concerns a live recording. We can enjoy it at our homes, in our cars, everywhere we can take our music with us. DT live with us and forever ! Hedon (The Mind's I) is the third track between sorrow, atmosphere and rasping vocal aggression. White Nose/Black Silence (Damage Done) springs to the attack, feline, with a massive drumming and bass sounds. Raw implacable rhythmic and a drop of exoticism and modern metal. It is heaven's turn now, another super song from album Haven, me thinks that comments are not necessary, apart the fact to underline that drumming and melodic lines are very evidenced, making of it a more emotional version. This is the good side of live! From album The Gallery it is announced now Punish my Heaven. This song, dated 1995, makes us understand which are the roots of Swedish Melodic Death. A piece of story of the band, a piece of story of Death, after all. Death rhythm merge with guitar solos and melodic feelings. Monochromatic Stains bring us back to present days, and, being presented after Punish my Heaven, it allows us to testify the passage of years of faithful evolution. Indifferent Suns, with its drop of medieval folk nostalgia is another hit from Haven. Piano and gentle melodic layers merge with the unmistakable raw roaring vocals and the rhythmic temperament, though here i would have preferred a bit more energy. Energy that however is brought back by Format C: for Cortex (Damage Done), where we have everything: from thunderous compression to a bridge of slowing down moment of melodic keys. Insanity's Crescendo (The Mind's I) provides harmonic clean guitars, tender dark chords, varied vocal techniques, clean and growls, from evilness to sweetness, from desperation to force. Hours passed in Exile (damage Done) is one of the best featured tracks: an outburst of temperament and power from guitars and battery, this track is played crunchy , elastic, dynamic with a calibrated touch of sweetness, is Melodic Dark Metal to the nth degree. Addictive song, well deserved applauses. Relentless strength is unleashed through The Sun fired Blanks from Projector, guitar virtuoso's and solid rhythm- pedestal. We are at the twelth song without getting notion of the time passed listening to this disc till now. The title track of album Damage Done roars and balances between melodious lines and brutal passion. Vigorous piano intro for Lethe (The Gallery) which will provide obscure and guttural vocals, muscles and dark tenderness. Not built to last (Haven) too balances among melodies, modern effects and caterpillar aggression. The typical raw guitar of ThereIn (Projector) let understand that DT can remain extreme and wild, in spite of very melodic touch with almost elegiac round ponderous clean vocals. Indeed a varied ThereIn full of facetten.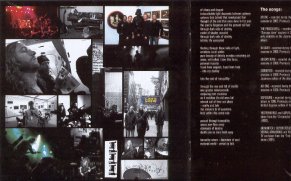 Death attacks and Metal blood are present in Zodjackyl Light (Projector) which delivers a pause of silence where you can listen to the approvals of the audience, and in a breathtaking crescendo Final Resistance is announced in a moment that seems the awakening of the big wild beast. Final Resistance "deaths" a lot (allow me the use of the verb "to death" in order to express this superb moment ) in a pure Melodic Death style. Horns up to the blasting Final Resistance and to DT that celebrates their years of excellent work. The short (2.07), instrumental Ex Nihilo appears among the applauses and after Stanne's greeting "good night". Ex Nihilo sidereal and mysterious as last greeting for 15 candles.
But minutes , years or hours are meaningless: this disc 2 of Exposures is more than an admirable work. It is an awesome gift for all fans of the band of course, but also for all fans of \M/etal . Piano and orchestral arrangements are prominent and counterbalance the melodic Beast.
Only 2 very little flaws imo: firstly, the audience is put in a very background, you can detect its presence in the passage from one song to the following one . Actually the environment where the DVD (and consequently this audio trace) was taken seems a bit sterile: it provides a good clear sound but an almost ghost audience. Secondly a couple of songs are "re-arranged" too melodic. But these 2 characteristics can be on the contrary very appreciated by other listeners. It depends. But, above all, one thing is clear: DT elevate Music to Metal (or the opposite?), mastering many sides of it. A release for every Metaller, and not only: it is a work for everyone who likes music with high temperament , music with technicality but much heart too, consequently never boring and artificial.
To sum up, Exposures Disc 2 is a mature and vigorous, dynamic vertical section of melodic Death between "extreme and emotional", because the feral Death blood bites us anyway: lions get regalness but don't lose their killer instinct. Exposures is a must: mythical DT, more enjoyable than Hegel!
Rating: 9.8/10
The first time I saw Dark Tranquillity was in 1999 at the Wacken Festival. I went into the tent more by accident than by purpose, but trust me; I didn't leave before the band had finished their set. I was fascinated. Projector was the first DT album I bought and Haven and Damage Done followed. For some reason that I myself don't even know I never bought any pre-Projector album. The outcoming double album Exposures promised a live CD and one with rare material, the one I was especially looking forward to as I was really curious to listen to some of Dark Tranquillity's early material.
The material is very early and very rare indeed, dating from 1991 and 1992. So far only released on demo tapes or on 7'' EPs it was hard for fans to get this material unless they were willing to pay sky rocketing prices on ebay. When I got the CD I was so anxious to hear the old songs that I skipped the 7 songs from the Projector to Damage Done era, although even those ones were previously unreleased or only released on the Japanese editions of the albums. When I had skipped to track 8 "Yesterworld" and pressed play my first reaction was "I got the wrong CD". This sounded so unlike Dark Tranquillity as I had known them from Projector onwards. Sheer endless guitar solos, distorted, growling voices, song lengths that would have made My Dying Bride envious, hardly any melodic elements and a speed that seems supernatural. This 5 songs from the demo Trail of Life Decayed and the 7" single A Moonclad Reflection are Death Metal at its purest. At the first glance there seems to be absolutely no link between Dark Tranquillity in 1991/92 and Dark Tranquillity in 2004. The Gothenburg style which they shaped seemed to have come out of nothing. But listening closer to songs like "Midwinter/Beyond Enlightenment", especially the guitar solo in the middle of the song makes one foresee small roots of their later melodic style. Even the outro of the very last and thus earliest song "Void of Tranquillity" could be the intro to one of their latest releases. In a way the circle closes with that song, a link to the later material is found, even if it's only in the form of a 20 second outro.
The idea of this CD to show the development of a band backwards, starting with the latest release and finishing with the earliest instead of going forwards is very interesting. The listener gets kind of lulled in by the familiarity of the first seven songs. Of course, they all have been unreleased so far or hardly been available to European listeners but every single song fits (or would have fitted) perfectly into its relevant album so that the feeling of being familiar with it comes relatively quickly. The more unexpected, even shocking is the break between "Exposure" from Projector and the afore mentioned "Yesterworld". One might want to understand the choice of the song "Exposure" as a hint, a warning – be aware of what you get exposed to next. But that's only speculation. And still, though I'm listening to the album for at least the tenth time now, I am stunned by the development of this band. From a death metal band that was definitely good but was one amongst others and that was hardly sat apart from others to the founding fathers of a new style in death metal. Surely, songs from The Mind's I and Gallery are not on CD1 and in this respect we see or better hear a band at their very beginning and their end while leaving out the middle, the linking part. Again, a very interesting concept, as well as the idea to set the songs in a anti-chronological order. All possible answers to this why-question are only speculations until we ask the band about it. Now that's an idea… ;) This CD is a must for all fans. Go and get it and I will keep wondering about the concept ;)
Rating: 9.9/10