DEATH ANGEL:"The Dream Calls For Blood"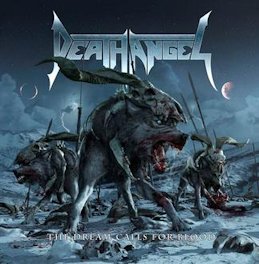 01. Left For Dead
02. Son Of The Morning
03. Fallen
04. The Dream Calls For Blood
05. Succubus
06. Execution - Don't Save Me
07. Caster Of Shame
08. Detonate
09. Empty
10. Territorial Instinct / Bloodlust
11. Heaven And Hell (digipak bonus track)


http://www.deathangel.us/

https://www.facebook.com/deathangel

http://www.nuclearblast.com/
Line-Up:
Mark Osegueda – Vocals
Ted Aguilar - Guitar
Rob Cavestany - Guitar
Damien Sisson – Bass
Will Carroll - Drums

Label: Nuclear Blast
Year: 2013

like us at FACEBOOK http://www.facebook.com/GryphonMetal
Ready for the ride.
Imposing comeback, after 3 years on tour, written on the road. "The Dream Calls for Blood", follow up to "Relentless Retribution" (2010), is distilled energetic Thrash Metal full with instrument virtuosos and enriched by suddenly appearing harmonious passages that mainly open up or end some songs (for example Left for Dead, Execution). Drums are structured as true battery attacks and the guitar solos are simply superb, at times dissonant, like in Son Of The Morning and Falling.
Great screaming vocals from Osegueda, great Cavestany and his Jackson guitars, great Will Carroll, great all Death Angel that perform strongly, relentlessly: no mercy, no breaks. Great care about arrangements and instrumental techniques.
Interesting is the fact that this album was recorded again at Audio Hammer Studios in Sanford, Florida, with producer Jason Suecof (Trivium, August Burns Red, The Black Dahlia Murder, All That Remains, Devildriver), and once again features a cover art with similar subject, this time nocturnal (in my opinion awesome, savage, brutal and wild like the music) by Brent Elliot White (Job For A Cowboy, Carnifex, Whitechapel).
The title track Dream Calls For Blood is straight, fast , rhytmed: awesome song that will unleash tremendous headbanging and turmoil in the pits while played live. Basically this album contains songs that will impact phenomenally live. These songs are clearly written on the road for the road.
Caster Of Shame is one of the most amazing tracks of this album because of the much movement and fresh fierceness. Although the crown should go to the song Detonate for the impressive and menacing instrumental intro, the bonebracking rhythmic. But my favourite is the more melodious Territorial Istincts that unites strength and richness in composition reaching Metallica`s grandeur.
The album is coherent, enjoyable, made for the angry maniacs out there. With Death Angel Thrash remains young and ready for the ride.

9/10
dalia di giacomo
Tour dates:

October
17 - Slim's - San Francisco, CA
18 - Slim's - San Francisco, CA
19 - The Whisky - Hollywood, CA
20 - Ramona Mainstage - Ramona, CA
21 - Orpheum Theater - Flagstaff, AZ
23 - Dirty Dog - Austin, TX
24 - Scout Bar - Houston, TX
25 - South By So What - Dallas, TX
26 - Chameleon Room - Oklahoma City, OK
27 - FuBar - St Louis, MO
29 - Webster Hall (Marlin Room) - New York, NY
30 - Empire - Springfield, VA
31 - Altar Bar- Pittsburgh, PA

November
1 - Mojo 13 - Wilmington, DE
2 - Middle East - Boston, MA
3 - Foufounes Electriques - Montreal, QC
4 - Opera House - Toronto, ON
5 - Reggie's - Chicago, IL
7 - Summit Music Hall - Denver, CO
8 - Sunshine Theater - Albuquerque, NM
9 - Rocky Point - Tempe, AZ
10 - Observatory - Santa Ana, CA


European tour dates:

November
26 - Katowice, Poland - Mega Club
27 - Prague, Czech Republic - Nova Chmelnice
28 - Karlsruhe, Germany - Substage
29 - Arcicolony, Italy - Brescia
30 - Gualtieri, Italy - Temprock Club

December
2 - Vienna, Austria - Szene
4 - Munich, Germany - Backstage
6 - Erfurt, Germany - Centrum
7 - Eeklo, Belgium - Kubiek
8 - Paris, France - La Maroquinerie
10 - London, England - Underworld
11 - Essen, Germany - Zeche Carl
12 - Eindhoven, Netherlands - Eindhoven Metal Meeting , Effenar Hall
13 - Alsfeld, Germany - Stadthalle
14 - Zürich, Switzerland - X-Mas - Metal Meeting, Stadthalle Dietikon
15 - Geiselwind, Germany - Christmas Metal - Festival, Eventhall


comment this review at FACEBOOK

http://www.facebook.com/GryphonMetal