05/10/2002 The public use of these fotos (© by Dimitris Theodoropoulos) is strictly prohibited without written permission.
---
Deep Purple
Lecabettus Theatre, Athens,Greece.

24th & 25th September 2002
Ian Gillan:Vocals
Roger Glover:Bass
Steve Morse:Guitar
Don Airey:Keyboards
Ian Paice:Drums
24th September
At 9.35pm Deep Purple hit the stage with a cracking Fireball. Gillan was in excellent form from the off and the band sounded great!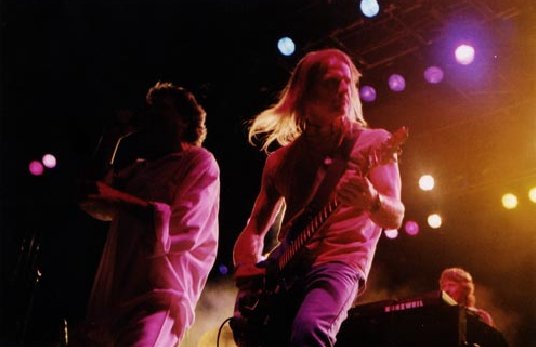 Gillan and Morse during Fireball
Woman from Tokyo was very good, but the first real highlight for me was Mary Long; Steve's solo in the middle was just brilliant. My second highlight was Lazy, I was floored by Glover 's bass work throughout the track. In When A Blind Man Cries it was time for Messrs Gillan and Morse to shine, both conjured up stunning performances. Not letting up, Steve turning out another memorable break after the little drum intro in Space Truckin' It was the first time that I'd heard this song performed live, and it was yet another highlight of the show. Don had already proved during The Well Dressed Guitar that he's absolutely the right person to replace Jon Lord, and his solo spot restated the point, including snatches of Difficult To Cure, .... some well known Greek songs and finally the opening chords of Perfect Strangers. Great stuff. This song is a big favorite with Greek audiences, and caused virtual pandemonium in the arena!
At the end of the song two guys walked on stage, one of whom was Stathis (from the Greek DPAS). He apologised for interrupting the show, telling us that his companion's girlfriend was in the audience. And then, eventually, the guy asked her to marry him!!!! She said yes (this is surreal...)and the band played some wedding music before hammering into Speed King!

Gillan and Morse during Fireball

Don Airey

Gillan during Woman from Tokio

Don Airey doing the short keyboard solo on Woman from Tokyo



Morse during the guitar solo on Woman from Tokyo
Glover's solo was amazing, Paice's too (in fact little Ian was terrific throughout the gig.) Speed King also included old rock'n roll tunes such as High School Hop and It's Now Or Never. Steve's pre Smoke On The Water 'riff-raff' showcase was a lengthy one, including snatches of The Beatles, Led Zeppelin, The Animals and The Rolling Stones' Honky Tonk Women, which Ian Gillan emerged to sing along with! The band encored with Hush & Black Night, finally closing the set with Highway Star.
The performance was very good, better than last year's Athens date. It seems that they have become a better team and Airey looks more comfortable.
Now to complain! First of all the set list was not adventurous enough.. from last year the only differences were Space Truckin' and Fireball instead of Fools and No One Came. Anyway, after the new album (Gillan said that they will be recording it this winter) things will hopefully change.
And where was the crowd?? Only 4000 people to see Deep Purple? Last year the same venue was sold out!! I think that two clashing gigs in the same city were the reason, as well as the fact that they played here last year! I can't say that this was the best Deep Purple gig I have ever witnessed, that would be one from the 2000 tour.....but it was still a great show.
Set List:
Fireball
Woman from Tokyo
Mary Long
Ted the mechanic
Lazy
The well dressed guitar
When a blind man cries
Space truckin
Perfect Strangers
Speed King
Smoke on the water
Encore:
Hush
Black night
Highway star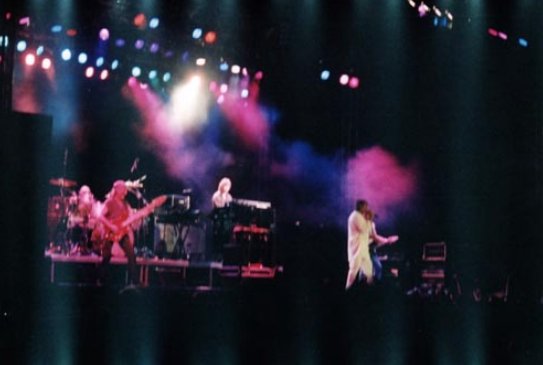 ---
It rained heavily in the morning, leading us all to believe that the second gig would eventually be cancelled! Fortunately it stopped at noon, the sun appeared and the show went ahead.
At 9.35pm Deep Purple hit the stage with an excellent rendition of Fireball. Gillan's voice was once again sounding brilliant, and a few sound problems were put right by the end of the song.
The set list was basically the same as yesterday's, though Black Night and Hush were played in reverse order. All the highlights were repeated; including Steve's superb solo in Mary Long, and Gillan's improvisation in Space Truckin'. Before Speed King Gillan made a reference to last night's event at the same point in the show, and asked Roger to marry him!

Morse playing the Fireball riff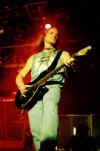 Steve Morse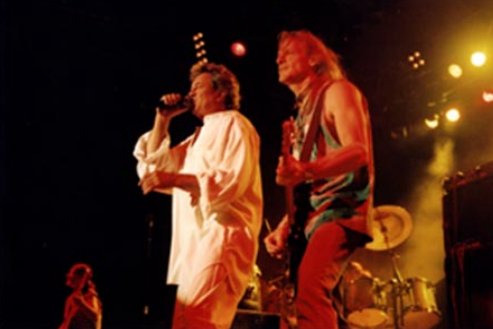 Gillan and Morse and Glover visible in the background


the Greek fans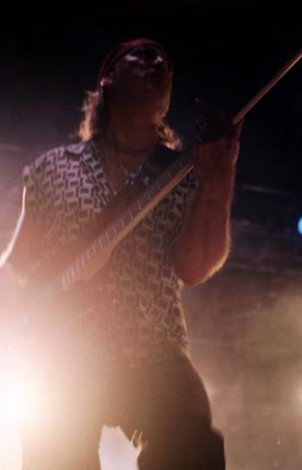 Roger Glover


Steve playing the opening riff of Woman from Tokyo

Gillan during Morse's guitar solo
Morse smiling at my camera!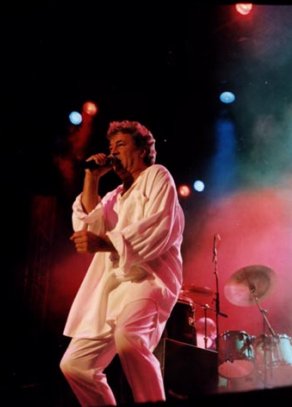 the great Ian Gillan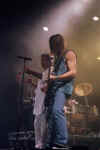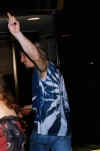 Morse after the gig going to his room in the hotel
Little Ian's drum solo was outstanding, even better than yesterday's one. Don Airey played Weiss Heim in his solo spot , as well as clips of Greek songs . The Star Wars theme was there too and his performance throughout the gig was really good. Morse was a little better (just how good can he get???) and in the riff-raff section before Smoke On The Water he bashed out Beatles, Zeppelin, Animals, AC/DC, and Rolling Stones riffs, with Gillan joining in to sing along with the latter. Glover once again astounded me, what a bass player! Before leaving stage Ian Gillan announced that this was the end of a very big tour and proceeded to thank the road crew one by one.
Tonight's gig was a little better than yesterday's and sadly these two Deep Purple concerts finished their never-ending world tour!Now we can't wait for the new studio album and see them play live again!!
review by Dimitris "Heartcollector83" Theodoropulos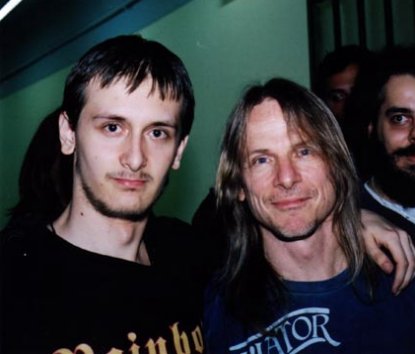 Dimitris and Steve Morse - backstage after the gig
CREDITS:Special thanks to Panos Papapanagou for the help on the review!!!
All pictures by Dimitris 'heartcollector83' Theodoropoulos
---