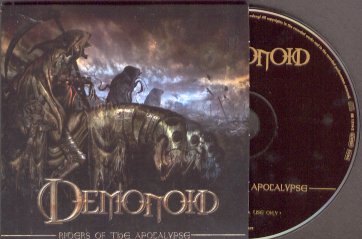 Demonoid:
"Riders of the Apocalypse"
Wargods
Firestorms
Witchburners
14th Century Plague
Hunger My Consort
The Evocation
Arrival of the Horsemen
End of our Times
Death
Christofer Johnsson - vocals
Kristian Niemann - guitars
Johan Niemann - bass
Rickard Evensand - drums
Nuclear Blast
release date: 26 July 2004
preview - review by dalia "gryphon_spirit" di giacomo 10.06.2004
ALARM RED: WHO ARE DEMONOID? A MANIFESTATION, AKA AN APOCALYPSE, ENTHRALLING FOR EVERY METALHEAD
---
War, Starvation, Rabies and Death: the four Riders of the sixth chapter of the Book of Revelation, better known as Apocalypse, written by St. John the Divine. Around the biblical concept of the four Horsemen, Demonoid have created a superb album of Death, in which almost all flavours of the genre are mixed and follow one another in a simply excellent way, morphing into Melodic Death, Doom, Thrash and Black too. But if only Jesus Christ is "worthy" to open the seals of the four Knights, here everybody can appreciate this album, everybody: from Goth's to Power's, though, like mentioned, it is dark, threatening and mighty Death/Thrash.
The first time i have checked this promo, wondering who Demonoid are, i remained astonished hearing this amazing music, the perfect technique of playing, the cruel and dreadful atmosphere, the impressive and varied grunts, the screaming vocals. Death, yes, but accessible to everybody, enjoyable in every note of every song without losing an ounce of power, aggressiveness, violence and greatness. Typical Death/Thrash is a base on which Demonoid develop further many elements without an obstacle, without a single stoppage, without a "noise". Harmony and melodies walk end in end with the solemn fear; solos and catchy riffs walk hand in hand with sacral rituality; iron fists dressed with fresh groovy gloves. All is forged with absolut perfection of shape, sound and arrangements with spontaneous charge. Demonoid is manifestation of Strength that even doesn't need hyperblasting tones and tons of angriness to let you understand how much strong and powerful it is. In few words, this -Riders of the Apocalypse- is a jewel, top-notch in each detail. While being "summa" of extreme, it is also Death to export to fans of other genres, and this means a lot. There are many convergences (i don't call them influences), some of them are Bathory, Dimmu Borgir, Runemagick, Kataklysm, Danzig, old PL, and many many others, but are so well and naturally compressed together that you even don't know how to begin to find them: you have the impression you re-discover a world.
You ask me now, "how is it possible, which band could be able to carry out such miracle? which band can be able to master the whole repertoire of Death with such melodic catchy flair and mighty pitiless self-confidence? Yes indeed! it was the same series of questions that assaulted my mind when i began to check this work. Alarm red, who are Demonoid? It was too clear to me, it was no newcomer band, though this album could be considered as a debut "per se". I was presuming that this moniker was veiling the identity of great artists... who?. But ehi, the "Eureka" quickly came: the accompanying info's! I never read any info sheet before having listened to an album at least one time, in order to get a totally natural , personal first reaction and impression. But i assure you, that the info sheet was the most welcomed thing i could have in my hands in that moment, and when i read the line- up, i turned literally pale...and happy... happy 'cause everything got an explanation.

The four Hoursemen are the 3 members of THERION: vocalist Christofer Johnsson, guitarist Kristian Niemann, bassist Johan Niemann + Chimaira's drummer Rickard Evensand: it is practically a revelation, aka a little Apocalypse.


Musically, all tracks perfectly match the lyrics, after all it is a concept album, but they can be enjoyed separately: every song has a life of its own. We ride a Death/Thrash in many variations, with a subtle and breathtaking rocking attitude. Every track is a champion of metallic darkness:

Wargods - Uptempo Old School wild running, ennobled by a major melody, evil grunts and screams that reminds of Black. There is a fascinating lead solo and some drops of obscure and apocalyptical proceeding, lavished especially in the doom-y and solemn bridge.

Firestorms is faster, opened by a resolute drumming: a killer with aggressive vocals, a super attack with just a drop of Dimmu Borgir, and modern echoed vibrating effects, which give to the song an surreal aura.

Witchburners - lively obsessing pulsing, embedded in a good melodic frame and in an inextinguishable rebel rock tension. Abyssal grunts.

14.th Century Plague - In accordance with the title, it is menacing and sacral, proposing those cadenced rhythms that you can admire in Scandinavian bands but also in Danzig. Heavy hypnotic, totally threatening.

Hunger mv Consort - It has outstanding: percussive bass lines, faster recurrent rhythmic loops full of metropolitan alienation fade into Death with some Thrashy flavours, catchy, gripping and grasping like ivy. Headbanging orgy with good harmonic variations concerning the guitar sounds, which are always limpid and crystal-clear, propelled by a drumming full of temperament. I suggest this song to my beloved Death Metallers, so that we can all get an aching neck and an altered state of pleasure. But i suggest it also to those who would like so much to understand the realm of Death/Thrash: this is finally the infallible key.

The Evocation - It is full of suggestiveness, reverberation and demonic darkness. At the very end of the song you shortly can hear to what it seems a nice female voice, ...just surprising after much cavernous rutilant Beast vocals .

Arrival of the Horsemen - It is the "core" of the album. It begins as if a wide-breathing threatening sky would approach and fall on you, almost elegiac in its terrifying promise, it rises the tone slowly in climax as announcement for a varied-paced, hammering and fierce ride, that evokes all four Horsemen. A super song perfectly executed: you have only to choose the colour of your horse: white, red, black or pale/green and you hardly come back to reality. It is a ravenous, percussive song with a super bass sound, and, in general, with brilliant rhythmic's, few but effective distorted equilibrated effects of distortion. gift, After 4:08 minutes, a bright solo that reminds me of atmosphere of 90's, only set much faster, towers the violence. More than addictive.

End of our Times - Let's explode with another Death/Thrash gallop which delivers a fascinating catchy loop refrain that is modern, sad and majestic in its substantial simplicity. Simply asskicking also due to its rolling hammering technique already seen in Runemagick.

Death - The last track: again a fierce song with some exotic and hypnotic and CYBER appeal, killing melody and death attack included.


To sum up in one word: fantastic! The biblical four Horsemen fear today the rivalry of even worst plagues: Arrogance, Indifference, Egoism, Pollution. On the contrary, Demonoid's four Riders fear nothing and master everything.

Rating: 10/10