Keine Warmduschermucke.
Mit "Attitude Beatdown Berlin" veröffentlichen die Berliner Beatdown Hardcore Haudegen Denny Crane ihr Debütalbum, nachdem im Jahr 2011 eine Demo erschien. Dass hier keine Warmduschermucke für Justin Biebers & Konsorten zelebriert wird, zeigt schon das eindrucksvolle Cover mit der eingeschlagenen Scheibe. Aufgenommen wurde das Album mit Micha (Anticops) & Rene im Kugelphone Studio in Berlin. Hinter dem Mikro von Denny Crane steht niemand geringeres als Tobi Diepelt, den man von Got Nuthin' Zeiten her kennt.
Die Songs auf "Beatdown Attitude Berlin" behandeln Themen wie Frustration, Ausbeutung durch die eigene Regierung, Wut, Verzweiflung etc. Am besten unterstreicht das der zweite Song "L.C.K.M" mit Theo von Your World Dies als Gastsänger. Jedoch wird mit "Negative Music, Positive Way" auch Auswege aus der Misere aufgezeigt. Hier treten die Gäste Alex Leonhard von Tonedown/Got Nuthin' und Marcus von All For Revenge in Erscheinung und helfen dabei die Message des Songs authentisch rüberzubringen.
Angereichert wird das Ganze durch Zitate aus Filme und Fernsehen. Ferner wird mit der Aussage "Wir ficken das System!" klargestellt, dass sie nicht gewillt sind, die derzeitigen Zustände kampflos hinzunehmen.
Auch die obligaten Gang Shouts sind bei "Prison of Punishment" dabei und zu keinem Zeitpunkt hat man das Gefühl, dass die Musik nicht zu 100% voll in die Fresse tritt. Mit "De Este Suidat" befindet sich sogar ein Lied in Spanisch auf "Attitude Beatdown Berlin" neben deutsch und englisch gesungenen Liedern.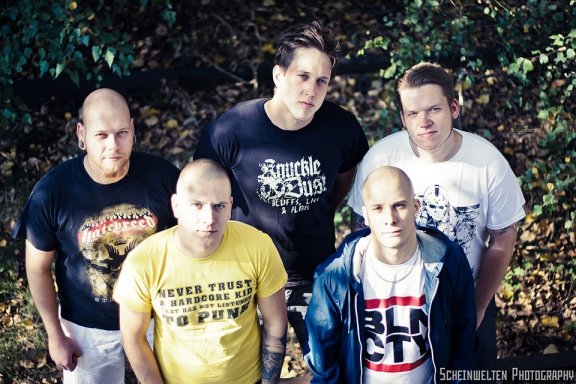 "Lost In Berlin" thematisiert die derzeitigen Zustände in Berlin und das man trotzdem stolz darauf ist in dieser Stadt zu leben auch wenn nicht alles optimal funktioniert. 8-Ball von Reject The Limit und Produzent Micha von Anticops geben hier ein Gastspiel und lassen den Zuhörer ihre Emotionen in jeder Zeile spüren.
Was mir speziell gefällt ist der letzte Track "Alexa-Liana (Nimm ein Kind an die Hand)". Alleine vom textlichen Aspekt her, stellt dies ein toller Kontrast gegenüber den vorigen Nummern dar. Hier wird die Liebe zum Kind thematisiert, was in der heutigen, schnelllebigen Zeit immer mehr auf der Strecke bleibt. Das einzige was mir nicht gefällt, ist die dünne Produktion, welche meine gute Stimmung bei diesem Song kaputt macht.
Daher kann ich auch nicht die volle Punktzahl vergeben.
9.5/10
Be our fan! >http://www.facebook.com/GryphonMetal