Rendezvous with Melodic Death/Thrash 'n Black Metal tonight in Zürich. Appointment again with the Knüppelnacht organized by Hellfire, a recurrent Metal Event which always accomplishes the purpose to exalt underground while presenting also signed bands of great significance.
The whole evening is characterized by a comfortably crowded pit, by an enthusiast large young group of fans, particularly looking forward to the German headliners Desaster, though generously supporting also the local Swiss bands As Sanity Fades and Cryptic Voice, from the first minute of the concert.
On the whole, this concert is becoming always more and more interesting cause allows various considerations and blends before our very eyes solid Old School with a more modern attitude. I like those concerts that unstoppably grow in crescendo without dilution of pressure. And this is one of them, a concert in crescendo rising to the climactic moment. The styles presented by the three bands match well together with the right articulation: it's almost a cycle, we start from the more modern and atmospheric Death/synth Black of As Sanity Fades, we pass through technical Melodic Death of Cryptic Voice, reaching the Old School Thrash'n Black of Desaster, who, in spite of their essence from the Eighties, bring us ideally there where the concert began, proving once again that Metal really never dies.
AS SANITY FADES
www.assanityfades.ch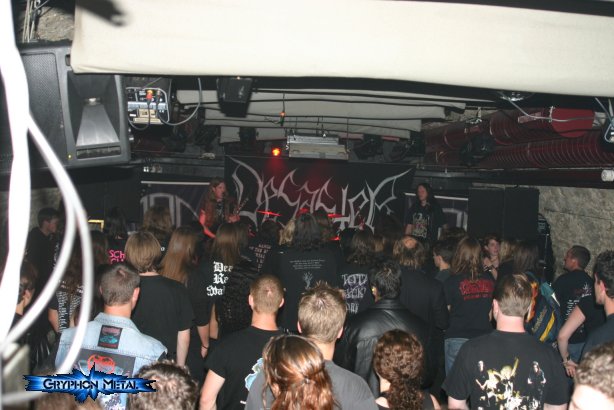 As Sanity Fades was formed 1994 with the moniker Epitaph, but after some line up changes and some misfortune (as the death of one of the founder members Claude Bertholet in 2000) the band started again in the period 2001- 2003 with the new name and new vocalist guitarist Bruno Mathis. Tonight i see the 3-piece band, who hits the stage with the song War, in full shape, showing a well marking and original style. Between aggressiveness and charme. This is the most peculiar characteristic. As Sanity Fades develop a total metal presence yet an hieratic, calm one. Much headbanging in the pit but not on the stage where the atmospheric soundscape and the polite almost Britannic flair of Bruno Mathis are on the contrary the protagonists. And nevertheless As Sanity Fades supply with sinister intensity. Their Death/synth Black metal is supported by back- samples of synthesizer and dark chants, which are at times evocative, at times melancholic, at times severe, at times wicked and that add both gothic and surreal hypnotic saturation. Their general fast rhythm combined with atmospheric hypnotism makes me suspect that surely Hypocrisy must have been one of their points of inspiration . The songs Sinnerlife and On Chains (available for download on their official website) keep the interest high, the concert has started well and goes on better with the very good pushing intro of Uncertainty and 2B marked by elastic strings and a hammering drums. As Sanity Fades like to surprise us with unpredictable tempo changes, speed up or simply sprays of heavy metal, alternating all this with symphonic monumental dome or cadenced loops. Not everything sounds fluent or totally persuading, but i can say that all in all many songs are agreeable, many songs catch you immediately , fruit of talent in composing and in technical playing like the arpeggio of Symphony in A-mok . Pity that these synth samples cannot be expressed through the presence of a keyboardist on the stage. Before announcing Symphony in A-mok vocalist Bruno points out that As Sanity Fades takes part in the Rock Highway Contest 05 (www.rock-highway.ch) and asks for support on 16.10 in Winterthur at Salzhaus. A support that they truly deserve. Their concert begun at 21:05 ends with the song Davidian at 21:45 . They had all the time to present a good setlist for a good show ending indeed with Davidian and its cascades of strings and drum sounds in hate and anger towards a bulldozing doomy final slowing down.
Abundantly after 22, due to some technical adjustment, the stage is ready to guest the second Swiss supporter Cryptic Voice. Around since 96, Cryptic Voice deliver their first full length "..Retribution comes" in 2002, but new songs are prepared for the upcoming second album and one of these new proposals will be the strong moment of the concert: Take the Crown (sample available on the official website) . This song is definately more fluent, more earworm and straight to goal and impressive, a sign that tells us the band wants to get rid of a certain distressful technicality without renouncing the good sound, the sinister vibes and , i presume, a good production for the work. Joy and burden of a band that is so concentrated technically on music. Anyway who likes melody and technique, melody and mighty cadenced dark heaviness, can find in Cryptic Voice the ideal stuff. But Cryptic Voice, whose Melodic Death metal often approaches the style of compatriot Darkmoon, but without so marked Black tremolos, have all the cards for success. And this evening they deliver a very satisfactory show. Though far to be perfect, it is nonetheless a good show, played with conviction, with the will to believe again. A show that appeals , an attractive show in spite of all parameters that should be enhanced beginning from a more compact outfit, that would be really worthy. Great work done by the bass, good vocal capacity expressed by Timu whose rasping timbre is up to the task for all the concert. But, at the end of story i think Cryptic Voice should play more, should be more involved in the carousel of live performances. But by one thing i am really surprised, by the Kataklysm cover presented tonight: the formidable "Ehere the Enemy sleeps". Me, usually against covers, must say that just the mere playing of a Kataklysm song is a distinctive trait of force. Cryptic Voice: the band of He's not my God and Reborn should not be missed next time around. For the rest, this evening there is much appreciation and applauses.
Here is the horde: Sataniac, Infernal, Tormentor and Odin. The 4 warriors and tyrants, so awaited that you could cut the apprehension in the air like butter with a knife. Already during the turn over, the 4 Knights of Hell appear on the stage in order to make the last checks and begin to observe the crowd. Their imposing outfit "Spikes'n chains'n bullets" makes remind of all classic metal heroes, from Destruction till Destroyer 666.
For me and other Metal Forces aficionados who are here attending the concert of tonight, this is a warm up, a kind of "spiritual" preparation for the next upcoming edition, the ninth one, of the festival (26.11 in Lörrach Germany) where Desaster will play together with Epidemic Desease, Eluvetie, Necrophagist and the Unholy trinity called Pungent Stench. Related to this, anticipating a bit the essence of Desaster's performance today and putting it in the frame of the whole bill of the Metal Forces, i can imagine that the next MF event will be an authentic earthquaking goliath of big impact of Kult and Old school Thrash, where each band will be engaged in a real feat of Strength. But tonight is no minor thing, on the contrary, the crowd is deamanding as always, trained as always and thankful as always when a bands doesn't disappoint the expectations. After the good supporters, Desaster, so awaited and admired by a die hard large group of fans, put the crown on the head this great evening, delivering much respect. I know what it means to be a fan, nonetheless i remain always amazed when i see such devotees and connaisseurs of music and lyrics of a band. And i appreciate the response of Desaster too that give all on the stage for this crowd . Hands hold out, outstretched meet Infernal's guitar as well as the strong arm of Sataniac, who seems more metal possessed than Blaze Bayley. But before the concert began, when all was ready and the intro took the first step, there were a couple of seconds of utter suspense, as if a battle should explode. I too was afraid of a sudden outburst of moshing, but fortunately nothing will run out of control, thanks also to the charismatic Sataniac and Infernal that are such two living magnets and really tyrants of the attention of the fans. Though headbanging and starting some mosh, people is, after all, not able to turn their eyes away from them for long time. You can notice that Tormentor is a very skilled and attentive drummer though he doesn't need excessive concentration in order to be effective behind the skins, he simply knows well the band and his synergy with all his mates is assiduous yet natural. On the contrary, vocalist Sataniac, remains more concentrated on the synergy with guitarist Infernal and less with bassist Odin.
Desaster's music is soaked with Old-School-Thrash´n´Black but also consistent traces of Heavy Metal are present, without speaking about Infernal's self assurance on his lefthand guitar. And it is right Infernal who is able not only to smash evil and aggressive drilling solos, but also lead chords that are many times a true temptation, something new and unpredictable.
From their biography we learn that Desaster is going back to 1988 following the path of Destruction and Venom. Well it is really so, the first comparison you can do is with Destruction but the tension to Black and darker contents let us remind of Venom. To tell the truth i personally am not much into this style, though its iconography is always of great effect, i am more into the newer breed of Thrash and Black, but two considerations must be done: the first is that the young generations still appreciate it , second the iconography of this style has that attractiveness that will never fade.
From the new Album "Angelwhore", songs like Havoc and Ghouls to strike are presented, while Metalized Blood is the requested prince of the set. Other songs played are Necropolis Khartago, Teutonic Steel, Tyrants of the Netherworld, Profanation, The Swords will never sink.
Let Metalized Blood be during the first encore, around 00:30! first cause there are 2 encores: in such enthusiastic reaction of their fans, the band in vain tries to leave, cause the next bonus song is immediately desired and acclaimed till the last one which is the cover of Kreator's "Tormentor"; Desaster are very generous and fulfill the request even if it's late, even if rivers of sweat flow and some tiredness obviously appears. Metalized blood cannot lie and never gives up.