Thrash till Death. Bleed yourself dry and swim in a crimson river.
Sixth opus for the formidable German Dew-Scented, the sixth full length, whose title is beginning again with the letter I . Issue VI is a manifestation of ardent and fast Thrash, deeply bound with resolute Death. Relentless, violent, many times brutal, yet rich in musicality and in real skillfulness, Issue VI is the natural follow up to the already brilliant and acclaimed Impact. Issue VI is all you need if you look for an ultimate kick without having to renounce the grace of Music. Inwards definitely attracted the attention on this band , Impact was the manifestation through which Dew-Scented were sincerely praised as the possible new Slayer. Issue VI in my opinion will bless the explosion of Dew-Scented as foreground force of the new breed of European Thrash/Death.
After a short melodic string arpeggio, Processing Life hits like a kick straight in your face and from this moment on , the whole album is a sequence of neck-breaking songs. Thrash till death, mosh till death, enjoy and worship every note of these major attacks. Very far from being a confused mayhem, on the contrary Dew-Scented are so mature that every song is a groundbreaking crunch yes, but having each one its personality and an agreeable musical structure, each track is memorable and differs from the others. Issue VI is a living boiling Thrash blood-line that anyway often shows proud aspects of Death metal and old-school fierceness. I would also say that Issue VI hides more Death metal than Impact did, and inserts it in a varied lust of unstoppable rhythm, guitar shredding, lead drilling solos, and pounding- fast riffs. Notice that guitarist Florian left and Marvin Vriesde (from Severe Torture) takes the additional guitar. Dew-Scented rape your soul with catchiness and violence, and after very few listening's , this album becomes addictive. The live concerts enhanced by this new stuff will turn into a demonic sabbat, furthermore the inner musical quality makes in fact this album irresistible and a must to have. Issue Vi is not only a confirmation concerning the present of this band, but also a guarantee for the future, being Dew-Scented in full rise, so we can expect in future still many great things from them. The production in Andy Classen's hands is superb from the instrumental point of view , while i'd have to remark only one point: the powerful and unmistakable Leif's vocals, who are sort of anguished growling/shouting (yes, Leif's timbre is no common one ) seems to be unleashed from behind the guitars. In a theoretical 3d rendering you could think Leif stays not in front of the band, so in my hi-fi i have to choose the vocal mode in order to give to Leif's voice all power and outline deserved. Nonetheless every device is different and every ear is different too. And never i found a CD that sounds in the same way when you play it in different devices. Computers, hi-fi's , car stereos and whatever else have a will of their own. We should also investigate in earnest the propagation of sounds: Leif's voice is totally towering , on the contrary, when you happen to listen to it from a place located very far from the hi-fi. What it seems when close, is no longer true when far, and not only in a live gig.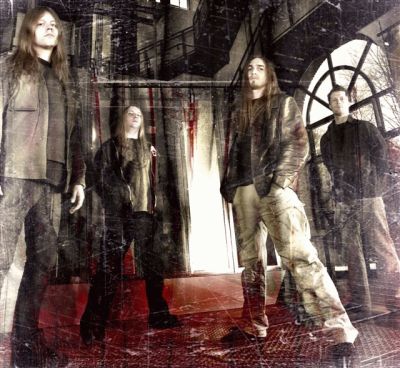 Tracks are all brilliant. My favorite in Impact was Cities of the Dead, but now Issue VI brings to me another "darling" : The Prison of Reason, which is quite different from the rest of the album, cause it is more mid tempo oriented and with some heavy metal reminiscence, immediately seductive. But all tracks are adorable and breathtaking in the real meaning of the word, fueled by a charismatic drumming and guitars that fulfill every desire. Ardent blood runs with the erupting and enjoyable Processing Life; Rituals of Time is uptempo though cadenced and with a vein of a very dynamic and punishing melodic death. Turn to Ash, is among the fastest and the angriest tracks of Issue VI, gifted by with an enormous compulsion The effervescent Ruins of Hope is the one who reflects the most that Dew-Scented sonority already well known from Impact, while Out of the Self is a relentless psychotic outburst; The prison of Reason is a mortal ambush , you will often feel the need of listening to it. Go! and it's Bled Dry, the absolute triumph of the Thrash assault whose refrain is a stamp, and no mercy for the weak. Again, beautiful and mighty recurrent unforgettable loops characterize In Defeat . Never to return is a Death discharge: here they surface once more, the Death roots! Respect for this vibrato and punishing Never to return! Vortex is totally obsessive and harsh. Conceptual End is another accelerated Death driven wanton destruction. The short cover Evil Dead is a short garagey punky badass gunshot .
Bleed yourself dry wit Issue VI and swim in a crimson river!
rating: 9.8/10
dalia di giacomo
additional info: "an exclusive bonus DVD will come along with the first pressing of the album. It will include the video clip as well as 17 (!) live-tracks recorded at diverse cool shows in Paris (La Locomotive), Strasbourg (La Laiterie), Ludwigsburg (Rockfabrik), Summer Breeze Festival as well as Wacken Festival throughout the last years but it also includes parts of a brand new show we captured last weekend in Ludwigshafen (Das Haus) at the "Metal Meeting XVII" festival in front of some 700 people"