They have metabolized Killswitch Engage,Chimaira, Korn, Shadows Fall delivering a very interesting, enjoyable yet implacable, ultraheavy album...with very good melodic and rockin' breakdowns
Boston. Also fatherland of Shadows Fall. It explains pretty much. Diecast too are Boston based, born indeed in a brilliant underground scene and well matured now that they strike back with a new album, the follow up to Day of Reckoning and with a new vocalist: Paul Stoddard, who definitely opens up to the band wider horizons. Indeed similarities with Shadows Fall and many other American bands are very clear, nonetheless Diecast are able to personalize completely in a quite original way the typical and volcanic new USA heaviness, presenting an awesome combination of Metal and Hardcore, and metal also in Death version accompanied by Rock/Heavy Metal passages! Everything spiced up with melodic insertions, underlined by a change of vocal timbre, and by very small escapades into Modern/Nu Metal. The song These Days, which is one of the best of this album, sums up all this, being also pure metallized rock, frankly more than suitable for an Hollywood action and adventure movietrack. The same could be said for the fantastic Savior, super heavy, relentless but with breath-taking rocking guitar - oriented cuts-in.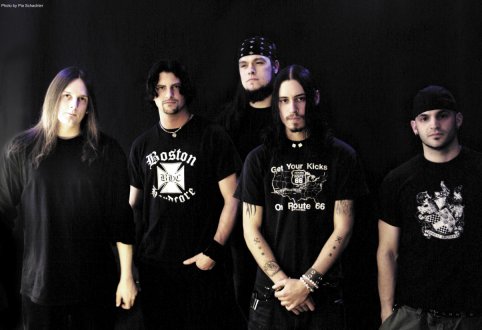 Concerning vocals, Metalcore /Death/NWOAHM attacks are expressed by a very aggressive rasping, at times growling, guttural harshness, while the melodic insertions are sung in clear with enough feeling. At all times lyrics are pronounced very clearly. Diecast are able to mix everything that the new American assault can deliver, and this mixing is very fluent, coherent in every song. All ingredients are bonded by a very good musical construction. The result is pleasant, between overpowering fear and feeling, appealing even to Melodic Death and Death metallers too. Drumming is another remarkable feature of Diecast : this drumming is very explosive but always gloomy, excellent in particular during the pitiless and eruptive machine gun- rhythmic sequences . But guitars too are top-notch: very elastic , able to span from solid bone breaker walls of riffing's to harmonic chords and rocking touch. Diecast have metabolized Pantera, Lamb of God, Chimaira, Shadows Fall, Killswitch Engage, and though the melodic/heavy duality still doesn't equal the superb one of All that Remains , yet it is one of the best among the amazing movement coming from the other part of the ocean. And i would say that even Korn fans could develop a sortof soft spot for them. To tell the truth a song like Savior is better imo than any Korn song. Both sound and musicianship are valuable, helped by a flawless production. Some chorus and echo effect make the picture whole.
Jeremy Wooden (bass) says: "We have spent almost two years on this material, making sure that every song was as strong and interesting as the next." True. The opener well introduces the album: Fire/Damage is a sparkling yet massive combination of soulful melody and assault in full Melodic Death style . Pleasant and not predictable tempo changes and pounding rocking melodic breakdowns make this song very varied and rich in musical cleverness. Immediately accessible, with just a drop of rock overdriven guitars and much implacable but catchy attack. The two vocal timbres arouse at once the interest. The other pole, the final Rebirth shows a parallelism with the opener being as well a mixture of melody and metalcore assault , showing this time even guitar distortions and tremolos which remind so much to Dew-Scented (interesting this kind of bridge between USA and Europe and vice versa), while drums are a relentless involving support. Seize the Day is enriched by unespected tuneful hooks as well as Torn from Within . Awesome are the heavy , catchy and rocking rhythmic breakdowns of Savior, while its almost new/modern oriented scheme of attack makes of this track a mosh inducing song like few others. Very impressive is also Rise and Oppose that shows in the very background even some techniques of Black Metal well covered in the metalcore/new metal frame, or am i wrong? Also fascinating Sacrifice, These Days (about which we have already spoken) and Pendulum , the latter delivering an energetic yet melodic cool breakdown. Or the more mechanized, very tight and oppressive Medieval, which unleashes a short but effective melodic gap you never suspected to happen. Cutting and sharp are the overdriven strokes in Traitor, a massive piece in Metalcore/Thrash proceeding with some techniques who reminds again of Dew-Scented.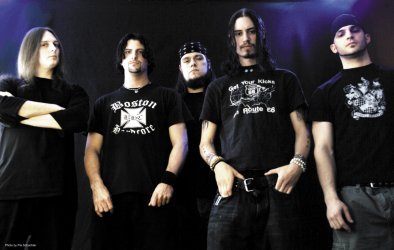 Yes, as said before the influences are well detectable, AND? Diecast are anyway no copy band, so, who gives a toss? Lucky who listens to them! And the lucky target can be actually very large here in Europe too, if only Europeans would be more open minded and actually "heavier". That's why i speak not only to Metalcore and Modern metal fans but also to the Melodic Death, Death, and Thrash devotees who appreciate melodic patterns in the aggressiveness. Diecast music is so well balanced, so addictive, attention -getting and personalized, with so many good points of contacts with good proposals from Rock, that they actually could win also this audience over. When Diecast will enhance even more their proper own marks , already manifest, they will be and remain giants, also considering how amazing they play. And this "Tearing down your blue Skies" is already a wonderful step.
rating: 9/10
Medieval video premiere on Headbangers Ball on December 11