The following preview is based on 6 out of 10 songs that will be on the
album.

Killing The Dragon-Starts with atmospheric intro and kicks in the song with
a great riff. Riff is in usual DIO style which reminds Holy Diver era.Best choice to start
the cd.

Along Comes A Spider-A heavy epic song with a good chorus,very-very good
song in general! In my opinion this song might become another DIO-classic.

Scream-Kicks in with an amazing riff and has also very interesting lyrics.
The chorus is very cool and the guitar solos are simply amazing!

Rock And Roll-The song i liked the most maybe because of the epic chorus and
also because of the riff which resembles a lot Kashmir by Led Zeppelin or even
better... it's the same riff with Rage Against The Machine's 'Wake Up' song from the
Matrix soundtrack ;)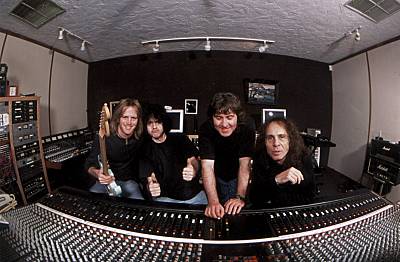 Push-This song was chosen to become the video clip of the album. It has cool
chorus and nice intro.

Before The Fall-Again another very good song which i liked the chorus too
and i noticed a hammond solo in there! It sounded very nice and fits with DIO's music. For
those who don't know what a hammond is, it's the keyboards that Deep Purple use ;)

In conclusion, if the other songs that i haven't heard yet are the same as
good, then this is a cd you MUST buy! This album sounds as a mix between Dehumanizer and
Strange Highways with a little bit of some Holy Diver as well.

Also look out for DIO's European tour starting this autumn. His USA tour starts on May 30th and DEEP PURPLE plus SCORPIONS will be with him as well. He will open their concerts so this is not a headline tour for DIO. There will be another USA tour in 2003 as headliners that time.

Dimitris Theodoropoulos