Sonic napalm for the senses.
You will be pushing some air with the volume up to "11"
Divine Empire, South Florida's death metal trio has unleashed their latest assault since 2003's "Nostradamus" with "Method Of Execution". From the first track "Vowed Revenge" with it's haunting atmosphere, crushing riffs, and thunderous percussion, to the last "Reduced To Ashes", with it's bluesy classic metal groove, makes this album like sonic napalm for the senses.

Produced by Jeremy Staska, this album shows what death can be. No redundant blast beats and three fast picked chords here.

The song structures flow well, and keep it interesting with nice combinations of black, death, bluesy rock, as well as a classical inspired piece "Prelude To The Storm". Directly followed by "Storm Of Hatred" which combines all of the above.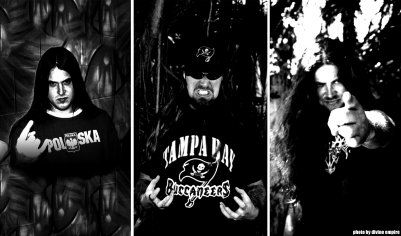 Sonically, it was mastered really well. Vocals are growling, and driven, not cookie monster mush.
The guitars have clarity, as well as low end crunch. The drums have nice solid wall sound to them. You'll definately be pushing some air with the volume up to "11"

Unfortunately the band has had to drop off the Blitzkrieg 3 European tour & the U.S. tour in July, after replacing guitarist & drummer due to "personal reasons".

The new line up has already been recruited and names will be released soon.

If you like death... You are going to like this... Trust me

The break down... Definately a good album. Check it out.