---
21/01/2003
---
X-MAS ROCK NIGHT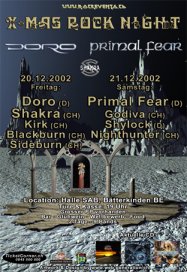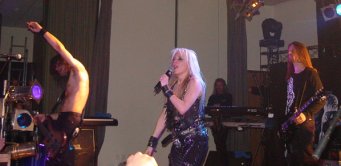 DORO - SHAKRA - (KIRK) - BLACKBURN - SIDEBURN
Halle SAB - BÄTTERKINDEN (CH) - 20/12/02
live reportage by Dalia "gryphon_spirit" Di Giacomo - photocredits Stefan Vogelaar © The public use of these fotos (© by Stefan "absolut-evidence" Vogelaar) is strictly prohibited without written permission.
---
Location - at Bätterkinden, somewhere in the flat land near Bern. The X Mass Rock Concert didn't take place in a venue , but in the wide "municipal" room of the town hall. The stage was super and good setted, and the hall could offer a bar, a backstage room and a merchandise corner as well. I suppose that the efforts of the organization were big , but a town hall is not a venue anyway, and in my opinion the place was cold and a little bit dreary , worse than a school, in spite of all the settings used.

Audience. the room was totally crowded by a lot of different types of persons: young , more mature and even elderly ones , rockers, children, mothers and fathers. only few real Metallers however



Kind of music. rock , from the "style of the 80's" rock to the Metal Rock of Doro and her band


The bands reviewed -

SIDEBURN (www.sideburn.ch)open the show with the most classical and typical rock('n roll) in the style of the fascinating 80's. The members of the band are not that young with the exception of their well talented long haired guitarist that could play really in a metal band.This band has nevertheless a long history and gathered a lot of cool experiences in its rock career (all who are interested can read their bio in their homepage). This evening they rock a lot with great passion, one can clearly see it, and even if for me is a real torture to listen to this kind of rock (they call it power rock) , it's only cause it's a question of taste. They play well, the vocals are strong and persuading enough and their last album Crocodile has been good publicized during the show. They finish their performance at 20:04






---
BLACKBURN - (www.blackburn.rockt.de ) Well, i'm feeling a little better, cause from the old-fashioned rock feeling we pass now to a harder concept of rock, thanks to this interesting band. Blackburn seems rather young, show the nice frontwoman Gaby Schön as a very energetic singer and they have another female presence: their bass player Corinne Frey. At the very beginning of the gig the vocals were not well calibrated by the sound mixing, with the bass tones almost non-existent, but during the performance, the calibration was improved, and the sound results finally got only advantages. their motto is : "The journey of hardrock begins in your heart". I hear good refrains and good rhythms, and the melodic passages are not missed.




---
SHAKRA (www.shakra.ch )- 22:00 shakra are awaited a lot this evening, and above all by the youngest ones of this audience. they are welcomed with applauses and the stage seems to be animated finally by a dazzle of metal spirit, but well let's not exaggerate with the hopes , cause Shakra are modern hard rockers, but always rockers, one could describe em as the new Gotthard. We could use for them again the definition power rocker but surely more modern oriented than Sideburn. With a style half Gotthard- like (melodic songs and ballads, with examples too of hard and pushing rhythms)and half Rock of the 80's , Shakra bring animation in this room. Moreover this is an important and meaningful gig for them who will enter the studio in order to dedicate themselves almost exclusively to the new work, instead of playing gigs, till the new album will be ready. So tonight is their last live performance (or one of the last, before their new cd will appear). Their stageacting is good though still very far to be perfect. Their new singer is nice, has a good voice, a good quantity of energy and above all a lot of motivation. But these Shakra guys, in my opinion, still need to find their full identity and not only in the musical field, but even more on the stage, where they still appear like good guys, those who can be adored more by the mothers than by sons and daughters. In few words, they have to choose if to play for the Carmelite nuns (if we consider also Shakra's simple lyrics soaked with innocent sensuality), or for the metallers/rockers in the future. Cause i suppose they don't want and above all they at the moment cannot take the place of Gotthard, still hold very good with no concurrency by Gotthard themselves, but on the other hand Shakra don't dare , or don't want, to put themselves in a more resolute direction. They are talented and can become "big", but only if they free themselves from this image of polite, good boys. They are not static on the stage but still they show hesitations, they play well but still they don't completely master their show. The lead guitarist for example offers good solos and good played chords, but ohibo, he is still too terrible concentrated like revising in his mind every note in order to make no mistakes. And just to close the topic , the bass player seems then the shyness made person. In few words they have not acquired certain automatisms, but the requirements are amazing. Anyway the audience acclaim them like national heroes and likes their music a lot. Occasional microphone-interferences don't spoil the general good gig. Obviously an encore is called and the apparition of the singer with a Santa Claus hat is not spared.
Among the songs proposed Why don't you call me, Watching you, The Sun will shine, Too close, Stranger, Nothing to lose and Hands on the Trigger(performed in the encore)
22:58 The lads of Shakra give their final greetings to this various audience of fellow countrymen.















---
DORO (www.doropesch.com ) - The municipal room is now mega crowded, a lot of persons throng the stage. Doro is the hit of the bill tonight. Do you imagine it? Doro in the middle of nowhere of the Swiss land of the region of Bern... it's not an every day event....anyway we wait.... and wait and wait. yes more or less we waited 45 mins: 45 mins of boring soundcheks. Even some of the most excited persons slowly began to seem pissed off! But ok Doro is Doro, and the waiting is worth, isn't it? 23:45 the band is announced by a voice praising Doro as the never defeated queen of Metal, after the intro the band and the queen appear on the stage. Oh ovations! Doro always dressed in the same way, begins at full gear proposing Earthshaker.....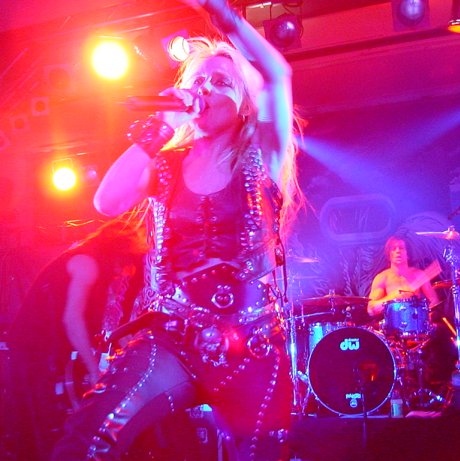 The audience gets into raptures all the performance long. The queen is in perpetual movement, always outstretched towards the audience, a lots of hands are looking for her. All in all a too nervous style in my opinion. Doro seems to like a lot the audience supplying smilies and and nice glances, but i get a feeling she is a diva that knows how to sell herself without giving the impression that she is one. I was waiting so much for Doro's performance and songs, and now that she is here, i don't know how but... i don't get the feeling and the atmosphere i was longing for . Anyway the level of energy put in this show is very good and Doro can always take out a fascinating voice, in particular with tracks like Love me in Black , that together with Fight, All we are and Legends never die was on of my favourite this evening. Anyway that continuous outstretching with her arms stretched ahead , and then moving back is too repetitive, showing at the end of story a lack of originality and ideas. On the contrary i got a very good impression about the band that supports her. An extremely good one, with musician that support the singer with their good and hard playing and that have a cool and self-assured stage acting:
Guitarist Joe Taylor, drummer Johnny Dee, bass player Nick Douglas, and the new German-Hungarian member Oliver Palotai (keys, guitar) are giving more than their best. In particular Taylor and Douglas , who not only play with class , but also jump here and there tireless , with athletic attitude.
The best moments of the show were the drum-solo, the mythic "we are all, all we are, we are all..." sung together with audience
Doro is acclaimed like a goddess, hosanna, "Do-ro, Do-ro, Do-ro". The encore is certain thing. it's 1:00 hour:let's go with Bad Blood and finally Fight, the cool titletrack from the new album; and after having performed it, Doro, touched by so an enthusiast audience, tells: "well ok let's play another one!" and this bonus is ...Legends never die, the Wendy O. Williams cover.
setlist:
earthshaker
always live to win
true as steel
i rule the ruins
burning the witches
hellraiser
love me in black
für immer
fall for me again
white wedding
east meets west
drum solo
egypt
burn it up
all we are
..................
bad blood
fight
legends never die





























---
Conclusions - ah beh, all in all a good event, but, considered all the characteristics, not a top one, moreover i am not a rock fan, i missed "my" metal a lot. The hall left in me a feeling of deep bleakness. Shakra were not that enthralling for me and the mythical Doro has been cut down to size in my mind. If i could turn back time, would i go there again? No. but not everything was disappointing for me. I have seen interesting bands like Sideburn and Blackburn (though they don't match my taste) and then Love me in black remains always that delicious song: i have heard it live, i come back home with no empty hands...
Dalia "gryphon_spirit" Di Giacomo

---