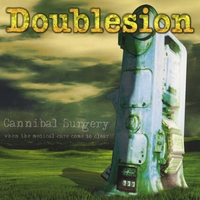 1) Come Eaten
2) Psycotic Dinner
3) Your Doktor In My Staff
4) Let Your Arms Leave
5) Suffocation

Dr Fullmoon – (Giuseppe Caruso) Voice, Bass, Programming and Lyrics (Circumventor, ex-Superbia)

Dr Frank J.P. (Francesco J. Perticone) – Lead Guitars (Circumventor, Sadium, H24)

Dr Viktor Blank (Vittorio Blanco)– guitars (Guru of Darkness, ex Schizo)

guest musicians:

Dino Fiorenza has performed a solo bass in Your Doktor in my Staff, Gemini has

screamed at the end of the same song, Tsade has performed the intro, Wolfgang (Superbia drummer) has improved the drum ratio. Then, Guru of Darkness has covered (along with Doublesion) an old Doublesion track called Suffocation.
Made by maniacs for maniacs.
Come to the Clinic! It's time to conciliate horror with deviant psychotropic, sick music. Attractive, isn' it? Welcome to the clinic, the doors of "Cannibal Surgery" are open: in 5 tracks only, elements of Electro, Rock, Heavy Metal and Black/Extreme are squeezed and condensed. Come, because, musically, there is no taboo. Come to the clinic of "Cannibal Surgery" where you can end up being eaten by the physicians. After all, nowadays, our money has been already eaten somehow and somewhere... Come to the clinic and have a short glance into the several colors of heavy music. Come on! So many times we have experienced force, devastation, bulldozing power in our ears, now we can feel being drilled in our minds. Pay attention the name of this Italian band, Doublesion (modified from a previous Double Esion). It's not only "double lesion" but also "double noise", if you consider reading the second part backwards. As solo project of Dr. Fullmoon, the band's mastermind, vocalist, bassist, lyricist and programmer, Doublesion collected experience since 1997, but it's during the year 2006 that this project turned into a proper combo. 2008 Doublesion releases under Fog Foundation this MCD, 5 tracks which are as sick and psychotic as likeable. From the technical side, these musicians show a big ability and a deep knowledge of the matter music, i mean... these people can play and experiment as they will. Ok. Then, when we approach musical genre, lyrics, and concept, we understand that this "Cannibal Surgery" is no spare-time activity, but a serious work where so many elements of hard music literally boil in a diabolical insane and renewed cauldron. The meaning of "double noise" is the dualism between real instruments (vocals included) and programmed ones (drums and electro keys). The amazing fact is that drums, and keys don't sound cold. The drum-machine is often enough blasting , is always discharging much brutality, the "snare" is dry and effective as if there would be someone to hold the sticks. I could swear that many passages are real played "analogic"... and actually there is a "drumming" supervision done by Wolfgang , drummer of Superbia. My compliments to the programming, although , having Doublesion a live drummer, i hope in a next release with a human warrior behind the skins. Guitars unleash infectious riffs and infuse the brutality that extreme listeners needs to hear. Tempo changes are well performed in synchronicity. Vocals are rasping, evil, self-confident.
All songs belong to the same kindred, electro crush core/polymorphic Metal and Rock as common related characteristic, nonetheless each of them is an expression "per se", each of them is well structured and with immediate logical comprehension, yet each of them lets madness spin. It's music for freaks, who can digest these tracks in one moment, for open minded connoisseurs, for addicted to morbid neurosis, and , finally, for those who like to revisit the evolution of hard and fast tunes in short time: 19:35 weird minutes. The production is more than satisfactory, and the care in the arrangements is really maniacal, as Dr. Fullmoon told me. The prove that this is true can be easily get during a first listening. Actually this music is made by maniacs for maniacs, i think.
"Cannibal Surgery" is a concept upon a psychiatric clinic where ironic doctors (the band members) with cannibal instinct deprive patients from their reminds. Bodies remain meaningless and ready for a "psychotic dinner". Come eaten has a short empathic dark funereal intro that paves the way for a fast heavy metal with acid electronic lines; the song will then evolve getting in touch with a wider metal range. Psycotic Dinner is fast with punky/thrashy patterns, rocketing drums, acid electronica in background.
Track 3, Your Doktor In My Staff, is soaked with Old -school -Rock'n roll and Black Metal, mixed with short and mild jazzy/electro experimentation (which i personally don't like anyway, because of my general intolerance for this kind of fusion).
I find that track 4 and 5 get close to my cup of blood: these songs are the most appetizing, the constantly heaviest ones, a true discharge of blasting elements: brutal drumming and violent guitar riffs. The blurry outrageous electronic platform is not invasive and gives the surreal mad colour. Here Suffocation (that appeared in Assassination) is proposed again. Cool track, so i can understand this choice. The "quantity" of metal is generous in this MCD, anyway, in future, i would hear even more metal from Doublesion and i would perceive more darkness like i can do by listening to one of their previous songs: Crush (MCD Assassination - 1999). And, above all, i would gladly welcome a full length.
The computer-monolith in the artwork is a trademark of Doublesion since "Lydian" era (1997)
, while the green fields under impending skies and the lonely sheep (back artwork) convey desolation, subjugation.
Rating: 8,1/10