THE ESSENTIALS
11 CD's Every Metal Fanatic Should Have In His or Her Collection
1. Metallica - Master Of Puppets
2. Megadeth - Rust In Peace
3. Fear Factory - Demanufacture
4. Type O Negative - October Rust
5. Machine Head - The More Things Change
6. Sepultura - Chaos A.D.
7. Nativity In Black: Tribute to Black Sabbath Volume 1
8. Slayer – Divine Intervention
9. Pantera - Official Live 101 Proof
10. Lacuna Coil - Half Life ep
11. Dream Theater – Awake
Lately, I have come to series of events that the most die-hard metal fanatics run into at least once in their lives: the introduction of heavy music to a non-metal listener that seems rather interested in our style of music. I usually do not like to start one out with full on Death Metal or Black metal or the several different varieties of heavy music. All those different genres of music would just overload the senses! So, the best way to teach someone the ways of heavy music is to start off with the essentials. Essentials meaning the best of the best of heavy music, this is the list I have come up with and why:
Metallica – Master of Puppets (1986 – Elektra)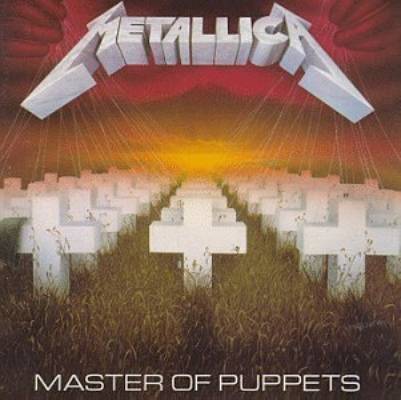 End of passion play, crumbling away - I'm your source of self-destruction - Veins that pump with fear, sucking darkest clear Leading on your deaths construction - Taste me you will see - more is all you need - you're dedicated to how I'm killing you
- Master Of Puppets
Metallica is a dead given and Master of Puppets is considered by most to be the greatest metal album of all time by quite possibly the greatest metal band of all time and more certainly from the biggest metal band of all time. MOP features the late-great bass player, cliff Burton, who lays down the most stunning bass lines in the history of heavy music on title track and on all the other songs on this album. Armed with this album, Metallica destroyed Ozzy Osbourne when they opened up for him in the mid 1980's. Every song on this album is a dead classic, there isn't a bad song on this album at all, the solos are the standard of the genre and the lyrics are simply the best. MOP is the standard of all metal albums. From this album bands like Soilwork, In Flames, Shadows Fall, and every other heavy band has stated Metallica and this album in particular to be their inspiration. Nearly every genre of heavy music stems off from MOP, gothic, for example for various parts of "Sanitarium", Melodic Death Metal can be depicted as an influence from the title track, "Battery", "Disposable Heroes", and pretty much the whole album. MOP is a dead given, if you don't have MOP, go get it, even if you don't like Metallica, one cannot ignore the influence MOP has had on heavy music as a whole and it is well worth listening to if you haven't heard it yet.
Megadeth –Rust In Peace (1986 - Capitol)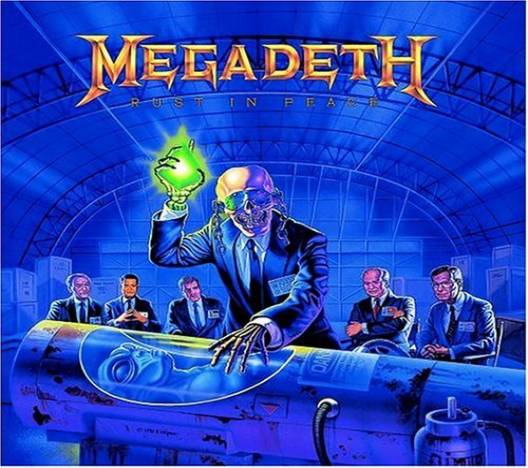 "Brother will kill brother - Spilling blood across the land - Killing for religion -
Something I don't understand"
- Holy Wars
Rust In Peace has had an effect on guitar players worldwide since it's release. There's nearly two or three solos in every song in combination of fast guitars, scowling vocals, pounding drums and trance-like bass work, RIP is considered to be Megadeth's best album by it's rabid-hardcore fan base. Anyone who has sat and listened to this CD recognizes that RIP is a pure heavy metal album for the content for which it holds. As an example, after 9/11, the song "Holy Wars" was banned from playing on radio airwaves for it's disturbing content. The Lyrics on RIP are some of the best and most meaningful in the world of heavy music. Megadeth goes into politics but also on this album they explore into UFO's and aliens and that sort of thing, which adds diversity to ones repertoire. For a more in-depth review of this CD click here: http://www.gryphonmetal.ch/Megadeth.html
Fear Factory – Demanufacture (1995 – Roadrunner)

WE ARE THE NEW BREED WE ARE THE FUTURE!
-New Breed
To this day, there hasn't been a guitar player that has even come close to matching Dino Cazares's guitar tone from this album. It's just plain blistering! A guitar wizard from the early 90's modified Dino's Marshall head (amplifier) by doing some weird re-wiring and a Skippy peanut butter lid (!) inside the amp itself to create this monster sound! The sheer precision of Raymond Herrera's drumming is unmatched and only copied by only the most talented of drummers. The sound of his kick drums are still being used today by hundreds of different bands. Burton C. Bell invented this style of singing that it seems that every modern rock band has copied since, the scream-sing method that Bell has only perfect is showcased on this album as a demonstration of his greatness. Demanufacture incorporates industrial samples along with death-metal drumming and guitar playing never before done by a band, and they do it in such a way that still blows away the competition to this very day.
Type O Negative – October Rust (1996 – Roadrunner)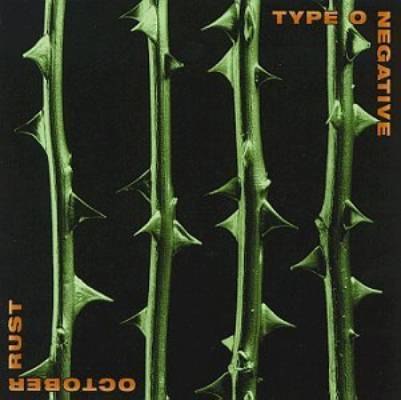 It's no secret we're close – As Sweaty Velcro – Like Latex, fur and feathers – Stuck together – Now
- My Girlfriend's Girlfriend
Most Type O Negative fans consider October Rust as the premier album from this band, although the previous album "Bloody Kisses" sold more, and it showcased more "hits", OR is the favorite for the atmosphere it portrays. OR is a dreary, depressing, example of what gothic music can be. When I listen to this album I think of memories of that time period, as does everyone else I talk to. It's hard to write about the sheer effect this album has on people, all I can say is listen to "Wolf Moon", "Love You to Death", and "Be My Druidess" and only then one can realize the full potential of this CD. "Wolf Moon" is the ultimate gothic song. I hear this song in two different lights, this song is about love or it's dark humor in the extreme in regards to a woman getting her period, which is funny as hell when you think about it. But the song itself plays to the dramatic in such a fashion that one cannot help but to notice the artistic qualities on how dark yet natural, a song can truly be. The same goes for everyone other "song" on the CD.
Machine Head – The More Things Change… (1997 – Roadrunner)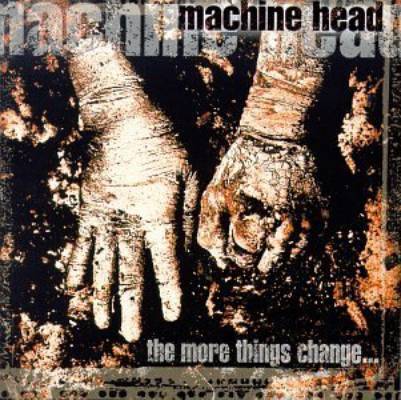 It's been around for a thousand years - and it'll be here for plenty more -it is the face hidden in disgrace - that has become now an open sore - it is a false messiah - it is the face of pain the bringer of the bittersweet - the heretic insane
- Take My Scars
I still remember the day I picked this CD. At 16 years old, hearing the opening track of "Ten Ton Hammer" you'd remember too. Most people consider "Burn My Eyes" as Machine Head's best album. However, it is a great CD, it's worth getting at a later time, for Chris Kontos was there drummer on that album where Dave McClaine is the drummer on this album and all others afterward. Drumming is a huge factor, the dynamic of the band changed after Dave took over and the band transformed into a much bigger monster. After TMTC came out, Machine Head's popularity skyrocketed. They played Ozzfest, they toured with Pantera, and they had become legends in the field of heavy music within two years time. The guitar playing is exquisite; every solo is done to perfection by both Robb Flynn and their former guitar player, Logan Madar. The drumming is top notch and the bass playing, wow. Every bass player should seek out the tone that Adam Duce has on this album, it's gritty, loud but not over distorted. A Definite must have.
Sepultura – Chaos AD (1993 – Roadrunner)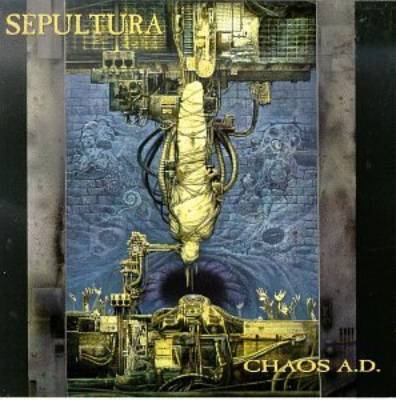 You censor what we breath – Prejudice with no belief – Senseless violence all around – Who is it, that keeps us down
-Slave New World
The Chaos AD album is the best selling Sepultura CD in it's catalog. That should tell you something, it should tell you that by 1993, Sepultura garnered praise from more people from around the world during this era than in any other era the band played in. They put out 3 music videos, one of which won numerous awards for best video in the metal category. The Territory video has some powerful scenes in it that depicted the struggle of the Palestinians and the Israelis, it was done in such a way that the band didn't pick sides and that the whole thing is just stupid anyway. This is the one album where actually dive into politics however the beauty part is, they did not demonstrate, one way or the other, which side of the political spectrum they were on. The band talks about censorship, biotechnology, the Middle East, protests, and various other elements. The band grew as a whole during the making of this album than any other album since.
Nativity In Black: Tribute to Black Sabbath Volume 1 (1994 – Sony)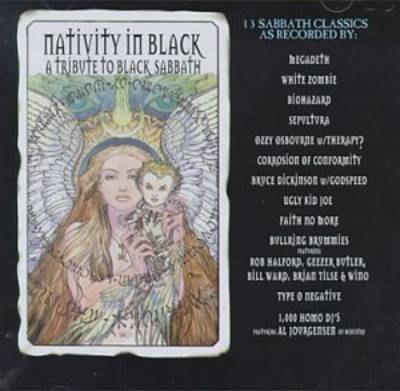 Granted, as a kid who grew up in the 80's with a mom who listened to a lot of music in the 1970's, I was bound to listen to Black Sabbath from time to time, but only the two hits that the band was known for, "Paranoid" and "Iron Man." So naturally I didn't think much of the band except that people seemed to like them a lot. In 1994, I was watching "The Headbanger's Ball" back when it was on, and I saw this video from a band called "Biohazard" they played a track I really liked called "After Forever." It was a work of pure genius! I loved the band so at the end of the video I checked to see where I could find the disc, and it was on this one. This CD features some of the most important Black Sabbath songs of their careers dubbed by the metal artists of the day. This CD has, White Zombie, C.O.C., Megadeth, Biohazard, Faith No More, Type O Negative, and a few more. Typo O Negative, in my opinion was the only band, still to this day, to re-create a song that was better than the original. Type O Negative recreated the song "Black Sabbath" that is just plain scary. The original song was just eerie, where as TON's version was disturbing! It's not very often when a band covers another band where they exceed the original band's level.
Slayer – Divine Intervention (1994 – American)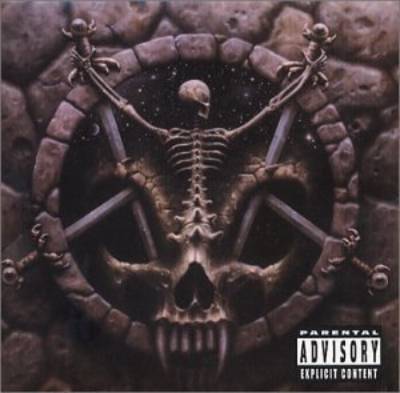 Here in 1994 Things are different than before -Violence is what we adore
Invitation to the game - Guns and blades and media tame - Every day more of the same
- Dittohead
I'm not going to say much about this one: Slayer is simple and to the point, fast guitar
playing, pounding drums, satanic and doom-like lyrics, this is Slayer at it's finest and it would be wrong of me not to include at least one Slayer CD on this list. This one features the first appearance of Paul Bostaph on Drum replacing the metal drumming god Dave Lombardo, which was no easy task! You won't find any hits on this CD like other people do on other albums, but this one seems to be the best place to start as far as Slayer goes. Slayer is truly in a class all by themselves, they as a band, have single handedly influenced every death metal, black metal, and thrash band since 1984. Slayer is as legendary as Metallica is by most metal head standards.
Pantera - Official Live 101 Proof (1998 – Eastwest/Warner)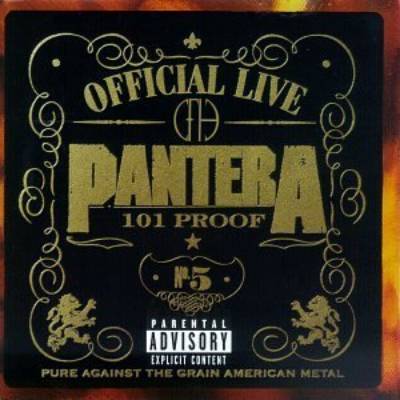 THE TREND IS DEAD! - THE TREND IS OVER!
- Phil Anselmo between tracks 4 & 5
Pantera was metal in the 1990's despite anything else I said above. Metallica and Megadeth might have sold more records, but as for the most rabid and die-hard fans, Pantera had the pick of the litter. It might have been different in Europe, but here in the United States, Pantera were the metal kings, every band wanted to tour with them and everywhere they went there was party to the likes that no one had ever seen or drank so much at! Every Pantera album is a must own. Hands down, but get this one first. Why? Because this has all of their best songs on it first off and the sermons that Phil Anselmo gives in-between tracks is just priceless and are of that era. This disc brings back so many memories about in the mid to late 90's how metal was not popular at all! And that the trend was to stay away from hard and heavy music and to listen to Alanis Morrisette or some pop icon or alternative rock. Pantera helped kill it, they played more shows in America and in Canada then most bands did, they toured for nearly 3 years and around the globe. This album is the best representation of that and it gives a historical reference of what the times were like for someone (like me) listening to heavy music in the late 90's.
Lacuna Coil – Half Life (ep) (2000 – Century Media)
A hyperfast reaction Is playing with me - I'm so confused But I knew I could hold on - Just a lack of experience - Just a lack of pride That makes me blind again
- Hyperfast
I couldn't forgive myself if I did not include my favorite band on here. The Half Life ep is
short and to the point. It hits everything the band had tried to accomplish without going too long winded with filler tracks. Is this CD a must have? Yes! Why? Well…ya know all those bands that sport a female singer? Granted, LC was deffenatly not the first metal band to sport a female singer it has, however, gone on to magically influence most bands that have one now. This album, weather other bands know it or not, have copied this style of which LC virtually invented. In my opinion, bands like Evanescence or Leaves' Eyes would not exist without listening to LC even once, even inadvertently. Hyperfast:, a great CD to listen to in the winter months.
Dream Theater – Awake (1994 – East/West)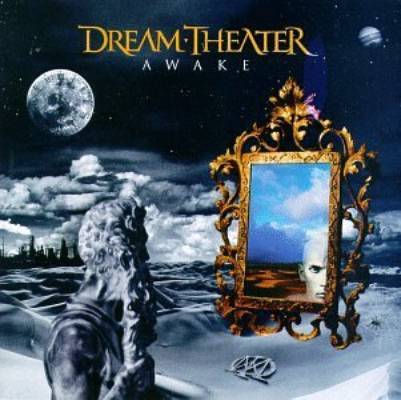 Temptation - Why won't you leave me alone? Lurking Every Corner, everywhere I go
Self Control - Don't turn your back on me now When I need you the most
Constant pressure tests my will - My will or my won't - My Self Control escapes from me still...
- The Mirror
Surprisingly, the song I mentioned above is the darkest song they have ever
created…utter brilliance from a band that are truly masters of their instruments. From Dream Theater, I have gone on to like similar bands like Opeth and appreciate other bands like Dillenger Escape Plan. This CD features a lot of different varieties of music. "Lie" and "The Mirror" are without a doubt metal, but "Caught in a Web" has elements of fusion and old-school progressive. Throughout this album alone has elements of Jazz, Fusion, Metal, Classic Rock and their own sound that cannot be placed in any genre. "Space-Dye Vest" is one of those songs that are not as dark as "The Mirror" but it's sad and depressing. It's performed in such a way one cannot help but think about the sorrow the singer portrays in that song. Awake…DT's best album.
In the end, there are hundreds of different metal CD's people should own or introduce to each other. Some people might ask me why I didn't have Judas Priest or Iron Maiden on this list. My only response is that I consider those bands in highest regard but JP to me is more classic rock then straight up metal. Do they sound like any of the bands above? No. Iron Maiden unfortunately I haven't heard much of, but I wouldn't mind hearing. Listening to Black Sabbath would lead me to seek out these bands in a way to learn my metal roots. For me, Metal started out with Metallica and Megadeth. Eventually the metal river lead me to Sepultura, Fear Factory, and nearly all the bands on the list above. Now, I listen to Soilwork, In Flames, To/Die/For, Nightwish, and others like these. If it weren't for the above bands I would not be into the music I am personally am into today. After Fear Factory, I got into bands like Rammstein, Samael, and other bands that use electronics. If it weren't for Type O Negative I wouldn't have even bothered with Paradise Lost, To/Die/For, Sentenced, or even Lacuna Coil. Listening to Megadeth and Metallica gave me the appreciation I needed to listen to bands like Nevermore, Shadows Fall, Jag Panzer, and this list goes on and on. This is a just a basic list, my list. Try it out.
"Fuck the alternative music, this is for real man!"
-Max Cavalera 1996 Ozzfest