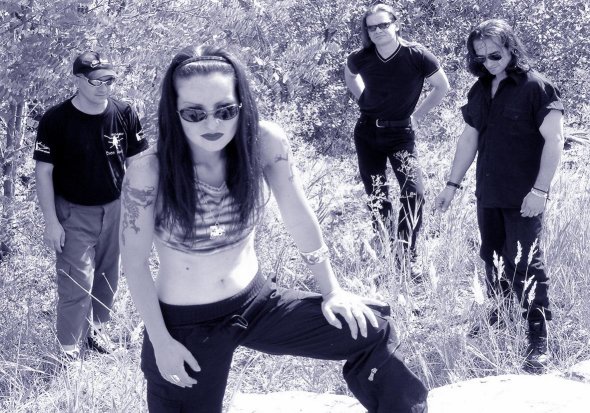 I DON'T LIKE ITALIAN LANGUAGE IN MUSIC
1) Hy !!!Can you present the band to our readers?
EVEN VAST are: Antonietta Scilipoti (vocals and keyboard instruments), Vincenzo Di Leo (bass) and Luca Martello (guitars & electronic grooves). The band's been created in 1997. Me and Luca started to work at new material, quite different from the music style of Chaos And Technocracy (the band we were previously playing in, since 1993). Our new direction was into a doom metal experience, so we abbandoned the impact, typical of the crossover we played in past, to get to the slow & sad mood of doom… We went in search of a new bass player and with the help of a friend as drummer we have recorded our debut album "HEAR ME OUT", one year later, in Holland. The album's been released in 1999 by Greek label Black Lotus Records, but they didn't do much for it. No proper promotion I have to say.
In 2000 we released a mcd, "WHERE THE TREES STILL SPEAK" under the sign of a German label called ARS METALLI. The same mcd's been also released by Belgian act PAINKILLER RECORDS, as picture mlp, limited edition worldwide. Things with ARS METALLI went soon to an end because the label had economical troubles and couldn't go on with payments and stuff.
In 2002 PAINKILLER RECORDS released a cd single "SCARED FOR THE LAST TIME", extracted from the album "OUTSLEEPING", which's been released in 2003 by Belgian act MAUSOLEUM RECORDS.
Through the years the band's got various changes in the line-up and, of course, our music style's evolved to something we like to define as "goth-rock" with a really dark mood.
At the present time we have signed a deal with MY KINGDOM MUSIC and just released our 3rd full length album "TEACH ME HOW TO BLEED".


2) This new album shows us a good impact and the most of the songs gets a good personality, even if there are many influences…are you completely satisfied of the quality of the new release?
Yes we are 100% satisfied with it!!! "TEACH ME HOW TO BLEED" sounds exactly the way we wanted it.
3) The band born in the 1999…what's changed in your musical approach if you remember the early times?
The band born in 1997, 1999 is the year we got our debut album released, as I said. Sure I do remember the early times… Changes are really important in a band's life. In my opinion any musician should grow, improve and give evolution a chance. That's what we did. Nowadays we play our music in a more melodic way, by using more keyboards as "basic atmosphere" but also to create melodies, and giving guitar a sound more clear, less aggressive and less obsessive than we did in past. Bass sound is really dark, we wanted to create the atmosphere of dark/wave bands of the 80's. The "metal" influence is finally over! We think we have no more interest in playing metal music, because all is said. There are yet too many clone bands… we don't need to be put into that cauldron of "goth-metal bands" or so presumed. Our listenings regarding music are not selective. We have no problems to listen to indie and other music styles because we feel free to range in anything we do! In general the new sound we are into is something we badly wanted to reach.
4) The new album is a jewel for all those who likes deep gothic…but there's still a not great production…it can be improved…do you agree?
No, not at all. Hope you don't mind me telling! We are 100% satisfied with the production of our new album, for a number of reasons, we have produced it by ourselves, which means we have worked at each and any single part of the entire production, in our own recording studio, with a great care of all the details. Spent a lot of time to put the right levels and stuff, so, we can't agree with you, sorry! All you hear is exactly what we wanted. Of course, this production is not a typical metal one, so that's why drums and guitars are not louder than the rest, as it usually happens in metal productions. As I told you, we meant to give emphasis to the melodic aspect.
5) Tell us about your relationship with My Kingdom….How did you get in touch with Francesco?
Francesco knew us since our beginnings. He followed us through the years and when he had the chance to listen to a rough mix of our new stuff he liked it and offered us an agreement. Our relationships with him are very good. He's a cool guy, serious and professional in his business! Nice guy too, he cares a lot of our needs.
6) What do you think about the idea to create an album with Italian lyrics? May it be possible in the future?....And what do you think about Italian gothic scene?
Not in our plans. Personally I don't like Italian language in music and I don't like to write lyrics in Italian because I think English is more fluid and musical. I feel English fits much more in my lyrics as I do write them myself, directly in that language.
Sorry, I don't know what to say about Italian gothic scene because I simply don't follow it.
7) In this new album there's an interesting electronic approach to the compositions, in your opinion, how much importance you give to this aspect?...What is the favourite instrument to compose your songs?
A discrete importance to the electronic grooves is enough, because anyway we are a band that composes songs with real instruments. We like to add some electronics just after the songs are completed, to give a special touch or something like that. Regarding the favourite instrument to compose our songs, well, we use to compose with keyboards, with guitar and with bass, no matter who's starting first! There are songs born by a guitar riff, other songs born by keyboard's melodies, other songs by bass… depends on the personal feeling of each member.
8) Tell us about your live show….Are there projects?
Of course we do, but still we have no concrete plans because we are currently waiting to receive proper answers from various promoters. So, we hope we get good proposals because the best promotion for a new album is to play it live as much as possible!
9) Give me three adjectives to describe your new cd…….
Dark, melodic, free from constraints!
10) The usual final question is our game of the tower….You're on a high tower with 3 bands…You must push down two of them, saving the third one….For you there are…
THE GATHERING THEATRE OF TRAGEDY WITHIN TEMPTATION…
None of the above mentioned bands is in my "list of favoured ones", sorry… I'm more into bands like Life of Agony, Corrosion Of Conformity, The Tea Party, Editors, Siouxie, Arcade Fire, Joy Division, We Are The Scientist, Interpol, Ikon, Kings of Leon, and many others. So, I'm not responsible for the fall of the three bands you mentioned!!!! ;-P
Thank you!!!!!!!!!
Thanks to you for the interview and the support!!! Keep in touch!!!!
Salvo Russo 02.06.2007