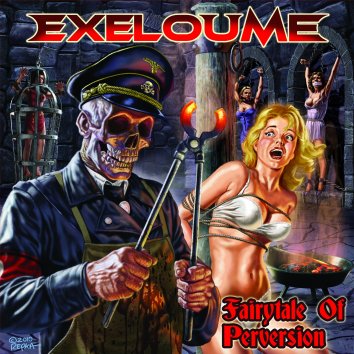 01. Lex Talionis (intro)

02. Blind Billions

03. Ignorance is Bliss

(feat. Andy LaRoque)

04. Fairytale of Perversion

05. Locus Ceruleus

06. Share my Pain (Stalingrad)

07. Hellhole

08. Psychopath

09. Tool of God

10. Faceless Children

11. The Bitsa Maniac (feat. Dan Swanö)

Øystein Haltbakk
Vocals
Andrè Ulriksen
Lead guitar
Tom 'Welhaven' Wahl
Guitars
Johnny Wangberg
Bass
Alessandro Elide
Drums
EXELOUME: "Fairytale Of Perversion"
www.myspace.com/exeloumethrash
Produced by Rune Stavnesli (KEEP OF KALESSIN, BLOODTHORN) and mixed/mastered by Dan Swanö, the CD does features guest appearances from Andy La Rocque (KING DIAMOND) and Dan Swanö (ex-EDGE OF SANITY, BLOODBATH, NIGHTINGALE). The artwork was created by Ed Repka (DEATH, ATHEIST, MEGADETH).
Ed Repka and Dan Swanö.
There were two things that caught my eye when I was looking at a list of music for me to review when Exeloume popped up. Ed Repka and Dan Swanö. Ed Repka drew the album cover Megadeth's iconic, "Peace Sells..But Who's Buying" record, amongst other album covers. And Dan Swanö played drums on Katatonia's, "Tonight's Decision" album and produced Opeth's "Morningrise" album. Not to mention, Andy LaRoque, of King Diamond fame, plays a few leads on a couple of songs. I wished I knew which ones. Just with those people associating themselves with this band and record, I thought I'd give it a listen.
Exeloume had been described to me as an 80's style thrash band. Which is what exactly? Anthrax? Megadeth? Testament? I can say for sure that this band has aspects of that, but they have a more modern tone to them. The singing on this record isn't singing, it's not growling but it does sound evil enough for metal. I really liked how, "Fairytale of Perversion," began with its heavy non-ominous introduction. I feel like the band, "came out swinging" with "Lex Talionis (intro)." It was a classic metal introduction. Mid-paced yet, heavier than hell. It might have been my iTunes, but I think the transition to "Blind Billions," could have been better. I guess if I had the CD to this, it would have been a bit different. "Blind Billions" is a classic sounding metal song worthy to be heard by all. It's the type of track anyone could be speeding down the road to after a hard day at work or a Friday night. It's fast, it's a little catchy, it's dark but not dreary, and the guitar solos sound awesome. If I could compare it to anything, it'd be to a Testament song but with a special twist to it.
Other songs of note, "Faceless Children" has this horror movie sound to it. It's hard to explain. It sounds like something I could see in an 80's horror movie. It's evil sounding yet it has some very distinct 80's sounding, high-pitched guitar harmonies to it. It's worth listening to for the nice time changes and tonal differences.
It's now time for the criticism. The album is all heavy, hard, dark, everything that a metal album should be. Not all songs are fast or slow, the temp varies, which is nice, but it's all played in the same key. The technical aspects of all the players are excellent, but after a while it started sounding the same except for those first few songs. In all honesty, it was a little boring. Not the whole album mind you, but there were parts where guitar riffs started sounding alike from other tracks only a few steps up the fret board. I hate saying these things because, for someone who lives for thrash, this is a fucking sick record. For someone, who loves the metal genre, who wants to go back to its 80's roots, this is a fantastic record. For me, I need more tracks with a few more hooks. My advice for the band, experiment with different vocal structures in conjunction with starts and stops with the music.
7.5/10
written by Matthew Haumschild
Matthew Haumschild is a staff writer/editor for gryphonmetal.ch since 2002
He is based out of Minneapolis Minnesota USA he can be reached at matthaumschild@yahoo.com and on facebook.com
12.05.2011