Have I already said that Switzerland is showing a very interesting scene? Eh yes I've already said..! (see Maja review) and this CD is a proof more that young Swiss bands are really talented, many of them , like Falling Silence, coming from the Italian speaking Tessin. They carry on their musical projects with pluck and decisiveness, setting themselves a target: exploring new horizonts and proposing "true" music , not contaminated by commercial servility. Falling Silence are taking part of this scenery and the fact that they love to define themselves a "post-metal" band can be indicative enough about the research pervading their works.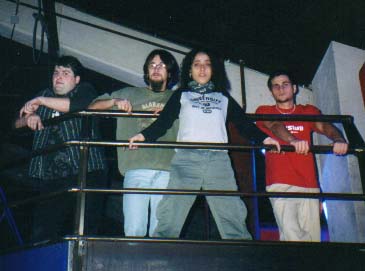 "Shadows" means a lot to the band, cause it is a kind of compilation featuring the best songs written between 1998 and 2001,all of them recorded and mastered at X-Studio in Bollate (Milan) (www.xstudio.it ). It represents the end of an artistic chapter and the beginning of a new one. An evolutionary very important period, from the moment that new stuff is already under processing , scheduled for release before the year's out.
I have already mentioned that they define their music as post-metal. Indeed it's not easy to label their music, cause in it we can find many influences: from a certain kind of nu-metal till heavy metal passing through hardcore. I suppose for example that Coal Chamber's fans would listen with pleasure to Falling Silence, but their audience can include more traditional metal fans. They are playing obviously in Switzerland but also often in Italy, and I can ensure that Italian audience is very demanding!
Generally speaking, the band is get going in every tracks of this CD, music is aggressive but not violent, full of energy. Particularly interesting are Loredana's vocals, without fragility and compromises. Loredana's voice is good accompanied with that one of Sebastiano Moresi. Not to forget a lovely particular: this CD is dedicated with love to the little child Shasa "Patatina". And Shasa herself is to be heared in the intro!
Here we go with the tracks:
INTRO- in a complete silence Shasa "patatina" is singing a nursery rhyme, then she begins to laugh, but her laughing soon turns into a loud crying...very impressive.
MOTHER: KILL ME- it is the song I prefer, bitter lyrics ("with a gloomy dance you've given birth to me to let me die in this world killed by ignorance and hypocrisy which sorround me"), this song is melodic aggressivity -soaked , very agreeable the guitar sharp touches.
SHADOWS OVER ME- very angry this song, with aggressive guitar riffs, though not slow, it sounds anyway a little melancholy, I find very good the duo between Loredana and Sebastiano, where he shows a strength (but still not growling) which reminds me Fear Factory. Hypnotic the end with Loredana's voice repeating "shadows over me", fading away.
DECEPTIVE FOG- powerful song, with no weak moments showing at the same time a melodic force with a straight-to-the point music, recurring and powerful refrains.
LIBERA NELLA MENTE - sung in Italian, the text is very engaged and is a clear accuse towards many sad aspects of some authorities and powers who are ruling our society. But every of us is always free in own mind. Music is rather experimental, not melodic at all.
THE ONLY GUILTY- rather difficult to understand, personally I don't like it, shows a variety of notes with no fix point but guitars are doing a great work.
FEATHER OF STONE- here Loredana's vocals get in foreground, and she is employing many of her capacities, one can hear this clearly. On the whole an aggressive-melodic song, with no easy notes. Here I am perplexed again but it's a matter of taste.
LOST AENIMAS- rather tormenting this song, where guitar and bass show their ability, with remarkable solos and tempo changing.
MEMORY OF THAT NIGHT - almost acoustic this song, another foreground for Loredana's voice, in the background string instruments.
LIFE OR CONDAMNATION - repetitive and strong, hard guitar, sharp drums. Noteworthy is how the song ends.
VIOLENTADA NA SOLEDADE - thunderous agreeably downtuned guitars, with some impressive distorced sounds, another angry very heavy song, which gets the attention with its somehow catchy proceeding without rest.

All who love a metal with mixed flavours, without compromises, shouldn't miss this CD.