---
IT'S GOOD TO BE KING!
Garfield knows the bright and bad sides of a life of luxury, while Prince discovers how heavenly a dish of lasagne can taste
Maybe noble blood really flows in Garfield's veins! who knows. Garfield is already the laziest, grumpiest and cutest virtual cat-personality ever! And Garfield can become a true helping mate when needed. People who have a cat always find a piece of Garfield in their own pet. Fact is that this sequel, in spite of moments of exaggerate and at time childish mockery, mainly concentrated at the very end of the movie, doesn't disappoint all Garfield fans and will offer 80 minutes of enjoyment. What movie is the best? "Garfield" or "Garfield 2"? Difficult to say; "Garfield" delivered a lot of action and the movie was, after all, more centered on the humans characters, so the protagonist Garfield and his animal friends had almost to elbow their way in a world dominated by human bipeds. Garfield 2, on the contrary, is enough charming and focused on a totally different (and more psychological) matter. This film delivers action yes, but a predictable one; nonetheless, even if you imagine how the plot can develop, the attention remains lively cause here the situation is the opposite if compared with Garfield 1: animals now are the absolute protagonists almost embedded in a Disney- philosophy while the human participation is highly restricted to the essence. And although the animals in this movie clearly portrait human phenotypes and social classes, they remain bound to their species, however fighting for their rights. In this sequel too you never, really never get the impression that Garfield (voiced by Oliver Kalkofe in the German version) is a computer- animated "cartoon", cause he looks so perfectly alive like a true actor (due to the great work of different effect-teams among which the Rhythm & Hues Studios [Garfield - Dr Dolittle - Dr Dolittle 2]).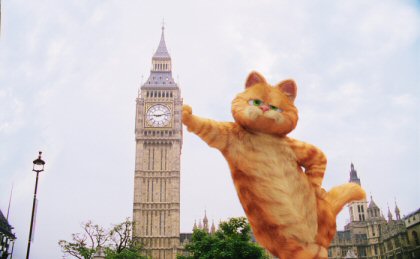 Garfield 2, based on the comic strip by Jim Davis, is powered by well known success-generating factors used both in the cinematographic as well as literary world: for example the factor "double/look-alike", or the parallel change of roles combined with irony and humor. Therefore a constant sense of "deja vu" is crawling insidiously, but ...who cares? 'cause you end up being enthralled and amused anyway. To be totally honest, it's true, this movie needs a certain quote of naive simplicity, the world must be seen again through the eyes of a child, one needs to believe in nice fairy tales, while appreciating both the American easy-going attitude as well as the Britannic "noblesse", at least that part of aristocracy which really shows self irony.

The beginning of the movie is simply delicious and rich in humorous lines. Of course we find again Garfield's owner Jon Arbuckle, that tries to make a marriage proposal to his beloved girlfriend Liz, who must travel to Castle Carlyle near London for a conference. Garfield creates at once funny situations, so John Arbuckle, in order to definitely accomplish this proposal, has no other choice but deciding to reach Liz in London. Garfield and canine mate Odie follow Jon smuggling themselves. In the meanwhile, right at Castle Carlyle (in reality it is Castle Howard), the noble Garfield -look- alike aristocratic (but not too snob) cat named Prince inherits from Lady Eleanor the whole beautiful and wide castle. Lord Dargis (Billy Connolly), the next in line as Lady Eleanor's nephew, is excluded from the heritage so he plots against Prince and against all his animal- subjects. Indeed he nourishes other plans for castle Carlyle, plans in which all animals of the castle have absolutely no place and no rights.
From that moment, Prince's life is in danger. Tossed by Lord Dargis in the river and washed into London, Prince is mistaken for Garfield by owner Jon, while "tourist" Garfield is found and mistaken for Prince, by the good hearted and faithful castle butler.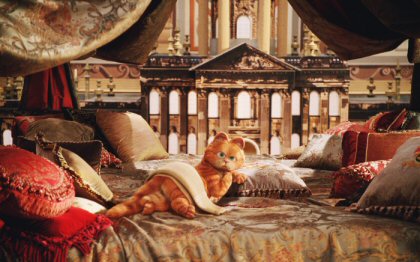 The change of role is the key of the film. Garfield knows the bright and bad sides of a life of luxury, while Prince discovers how heavenly a dish of lasagne can taste and how interesting or boring urban life can be. Naturally, both cats will try to learn and face these new situations and, also with Odie's help (who is the only non -speaking animal yet evidently able to read), they will meet face to face. United, they will be a double force. But then... how will Liz and Jon distinguish the two cats, the one from the other?

Director Tim Hill ("Muppets in Space") has treated perfectly the animated gluttonous cat and the wide group of talking animals, which are all real animals. Starring among them, bulldog Winston, voiced, in the original movie, by Bob Hoskins, and the Doberman dog Rommel. The social differences among the animals run fluid and mix together in cooperation, although with too many conformist clichés. By the way clichés, isn't it good to be king? Well...we are all kings at our own home!...or maybe not?

dalia di giacomo 02.08.2006