I underline their ability to create not original but good structure songs
This is one of the good but usual power metal bands, that with this album will never write the legend of this style. Nothing but a fair cd, in which the band shows the ability to create good riffs supported by a good but sometimes monotonous rhythmic session . This cd could be appreciated by all power-metallers maniacs that can enjoy the good melodies made by them, but in my opinion this band gets a very important influence from 80's hard-rock. Most of the songs remind me of Europe and the band seems to get better ideas in mid-tempos songs.
They like to use a typical 80's hard-rock approach into power-metal songs, in particular for keyboard sound, and this is (in my opinion) a personal touch, that can be interesting for all those old hard-rock fans that wants to approach power-metal.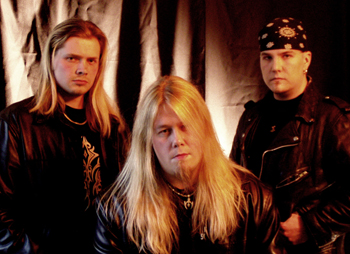 This album seems to be produced 15 years ago, and for this reason at the moment most of you could find it a little monotonous and old, but if you look over this , it's evident that there are good songs !
"Dreamworld" is a very intense ballad in which the band shows its delicate soul, though the singer doesn't get that typical shrill voice.
"Darkest Hour" is pure power-hard rock that begins with an unmistakable 80's style!!!! This song is a potential single!!! Very good melody into an easy but involving structure! Good metal also in "Down in Flames" that seems a perfect mixture between power-metal sound and typical hard-rock. "Out in the Fields" is a Gary Moore cover in which there's the guest apparition of Ville Lathiala (Sentenced)! One of the best song of this album.
"Shadows" is nothing original but it gets an involving mood, typical for this style.
There are also some mediocre compositions, try to listen to "In your evil Dreams" that seems one of the mediocre songs composed by Europe 25 years ago, or "Heaven or Hell" that is a very bad song, without ideas and with very bad vocals.
On the whole I underline their ability to create not original but good structure songs; there are good melodic ideas, but it's evident how the band must still improve not only concerning originality; vocals and rhythmic session must still to find the right groove in order to give a better intensity to the good melodic ideas.
I wish to listen a better next album, at the moment I can't but admit that this is a fair cd, well produced with good but also some mediocre songs and aspects to improve.