Dark, moody, moshable. That pretty much sums it up.
"The Grand Hammering" The fourth album from the Finnish metal band Gloomy Grim is out.

This album is definately catchy. It starts things off with a haunting little piano piece with thunder
rolling. And into an almost gothic feeling onslaught on... yep you guest it, the messiah of Christianity!

Titled "Come If You Dare", this song has a head banging quality to it that is nearly irresistible, and grinding moody slower tempo parts that give it a moody dark feel.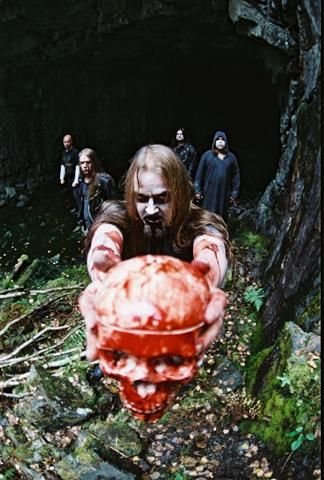 "Tomorrow Might Not Come" slows it down a bit with a dark grind core feel to it, and haunting guitar riff work.

"Prelude To War" with it's eerie orchestral beginning, and apocalyptic battle march feel, has almost tangible darkness to it. Then welcome the sounds of machine guns, enter blast beat drums, and hold on for the ride of "Corps Of Doom"

All in all this album has the elements that make a good album. The riffs are catchy and stick with you. The vocals growl and with understandable clarity. Guitars are heavy with plenty of harmonic minor riffing and mood. The drums are wicked quick where they need to be. And the sound quality of the mix is good.

Dark, moody, moshable. That pretty much sums it up.

If you like it dark and doomy and Black, you will not be disappointed, by this "Horror Metal".

The break down... This is a good album