What can I say more????
Nowadays it's no easy to find an album like this...
It's a great surprise this cd!!!!!! "Green" are a super-band in which I can't but notice the presence of one of the most important names of the Italian Melodic Hard Rock scene of 90'S ...Fabrizio Pieraccini!!!!!
"Of love and Soul" is a masterpiece that mixes, with a great class, Melodic Hard-Rock, Modern Rock and a touch of Alternative Rock!!!!!
Fabrizio is a great composer able to get inspirations from the class of the best Melodic Rock bands ....and I 'd say that the soul of this album is, without shadow of doubt, Aor-Hard oriented but the album gets a special sound that could be appreciated from all those who loves bands like Nickelback and Alter Bridge, but, as I said before, the class of Green makes this album a very masterpiece of Modern Hard-Rock in which Aor and progressive are perfectly mixed into an original ambient full of passion, in which the band shows us a great maturity and great ideas...All is seated with class and precision.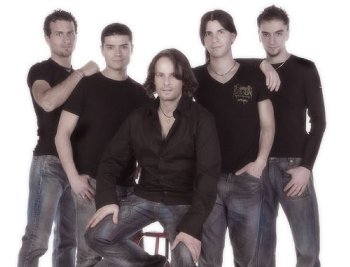 A very original sound full of influences in which the power is perfectly mixed to quality, and every song is a piece of masterpiece... I can't but invite all our readers to get this special album, because this band plays music with elegance and passion.....Nowadays it's no easy to find an album like this...
The single "Receive me" gets a very involving riff and a great refrain ...A perfect begin ...Rock from the bottom of the heart with power and energy....Fabrizio shows us a great voice both for timbre and extension....and the confirmation is the next song "Fight for Truth" that seems much more similar to Modern Hard-Rock ....It's great to notice also a shadow of Nu-metal that is perfectly mixed to the class of their Rock....
"Do it now" is a Power ballad that seems the less inspired song concerning refrain , but I can't but notice the great Fabrizio's voice!!!! A very beautiful timbre that is a able to give a special groove to every song.
"Hate me" is another Modern Hard-Rock single played with passion; It gets a very powerful refrain that will be the joy of all those who likes this style...but I can't but notice the influence of progressive music!!! It's incredible how the band is able to mix various kinds of style!!!!!!!!
It's the time to dream and "There's no Wind" is a special mid-tempo song characterized by a great melody and a great work of rhythmic session, able to give the special touch to the song!!!!

"Freedom" is a pure touch of class!!!!! A kind of modern Aor!!!!!! The class of Aor is perfectly mixed to the sound of modern rock and a touch of progressive rock!!! Words no need. Only ears to listen to it!!!!!
We go on and it's time for the emotional "No Return Journey" ...what a beautiful song!!!!!! Atmospheric modern rock!!!!!!! This band shows me a great originality in every passage...the class to mix emotional keyboard a very great refrain and some amazing chorus melodic Nu-metal oriented!!!!!!
"Baby tell me why" is a power Alternative Rock full of emotional keyboard and the usual class....
"One Day" is another great song that mixes the class of Aor-Progressive with the touch of Modern Rock ...A very deep song that shows the maturity of this band and Fabrizio's great emotional voice!
The title track closes this album into a travel of pure emotional Rock in which Progressive is mixed to the usual modern Aor into over 9 minutes of music!!! Great music in which I notice some amazing passages that can remind of Dream Theater but with the great Green style!!!!
In conclusion I add that the album gets a great arrangement and a good production...and this is a very important aspect .
What can I say more????
A great cd.....Buy or die!!!!
rating: 9.5/10