11.04.2003
---

at ISC in Bern (CH) - 27 . 03. 2003

ENCOUNTER RELEASE PARTY
---
PICS BY: © Stefan "Absolut_Evidence" Vogelaar -
REVIEW BY dalia "gryphon_spirit" di giacomo
The public use of these fotos is strictly prohibited without written permission.
---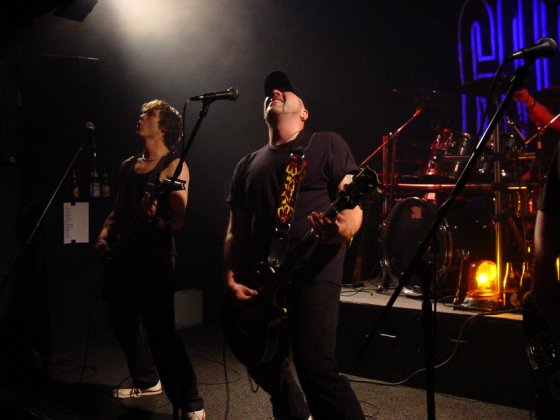 Eh yes, my dear readers! Attending a release party, where a new born album is presented "baptized" , celebrated and given a welcome is a really brilliant and unique experience! And this experience is even greater when the band in question is GurD: so professional and at the same time so able to enjoy music with enthusiasm and energy! And this release party will take place in the Swiss capital city: Bern.
Doors at ISC open at 21:00 , we enter the venue about a dozen of minutes later and already the room at the ground floor is crowded by people at the merchandise corner and at the bar, who is greeting one another, smiling, drinking, going upstairs and downstair (this venue is structured indeed in 2 floors), speaking with members of the band and creating the right lighthearted , friendly and typical atmosphere that parties should have.
It's always a pleasure for me to meet Inga Pulver and V.O., Franky , Spring and Tschibu, cause Gurd is a band i personally hold in esteem, cause i get the impression they really live for music creating around them a pool of persons and an audience that in their turn really care about the most important prerogatives of metal with determination and always renewed hope . And for sure Gurd have all reasons to be good mooded and satisfied: a new cool album (just listen to it to believe) recorded , mixed and engineered by V.O. and Franky in Gurd's own studio: the Little Creek (which has recently guested Destruction and still will be in April) and promoted under a new label's aegis : DieHard Music from Denmark. So i don't perceive nostalgic feelings for the past this evening, but, on the contrary, a new expansion towards the future. This month, the biggest German metal magazines have dedicated articles to Gurd and Rock Hard has featured one of the new tracks, Razorblade , in their latest compilation CD. Some words used , like the "giants of Thrash" are back, are in my opinion well deserved, so sometimes me too can agree with some mags ...from time to time!. So everything is fine what ends fine, and we are still not come to the end but only to the beginning of this metal evening !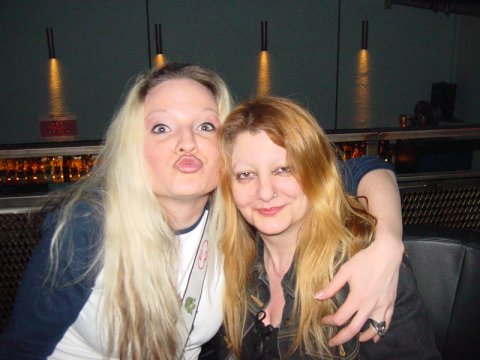 Inga and Dalia
On the second floor there is the room with the stage and in the adjacent little place, similar to a balcony, with armchairs, you can sit and relax , having a direct look onto the bar below.
The stage, framed by red curtains, and its room are well structured and smart, like in a refined club. At 10:30 Gurd take the stage in front of a lively and highly interested audience. The room is practically full. After the intro , the band begins with Masterplan and i have not to wait that much for admiring the first moshings and headbangings. Gurd start off this gig, showing to be very determinated and in very good shape. Learn and Rule the pit , w.d.y.l.f. follow ,arousing in the crowd sincere enthusiasm. Pure metal ,that spans from Thrash to Groove, proposed with energy and dynamics.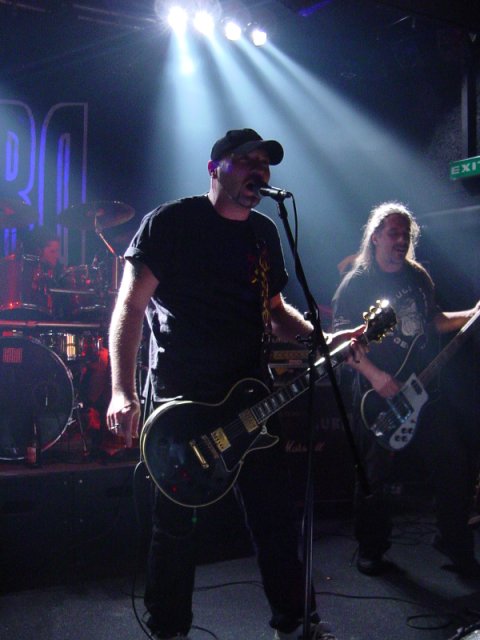 And now the magic moment: at 10:57 Inga Pulver enter the stage bringing a copy of the new album Encounter and a bottle of good champagne. Asking the crowd whether everyone was ready for the celebration ("Yeah!!" is the unanimous chorus!) V.O. uncorks the wine and the sparkling champagne falls on the Encounter copy, baptizing it among the general applauses. It's always a touching moment, something that one cannot see every day. Best wishes Encounter, Gurd's sixth album!!! from me , Abs and everyone here! The remaining wine in the bottle is consumed then by the band members and by many of the audience.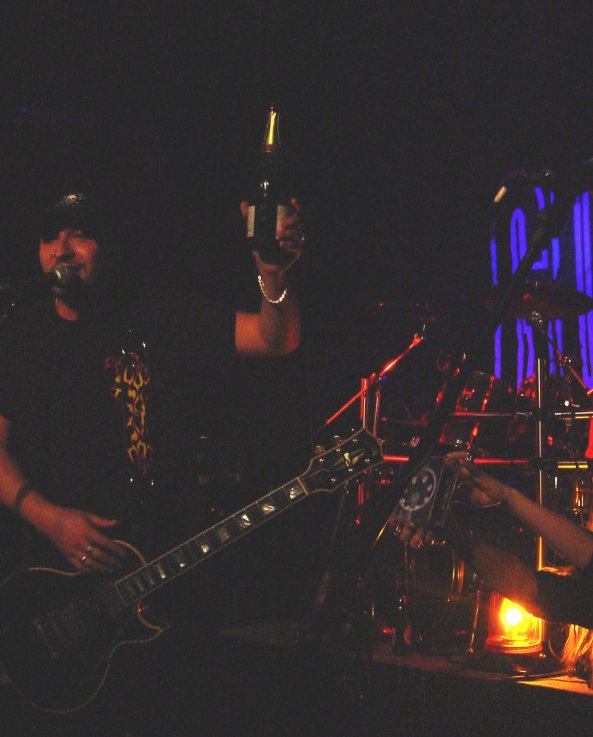 A collective rite of joy and support is fulfilled, opening the way to the first of the Encounter songs that will be proposed tonight: Razorblade! Accompanied by a thick smoke effect, enthralling with some Metallica flavors but more straight -to- the point, modern and classic at the same time , this song is a real hammer and the band proposes it in a brilliant way. it couldn't be otherwise: Razorblade is not only the opener of the album, but also one of the best expressions of Encounter . After the applauses and approvals a "merci vielmal" (thank you very much) from V.O. resounds satisfied, followed by short personal considerations about wars and Bush. Clear, it's the turn of A new War, another track from Encounter, whose lyrics touch also the social field, while the music is hammering and involving. And Gurd is a band which doesn't fear a certain quantity of social and political engagement! . Afterwards we listen to My Demons, again from Encounter, in order to pass then to We will resist, when we can listen to perfect change of times, constant good work done by the guitars and exactness from drums..Among the crowd moshing and jumping rage. Now it's the turn of Groovy, Strive (Encounter)- with smoke effect, Older but wiser (Encounter) and Down the Drain. And Gurd don't show even the smallest sign of tiredness; fresh and resolute like they began, implacable they go on with Can't take back (Encounter), Decision, Control (Encounter) and Skin up. This Skin up is a mighty rhythmed structure perfectly proposed , like perfectly made is the progressive slowing down final. Such a successful concert can only evoke the encore which is punctually offered around 12:00 by a band who is still in form, as if they were ready to begin it all ! Get up, HxHxH, and Warmachine crown the enthusiastic performance. A new born cd is just greeting a new born day. Stay metal and intelligent , good night and long life "Encounter"!



by dalia "gryphon_spirit" di giacomo