review by Marco "Norman Knight" Signore____
---
Well, the review of such an opera of classical music mixed up with metal is not easy at all. Haggard, however, are truly a particular phenomenon of the metal world, in the fact that they compose music paying attention both to the metal side and to the string sections they posses.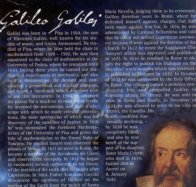 This "Eppur si muove", dedicated to the famous Italian scientist Galileo Galilei, is no exception in the Haggard production hitherto, and so we must be prepared to listen not only to Metal but to pure Classical music as well. I will try to translate also the Italian titles in English…so to give a better picture of the album.
The cd opens with a Latin choir on a very interesting piece of adagio underlined by viola and wind instruments and spotted by a delicate, never invasive drum. This Reinassance piece is suddenly broken by the harsh voice that in pure German tells us of the beginning of this great work of music, accompanied this time also by a delicate classical guitar sound. The voice creates a bitter contrast between its cadenced harshness (mixed with German and Eglish lyrics) and the sweed and intricate melody of the classical instruments underneath. Suddenly a vocalizing soprano voice introduces us to the "metal" section of this song (titled "Adesso è la Morte", Now is Death), where classical strings and winds mingle with bass, guitar and drums that underline a symphonic metal rhythm (very similar to the Therion of the last albums). The quasi-growl voice gives almost an impression of Black metal to the song, as it fades away on the dreaming notes of a flute and a cello with the violins bringing the full brunt of the melody and the soprano voice embroiders on the growling male voice, and all comes to an end ina mix of Latin and German with final crescendo notes of organ. An impressive piece, nothing to say!
We have a moment of rest with the Menuetto in Fa Minore (Minuet in F minor), and we follow the title of the
next song… Per Aspera ad Astra (roughly "through difficult roads to the stars") to discover the rising of the star of Galilei, and a new way of scientific thinking… as the song rises like the sun in a new dawn to get to a driving movement of drums, bass and violins, with the coutnerpoint of growl and soprano voices that fade out in a wind and a violin with a cadenced bass drum… then a tamburella leads again to the Metal/Reinassance music in a sequence of dreaming images evoked by this exceptional music as Galilei discovers the four Satellites of Jupiter and the song becomes a true Metal one.
Another piece played with sounds and sonorities typical of the Reinassance is then introduced to our wondering ears… it is called Of a Might Divine. After a very Reinassance like introduction, we find the melancholic sound of a piano counterpointed by a contrabasso (or very low viola) and then the violin enter to create another adagio to lead us to the narrative lyrics sung by a beautiful male voice again in counterpoint with a soprano… and then an arpeggio of harpsichord starts a growl-voiced metal part. The Church and the Inquisition have come for Galileo… he will soon revoke his teachings… or will burn at the stake. The atmosphere once again is perfectly given by this song, that ends in the adagio that started it.
A gavotte, Gavotta in Si minore (in B minor) then leads us to another part of this opera magna, this time a popular Scandinavian song titled Herr Mannelig and proposed in this album in a long and a short version (thanks Dalia for the information!!), and sung by the soprano voice in perfect Italian (much better than some Italian singers that distorce their language to conform to the English accent…). But those of you that expect a "typical" Reinassance popular song will be astonished by the orchestration of this piece: a true masterpiece, that begins with an ominous bass drum and pipes (it remembered me of Biko by Peter Gabriel, to be honest) and then becomes almost a power metal mid tempo.
The Observer, the next song in this beautiful opera, begins with a nice piece of harpsichord and a whispered voice that fades into a mid tempo with strings that create the mood for the voice in growl to tell us of the discoveries made by the great Galilei; this is the most "Metal" song in the disc, with marked changes of tempo and remarkable drum'n'bass work.
And we come to the Title Track of the album: Eppur si Muove ("and yet it is moving"), introduced by a delicate piece of classical instruments – they stop, and the soprano voice remains alone, in a sort of cold, dark environment, and the silence is then broken by the notes of a piano that grow like more streams bring water to a river – resolving the arpeggio chords with harmonic solutions non unlie the typical Reinassance music. And here you have drums and celloes and strings to create the carpet of sound for the growl voice as the rhythm increases its pace and ferocity to become a fast tempo, stopped here and there when the soprano enters the fray and duels with the growl voice. The powerful drums suddenly change tempo again… "... e nella mia ora più buia loro splenderanno per me all'infinito…". A new harmonic section, this time again going back through the centuries with cymbals, tambourine and flute carries us towards the end of the song with a vocal line in German and then in Italian (always in pure growl). Again then the drums start and the vocals bid us farewell remembering us that the stars will shine forever, religious blindness and ignorance nonwithstanding. An adagio of piano, wind and string instruments salute the listener, giving to this finale a dramatic, sad tone… almost as the players of a tragedy leave the stage one by one in silence, knowing all too well that due to their acts history has been changed, but they will not play their part in it anymore.
The album ends with another pearl: a short version of Herr Mannelig. Dreaming, dark and oniric, this version differs only in the duration (about 3.19 minutes against the 4.30 of the track 6) – but there is a surprise… a ghost track of about 55 seconds, a splendid piece of flute and piano, made by arpeggios and counterpoint, really beautiful… a precious small gem at the top of a magnificent crown!
This album is a touch of genius. Maybe it will meet the same problems that Galilei met in his time… the kind of music is quite strange indeed, mixing classical, death metal, lyrical, and symphonic music; and the choice of using Reinassance instruments, and not samplers or synths makes this album extremely beautiful and yet not palatable by everyone. The harsh, growled vocal line will be hard to listen to because it is in marked, hard contrast with the delicate classical instruments music – except when the drum and bass and the distorted guitars remember us that we are listening to a heavy metal band. But what a band! Haggard managed to combine classical music with Dark and Heavy metal in a way that few others manage to. In my humble opinion, then, Haggard have made a true masterpiece, but this masterpiece will not be for everyone – it is hard to digest and hard to listen to, unless your ear is really opened to new forms of music. Therefore if you like Haggard and their genre, this disc it is absolutely a must; but if you are more used to other, smoother forms of metal, then you may find this album a bit hard to tackle. Nonetheless, you should at least listen to it once!


Rating: 8.5/10