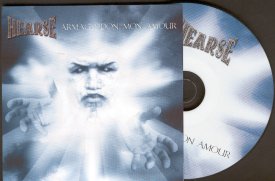 1. Mountain Of The Solar Eclipse
2. Turncoat
3. Crops Of Waste
4. In Love And War
5. Ticket To Devastation (Instrumental)
6. Tools
7. Cambodia
8. Sodi (Instrumental)
9. Play Without Rules
10. Determination
11. Armageddon, Mon Amour
Johan "Liiva" Axelsson (Vocals, Strings)
Matthias Ljung (Strings, Backing Vocals)
Max Thornell (Drums/ Strings)
---
review by Boris "Azrael" Witta ___
---
Hearse is a Melodic Death Metal-band from Sweden which is not too popular yet. The special thing is that the founder of Hearse is the Ex-guitarist of Arch Enemy, Johan "Liiva" Axelsson. But because the music of Hearse hasn't anything in common with Arch Enemy, let's remark this just as a detail.
If somebody hears the style "Melodic Death Metal" today, and he will think of bands like In Flames. But Hearse is very different to the modern Melodic Death Metal: The band has a lot of old-school-influences, namely Rock'n'Roll and NWoBHM, but also elements, which haven't anything to do with Metal, and it wouldn't be wrong at all to call Hearse progressive.
It's very interesting to listen to "Armageddon, Mon Amour", because every time I discovered another detail, another hidden thing. Every song is a world for itself, and together, the songs equal a great collage, a puzzle. Hearse seem to like long and expressive classic guitar-soli, because there are lots of them on the album. The song "Cambodia" is a cover from Kim Wilde, a singer from the 80s, but the song indeed sounds like a "normal" Hearse-song. Johan Liiva sings mostly in a Death Metal-growl-voice, but sometimes also clear, and his voice is very warm und full of feelings.
My personal favourite is "Determination", with distorted vocals and a melancholic but beautiful, kind of monotonous melody, which sounds a bit like Gothic, but just a bit. "Sodi" and "Ticket To Devastation" are short instrumentals, and in "Ticket To Devastation", only an acoustic guitar is playing. Especially "Sodi" sound like an old Black Sabbath- or Ozzy-song, I like this.
It was funny when I listened to "Tools" for the first time. Hello? Is this The Crown?! The song starts and ends exactly like "Face Of Destruction – Deep Hits Of Death", but in the interview, Johan said that he wouldn't even know The Crown, so this has to be chance. The titletrack itself "Armageddon, mon Amour" is very special and also a bit strange: It starts fragile, a female voice announces "It's the beginning of the end.", the rhythm is Doom-like, very slow, with deep riffs, acoustic parts and an aggressive voice, and at the end, there's a long guitar-solo and then a Piano-outro. It's absolutely a little epos. When you listen to the titletrack, you already know that it's the last track, something conclusive lies in the song.
"In Love And War" shows perfect the contrary between an aggressive, growling voice, and melodic and kind of happy melodies, and in "Play Without Rules" appears a Hammond-organ.
These examples shall show, how variable and different Hearse in itself are. I think this band supposes our support, and if you like Metal, which isn't too conform, Hearse is your band. And please forget that Johan "Liiva" Axelsson used to play in Arch Enemy, you mustn't compare these two bands, because Hearse is completely origin.
Rating:
8.5/ 10