HEAVENWOOD: "Abyss Masterpiece"
Listenable Records/Soulfood
release date: 18.03.2011
http://www.myspace.com/heavenwood
http://www.youtube.com/user/HEAVENWOODofficial
http://www.myspace.com/heavenwood
http://www.youtube.com/user/HEAVENWOODofficial
Recorded at Ultrasound Studios in Braga, Portugal, during August and September 2010 under the guidance of Daniel Cardoso, Pedro Mendes and Ricardo Dias (HEAVENWOOD). The editing was completed at 213 Studio in Oporto, Portugal.

Mixed and mastered by producer Kristian "Kohle" Kohlmannslehner (CREMATORY, AGATHODAIMON, BENIGHTED) at Kohlekeller Studios in Germany
Artwork created by Matthew Vickerstaff of Darkwave Art, who has previously worked with CRADLE OF FILTH, MY DYING BRIDE, GODFLESH, CARCASS, MENDEED, CATHEDRAL, ABIGAIL WILLIAMS, THE HAUNTED, SOIL and DEICIDE.
Photo Credit: André Henriques
Darkness has many faces and many masks.
Portuguese emotional temperament and German sound perfectly coexist in "Abyss Masterpiece", the fourth album of the Portuguese band Heavenwood that finally comes back, after the release of Redemption in 2008. "Abyss Masterpiece" is enough different from what the Portuguese band played before. Now Heavenwood is heavier, darker, performing fine and wide Dark Metal, mixed and mastered at Kohlekeller Studios in the middle of Germany. Indeed, Heavenwood present many faces of "Darkness" in a masquerade of everything from Dark to Gothic, but, all in all, it is a very nice masquerade as the artwork too (maybe) proposes. Some influences slightly go back to Darkseed, Crematory and even Before The Dawn. Yes, we deal here with a wide interpretation of Dark Heavy Music, which doesn't disdain to reach often extreme or pompous peaks . The sound is intense, the listener is indeed enshrouded by a deep feeling of obscure mystery which is at times baroque, at times melancholic, at times epic, at times angry, at times friendly. It depends from the songs. Main vocals are wonderfully diabolic, grave, growling, yet still intelligible and intertwined with a second, clear voice. The instrumental technique is more than effective.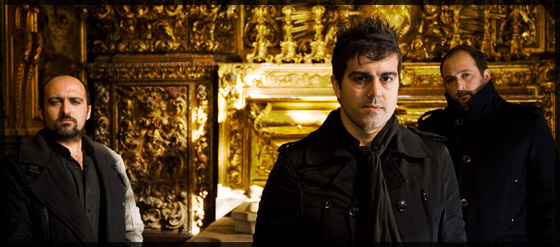 Moreover, it's incredible how Heavenwood can produce uncomplicated catchy songs till elaborated ones. Therefore they weigh every complex ramification in order to make of almost all songs a thick experience. For example let's consider the already widely pre-listened track number two: Morning Glory Clouds (In Manus Tuas Domine). It is really a beautiful song, although a simple one, it is able through few but perfectly matched chords to create an immediately estimable catchy earworm. A clever bridge brings the much awaited guitar caresses that tense you up and make you eager to listen to the refrain again. Therefore Morning Glory Clouds is a very good melodic boost, without mentioning its intro with that unforgettable "liturgic" and ethereal chorus. On the contrary, very engaged in the composition are the opening track The Arcadia Order and Goddess Presiding Over Solitude, which are songs where the rhythm is faster and where the guitar participation is lively, included solo in the latter song. Both are enriched by the musical carpet in background that reminds of spheric BM. Guitarist Ricardo Dias says that "Goddess Presiding Over Solitude' contains more heavier and pompous sounding stuff than ever done before by Heavenwood. This song grabs the listener by the throat with some of the most intense riffs of the album and is built in emotional intensity as the lyric concept is inspired on a poem adapted to English from our very first Portuguese female poet D. Leonor also known as Marquesa de Alorna."
Once A Burden is very good with the two different vocals in duet: growling and clear. It's involving, very heavy with even brutal tones, as long as Dark metal can be brutal. One of the best songs in this album, definitively.
But Winter Slave is my fav, it is played at the gates of Melodic Death, with eruptive elastic-paced drumming, and brilliant guitar theme. It could be appreciated by fans of Before The Dawn, so heavy and evil it is , with obscure vibrations and gothic despair, excellent melody and extreme metal temperament, with reminiscences of Classic Heavy Metal as roots. Vocals are grave and clear in duet. Winter Slave can be actually seen as caudron where all Dark ingredients boil, steam and vaporize in a chemical fusion.
Leonor, with female guest appearance by RAM-ZET's Miriam Renvag, may be considered as a strong piece of epic gothic lineage but i find it boring. On the contrary, much better and soaked with anguish is the strong melody of Poem For Matilde which creates moments for tears and moments for a short yet neck-breaking headbanging.
"Abyss Masterpiece" features a touching, mid- paced, rocking and melancholic sorrow called Like Yesterday and ends with a short instrumental funereal outro :Her Lament, strong in piano and orchestral streams. But before reaching this point, the album shoots the more aggressive September Blood and Sudden Scars which i don't appreciate, because, unfortunately, they seems to me quite uninspired. Fading Sun sounds like a very urban, heavy chimera; it is mixed with a lot of different influences who form a new unity, and it is fascinating for this reason. In particular, the melodic passages bring along an intense obscure aura.

If influences and inspirations in "Abyss Masterpiece" are many, they are many times beautifully coordinated in a bright own style. The production is really top: the mixing is ok and the mastering has delivered a very good homogeneous sound-representation of the whole album. Vocals are great. The first part of the album is full of emotions, while the second part is generally more aggressive. All who listen to Dark Metal should have this album and should enjoy its world of many masks.

8,8/10