presented by MEH SUFF!

HELRUNAR
EXCRUCIATION
Blutmond, Moonfrost & Asag

at SOUNDDOCK 14 in Dietikon (CH) - 13.11.2010
more fotos and videos coming on 31.12.2010
Live reportage by dalia di giacomo_ (photos and review)
Although approaching New Year's Day, i still remember with pleasure that concert on November 13th at SounDock in Dietikon (near Zürich) headlined and strongly influenced by German Black/Pagan Helrunar and Swiss Doomster Excruciation. The emphasis on Norse Paganism and on that suffering grief typical from Doom Metal appears nice and comfortable to be recalled to the mind now, now that winter has covered this part of Switzerland with snow and fog. There is nothing better on this season, when winter coldly reigns, and X-mas has been celebrated, to spend some minutes in contemplation, thinking of runes dancing over white crystalline fields together with the pain of Golgotha and surreal images of frosty nights. Actually this concert would have been magnificent if performed right now. On the contrary, in a still relatively mild November, it was "only" another great underground rendezvous as we are used to know and expect from the organization of Meh Suff. Enough good crowded and with a punctual running order, 5 bands played around a concert-concept of Black/Dark, Doom, Pagan music: A night of the "Extreme" yes, but with a mysterious, even occult taste. These bands were Asag, Moonfrost, Blutmond, Excruciation and Helrunar indeed.

Asag (http://www.myspace.com/asagbm) is a Swiss Black Metal band captained by vocalist Mentor from Fullmoon Funeral Productions. Asag's performance was really good, with style, a lot of tremolos, and moment of hypnotic lead guitar like in Plage, a song that evokes an impending melodic bridge after stormy rivers of tremolo pickings and fast paced drums. This patterns become more violent in Traumtod (both songs from the 2010 CD Feuer zieh mit mir) played with feeling and sinister passion. This band with a live line up of 5 members has a skillful frontman (also drummer) and is able to mix high pitched guitar tones with less high pitched vocal shrieks and gets a good balance of melody and elegant ruination tainted with Thrash. I think that the theatrics should be improved in all members except the frontman in order to give a better and homogenate image. Keep an eye on this band! An important side of this concert (as already happened in other Meh Suff events) is that each band has a quite large time at disposal and Asag as openers played more than half an hour.
Begun around 19.00 the concerts goes on at 20.00 with the second band Moonfrost. Well ,...Swiss Moonfrost, founded in 2001 (http://www.myspace.com/moonfrost), makes to the moniker all honour, i say...Personally, i found the stage acting of this young yet band quite cold, not very enthusiast (with the exception of drumming which was great), in spite of the very good quality of the instrumental execution and the class and talent of the guitarists. NO longer exclusively Black Pagan Metal, Moonfrost truly show interest in a variety of inspiration however all rooted in a very dark dimension. Of course the song Ignorance is bliss has been performed but with a kind of funereal apathy, at least this was my impression.At times i had the impression the guitarist were playing each for himself. Entertainment and comments to and for the audience were practically absent. Samples were launched manually by the frontman from a laptop: quite poor thing. The whole show sounded so boring to me, i cannot tell how much, a pity because this band has lots of good (and classic) qualities.

The atmosphere completely changes with the third band Blutmond (www.blutmond.ch http://www.myspace.com/blutmondofficial), again a SWiss band, coming from Olten and Solothurn, under Code666/Aural Music as label. "Where the mass flows the fastest, we stand still more than ever! When the crisis comes closer, we invest in champagne. Each one who abominates this, is already part of what a profitable anti-crisis-drug named swine flu inoculating is to us. We all live in a world, that stopped to exist long ago" So much the band's philosophy. The latest effort as album is called "Thirteen Urban Ways 4 Groovy Bohemian Days". This band too makes to the moniker all honour (Blutmond is Bloodmoon) because the stage acting is explosive, at times frenetic, with hyperactive frontman John in red shirt (no, no need for Ritalin! ;) ), and the music is unveils the most different influences. A true collage from Black to Rock and Roll. Instead of being bohémiens they are kind of Avant-gardistes and i can believe that they reached an Italian label, because Italians love Avantgarde and Experimentation also in metal, in my opinion not for musical conviction but just for vain intellectual instinct. Blutmond put on stage 40 minutes of energetic riffs embellished by the use of the saxophone, it was too nervous for me. All in all i don't like their songs, too chaotic for me....a-haaaa but with the exception of the beautiful Cry.sis which i have appreciated that night too in spite the live didn't render the otherwise irresistible mood of the song.

Setlist Blutmond
Friday – Trapped In Mental Disorder
Good Morning World
Working Poor, Yuppie Yeah!
CRY.sis
You Vs. The Modern Lifestyle Obsession
25 or 6 to 4 (...aha is it "those annoying coversong"?)
Suburbs
so please just have fun by seeing how the band's has written these songs on the setlist ;) (fotos loading)

After having been adrenalized by Blutmond the audience finally is free to go into raptures minutes after minutes over Excruciation (www.excruciation.net) . The Swiss six-piece Doomster is simply a fantastic band, almost enchanting in everything: composition, style, vocals, way of playing, stage acting. As i expected, as everybody expected the show has been intense but not too dramatic, not to theatrical, well..just simply involving and full of feeling. Each member is unmistakable and has a peculiar personality but each member is one with the rest of the lineup and this is a characteristic of the big combos. Although veterans in the Swiss scene they look incredibly young in spirit and action. I wished so much to attend the song A dying Sun from the new album t(horns), but i was already satisfied with Raptus, December 12, Dignitas and Vultures from the same cd. After all it was a good "deal", isn't? So many cool songs from the new production and with Golgotha and I am, from the previous album Angels to Some, Demons to Others" as bonus ;). It was a show which the whole audience has enjoyed nonstop from 22:15 to 23:00.The setlist was perfectly chosen with songs that were not too long. Lots of headbanging surely provided for many soured necks the day after. But who cares; who cared? The concert of Excruciation was a mystic journey together with the band. It was no music listening , it was a rise (or a descent) into a construct of sorrow and anguish and pain and Passion. Great guitar work both in team and in solo chords . Expressive, emphatic vocals + instruments precise and played in confidence + good sound = a fucking huge overwhelming show in the better tradition of Doom/Death Metal.
Pity that this band doesnt embark now in a long tour, they could mesmerize so many venues everywhere.

Setlist Excruciation
Golgotha
Dignitas
December 12
Arise
Raptus
I am
Vultures


Around 23:30 German headliner Helrunar hits the stage with mastermind Skald Draugir. Good sound for this Pagan Black Metal too, even if vocals could have been set stronger.. Helrunar plays even songs never performed in Switzerland before. Melodies and cold epics begin with Frostnacht and go on with Ich bin die Leere and Nebelspinne. The band is totally focused on music and doesnt make a varied stage acting. They remain sympathic and hieratic. And, i presume, satisfied to play in Switzerland, the land of seminal Celtic Frost. From the upcoming double cd Sól, Helrunar (http://www.myspace.com/helrunarhorde -Label Lupus Lounge) presents Nebelspinne and Unter dem Gletscher. Ich bin die Leere unleashed a dark sinister wind of evilness. Aggressive yet fantastically melancholic, Helrunar delivered fast drums and fast tremolos with several different timbres that contrasted with the hoarse vocals. In one hour, furious in music and calm in person they bewitched the audience till the encore. Black Metal of first class.

Setlist Helrunar
Frostnacht
Ich bin die Leere
Nebelspinne
...bis die Seele gefriert
Unter dem Gletscher
Älter als das Kreuz
Til Jardar
--------------------
Procreation Of The Wicked
Glámr


30.12.2010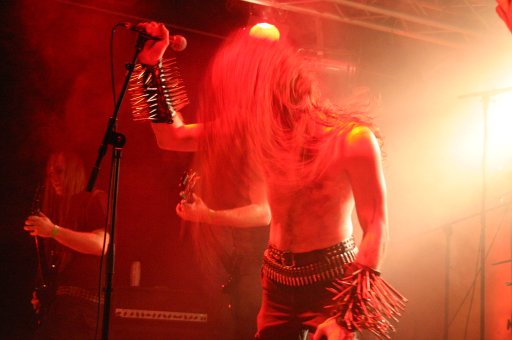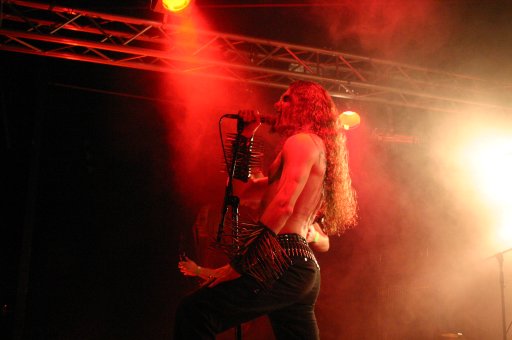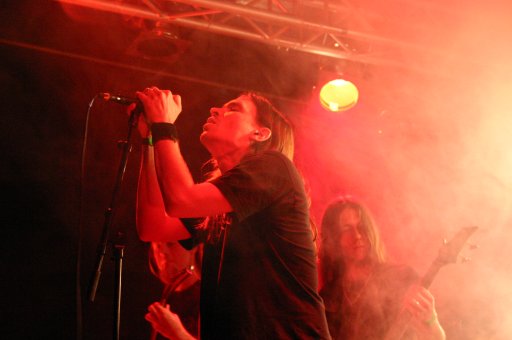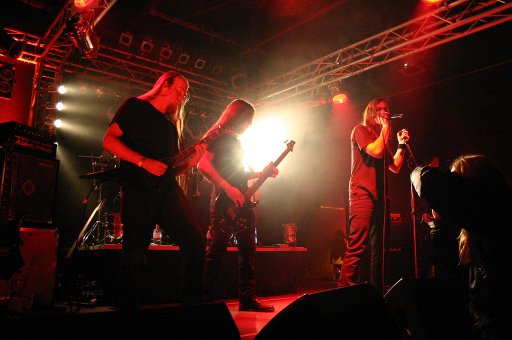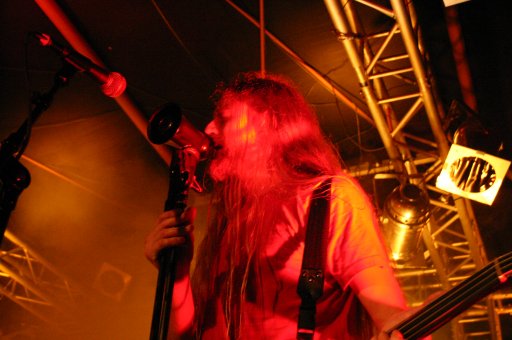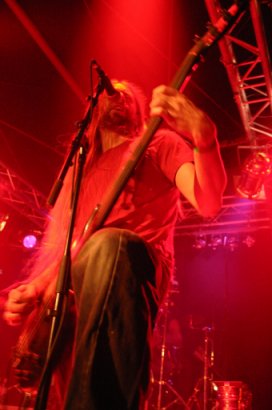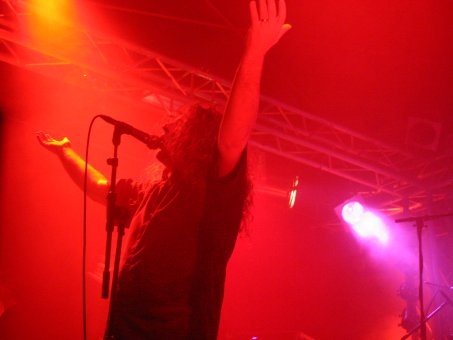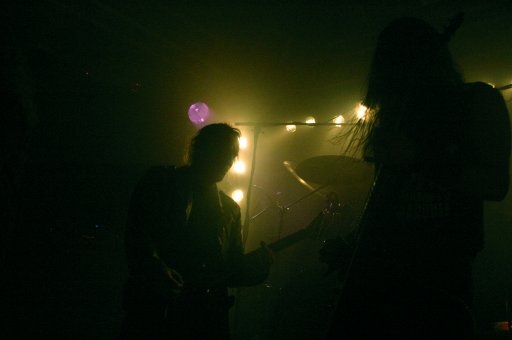 HELRUNAR