After we rescue Sid, I'm going to kill him
After "Ice Age" and "Ice Age: The Meldown" , our heroes are back by being involved in an adventure that will lead them into an unknown underground yet prolificent world, full of new dangers and completely new beings that actually were presumed extinct. In few words Ice Age 3 lets us somehow remind of some contents in Jules Verne's A Journey to The Centre of The Earth. However the typical style of the Ice Age series remains uncontaminated and we can enjoy 92 minutes of sympathy and laugh. It may seem that the theme of this third part is family and friendship but, if you observe well, it isn't. The main theme is, after all, a confrontation between mammal and reptile characteristics where different geological eras suddenly meet. Two biological "planets" in one. A kind of Jurassic Park à la Ice Age. Although, yes...the concept family and friendship have a big weight, above all as trigger of the plot. It is the new familiar situation of Ellie and Manny, who are waiting for a baby, to unleash the sequence of events. Indeed Diego, the saber-toothed tiger, who thinks to become too "soft" by remaining with his pals, wonders if this group is really his "family" or if the family is the one that Manny and Ellie alone are about to design with the arrival of the little mammoth. But Sid the sloth will be even affected by the desire to create his own family, and, while looking for new friends, he will find 3 "giant" eggs in an icy cave under the surface. Needless to say, he will hijack these eggs with the proposal to take care of them and of the breed, like a good mama would do. As you can imagine this is the beginning of the new adventure. Short after the 3 little nice T-Rex hatch and after they bring hilarious pandemonium in the little baby- world of the mammals, mother T-Rex appears, taking back her 3 children and Sid to her "lost" world.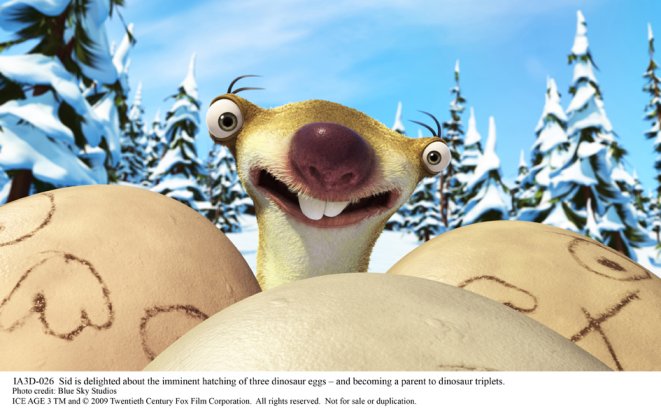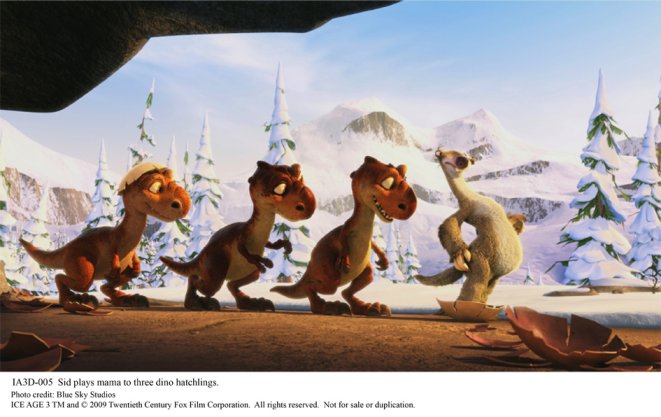 Manny: Sid! Give them to her! She's their mother!
Sid: How do I know she's their mother?
Manny: What do you want, a birth certificate? She's a dinosaur!

During the mission to find and help Sid, our pregnant Ellie, Manny, Eddie and Crash, promptly followed by Diego, will enter a totally different dimension, done by close encounters with dinosaurs, by a different climate and different flora. An underground world full of shadows and light who wait in ambush.
Ellie: I thought those guys were extinct.
Manny: Well then, that is one angry fossil.
They couldn't stand all this without the help of a new character introduced in this film: a one-eyed, dino -hunting weasel named Buck. Buck is the only mammal in this world and is obsessed with his arch-enemy, the biggest dinosaur: the menacing albino Rudy. A hate-love obsession like Captain Ahab has for Moby Dick. And actually Buck's only reason of life.
Buck: Are you ready for adventure?
Crash Eddie: Yes, sir!
Buck: For danger?
Crash Eddie: Yes, sir!
Buck: For death?
Eddie: Uhh, can you repeat the question?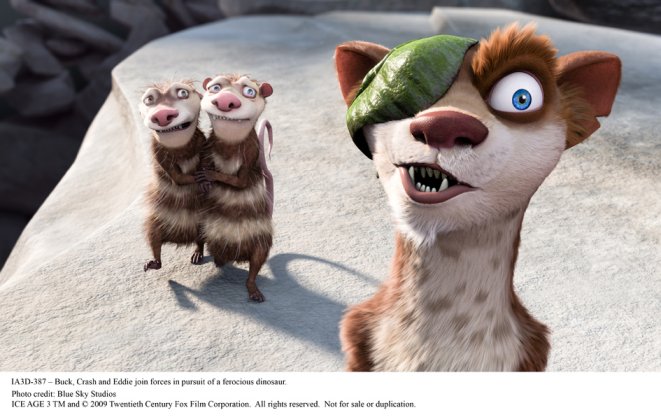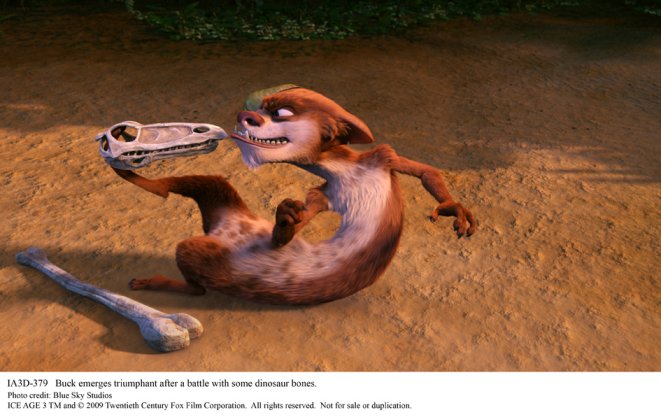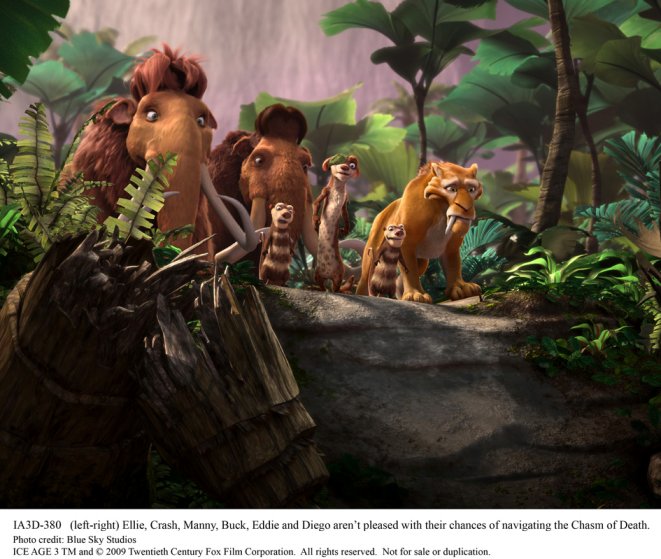 As you can expect, Mother T-Rex finally finds a kind of comprehension for this strange vegetarian goofy Sid, whom her 3 little kids love a lot, showing that even dinosaurs can have a "heart".
It will be during this dangerous adventure that Ellie will get her baby: a female named Peaches. In that moment, Ellie is mainly helped by Diego who engages great struggle against a herd of raptor-like predators, so that Diego proves himself that he is not laid- back. The confrontation between feline and dinosaurs takes here the best configuration.
Obviously we find again Scrat, this time engaged in a triangle-romance with the elusive nut and the sabre-toothed squirrel Scratte. But Scrat is never so lucky...isn't it?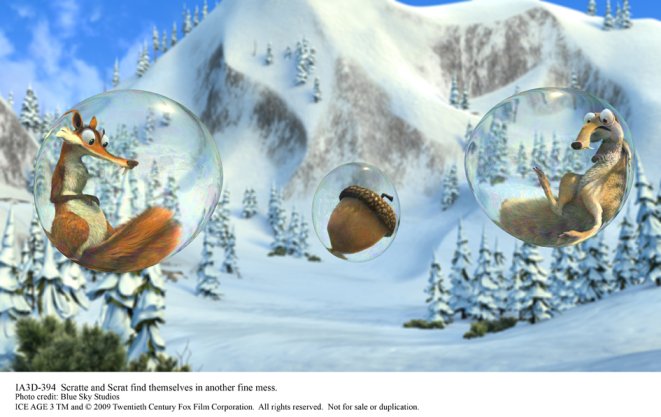 This movie is truly well done if you consider that is a third part of an animation movie, truly sequel of Ice Age 2. To make an interesting sequel is never easy and Ice Age 3 gets fully through the exam (although the "darker" Ice Age 1 still remains the best for me). A couple of super hilarious and memorable scenes make moreover the day of the spectator. The 3D version is not to be missed, never mind how the good spectacles will cost (+ 3 SFr. at the Abaton in Zürich as newspaper announce); yep it's just a cup of coffee, more or less....The 3D vision, in my opinion, underlines the simplicity of the landscape, but, right for that, the film becomes even funnier and gets fairy tail contours, while, on the contrary, the animation is of course exalted and some scenes, above all the aerial ones, become brilliant.
Ice Age 3 is cute chill out and cool terrarium ;). Have fun!
Rating: 8,5
dalia di giacomo 30.06.09