preview - review by dalia "gryphon_spirit" di giacomo____

---
Stained or Sainted? An hybridization between a Melodic Death vocal musical path near to Dark Tranquillity or In Flames and instrumental melodic Heavy/Power and Rock, with insertion of atmospheric layers. Supported by a propulsive drumming and a great megaenergetic skill and ability concerning instrument playing. Imagine vocals that follow a kind of Swedish Melodic Death surrounded by structures typical of Melodic Heavy Metal or Power with Rock solos , highpitched sounds almost-"spinet" like, and counterbalancing bass guitar and steamhammering riffs. Yes Children of Bodom are a strong influence, but Imperanon are imo no clone, on the contrary they try a not easy combination of styles with impetus, considering also that Stained is a debut album . A debut full of colors like a stained glass. On the other hand sometimes they sound really too "baroque and full", and the risk is that some tracks can enervate soon, moreover vocals should appear just that ounce more relaxed.
---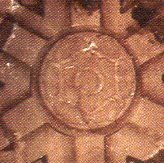 Look at the coverart: notice the hexagonal contour inscribed in the circle , center of the six arms (which develop 8 rays) . An hexagon is the form that allows a maximum use of a selected area. An hexagonal key could open this six-eight- arms star/ lock. Again we are among gates and circles and, if anagrammatized, the word Stained turns into DNA ties, Dansite (a mineral) or just .....SAINTED. Imperanon sainted? Maybe it is a bit soon, we will see how they will go on in future, but, if they will keep up and enhance the work done till now, it will be their destiny to dwell the Metal Asgard. Imperanon are young (average age 20 years in a band formed just 5 years ago and with line up changes in the meanwhile) , Imperanon, with this formation, play really very well (! consider again their age!) with a lot of virtuosisms (frontman Alexi and guitar player Lauri have been attending the Sibelius Academy of Music in Helsinki, "fatherland" of Apocalyptica too). Stained is a debut album . Imperanon have much enthusiasm and try a not easy path in order to find their niche . Indeed Imperanon offer vocals singing a Melodic Death in Swedish school embedded in explosive structures of Power and melodic Heavy/Rock. Everything is fluent, with tempo changes well proposed. You find yourself deep inside a sequence of layers and styles that lively integrate. Lead vocals never drive away from the "Death"/Modern component, while solo's, melodies and many rhythmic sequences underline other paths nevertheless sustaining always the above mentioned vocals . Not by chance the album was engineered by Nino Laurenne (see Requiem) and produced by Titus Hjelm, both members of Thunderstone, the well known Finnish Power band. Different Metal's can converge into One . Though i personally prefer pure Melodic Death, i think that Power must be blessed somehow by the Abyss. The resulting hybrid-product sounds sympathetic and (almost) natural. Under this point of view Imperanon put a majestic hand on instrumentation, double bass drumming, virtuosism in lead and keys.
Shadows: at a first impact the melodic Death /modern component, due to the fact that it is mainly assigned to vocals, doesn't stick out at once; Imperanon 's music though catchy, is directed to open-minded listeners (maybe not a shadow but a merit), the highpitched sounds ( spinet -wise) may enervate (but taste is taste!); the identity of the band, already clear enough, could be however enhanced and even better structured. There is still something to improve, but, as beginning, this is a withering and full of energy one. Not very big ..stains, after all. And however it is highly misleading to present Imperanon's music practically as the future of Melodic Death only.
Imperanon influences lay strong under the style of Children of Bodom, but imo they are no COB II: just consider the difference in guitar techniques , in temperament, and above all in drumming. Great drumming by Jaakko Nylund who is a founder member of the act. Imperanon keys are less dark than COB, but more lively, while the general tone is typical of a True metal defender with atmospheric veils of hypernatural dimensions.
Blade, the opener, is fast , rocking, aggressive. the musical paths followed by vocals , whose brachial low accents are impressive, hold the flag of evilness, while the instruments distribute themselves around a hymnic-melodic Heavy Metal proceeding with the highpitched songs of lead and keys that let cascades of scales and chords fall the one into the other in a catchy way. Memories to Dust gets more atmospheric tones: it is a fast attack among Heavy/Power Metal with typical Rock solo's and Death evilness, that can be listened to , some mini-drops of Gothic vampire notes add a particular tone to the atmosphere. Stained delivers again vocals that are perfectly in line with Melodic Death and the amazing well calibrated double bass begins to become an identification. Hightuned surprising piano-keys run fast in a musical contents whose structure goes into Melodic Heavy.
The galloping's of Prisoner in me are sparkling and surely indicate Power attitude (plural -cause there are important pace changes in climax) but don't add much to what offered from the first songs, though vocals are really angry and add a tone of articulation and tempo cadence that prove much of their Death frequencies. After 3:24 min. there is even a short emphasis Black oriented. A bit complex song, maybe too full of elements, though the resumption of the whole structure makes it fully understandable.
Sold is a song clearly oriented towards Melodic Death and useless to say is also one of my fav, a modern effect in puncto keys is also presented and well executed. The melody is obscure persuading, catchy and decadent supported by a rhythm full of grasp and appeal. The highpitched sounds are smothered though we have nice virtuoso solo's, the riffing is full of determination.
Hollow Man is varied in vocals cause the brachial, almost growling, lead voice is accompanied by higher typical clean vocals of Power in name and fact; the effective propulsive drumming is pushing high the track while the musical melody sees that touch of Beast in a general contest of Melodic Rock.
Rhythm of Pain has something that reminds of In Flames cause vocals offer a kind of Modern/post metal influence and so is doing music, though lead guitar keeps the song in the wake of all others. Solid riffs are great and after all it's even better if songs sound a bit different.
Shadowsouls :very fast we literally run with "female" vocals in foreground. I don't like at all this second voice both during the anthemic refrain, and during the echoed bridge. Aleksi's space, a bit sacrificed, must do a counterpart almost in Black. Vein (I Bleed) has a nearly Black way to approach singing ,whilethe melodic wall behind, belongs, to the "other" arm of Metal. Good and constant bass work. To the End is another fav of mine: uptempo rhythmed and varied Heavy/Death/Melodic/Modern whose vocal musical lines remind a bit to In Flames too, while the soundscape ranges from Rock and Melodic Heavy to Melodic Death whose celebration-discharge is the final touch of song and album. In this song double bass shooting and bass strings are intense again while riffs don't forgive. A certain tone of mysticism remains in the background while the energetic angry Union of Metal spits blood in front of us.
In spite of all " rumors" that suggest Imperanon too similar to COB ( i don't completely agree) , in spite of all who cannot mix styles in their minds, in spite of all who don't consider the impressive strength of notes and technique applied here, and by so young lads...i give the well deserved "Nulla Osta" to Imperanon. This album is already good, the next one will be a bomb. Though i am a Doom/Death/Black fan, with a soft spot for Gothic and well conceived Modern , i can only say once more: Metal, unite!
Rating: 8/10