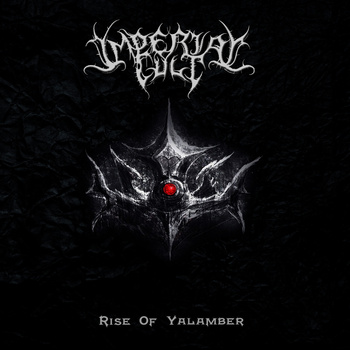 IMPERIAL CULT
"Rise Of Yalamber" EP
All music written and produced by Imperial Cult
All lyrics by Vaskar Pradhan, and "Pain Of Mortals" by Bipen Thapa
Release date: 18th of July 2014
Produced and recorded independently at Pentatonics Studio, Kolkata.

Review by dalia di giacomo
Buy album - http://imperialcult666.bandcamp.com/releases
01. Rise of Yalamber
02. Pain of Mortals
03. The Abomination
04. Black Stone
---
Line-Up
Ashish Syangbo Tamang : Vocals
Siddharth Lama : Guitars
Kushal Rai : Guitars
Rishav Khawas : Bass
Triratna Gyalpo Moktan : Drums
---
Websites

Facebook page - https://www.facebook.com/pages/Imperial-cult/384488021584633

Youtube - https://www.youtube.com/channel/UCdGfo8j8wKOkw9bw-XBpTsg/videos

Email - imperialcultdrj@gmail.com
---
New Old School from Himalaya.
Now sincerely... what do you think of when you hear the word "Darjeeling"? Right: tea plantations, and "Darjeeling tea" as one of the best type of (mainly black) teas. We tend to forget that the name comes from the Indian town Darjeeling, located in West Bengal, in North-East India, near Nepal, in an Himalayan hill region where the Mount Everest is already visible in cloudless days. Finally, we hardly know about the existence of an Extreme Metal scene in this zone, we hardly know the existence of metal festivals like Darjeeling Summer Death Fest and we hardly know that well prepared natives of West Bengal ground challenging metal bands. One of these bands is Imperial Cult, formed in February 2012 in Kolkata (West Bengal) whose members comes from Darjeeling. I was really impressed by the quality of this new emerging band and , in general, by the passion of the scene of North-East India and Nepal.
Fact is that Blackened Death Metallers Imperial Cult are very interesting. They say their influences include Behemoth, Vader, Naglfar, Emperor and Belphegor. I would also add Sacramentum. Vocals are based on a strong, raspy growling and the music shows a good balance of melodic tunes and melodic solos as well as aggressive raw energy, framed in old school Melodic Black/Death. Tempo-changes and fierce riffs are generously bestowed. Technically, drums and the dual guitar system are striking.
The opener of this EP (also the single) is Rise Of Yalamber, based on the mythological and religious figures of King Yalamber and Lord Krishna. The short intro of this song throws us into an epic battle, while then the music develops the love of this band for the Old School of Death/Black Metal. Distortion, sense of dread, simple but clearly composed passages, lots of tempo changes, tremolos and essential sonorities bring us back in time. Pain Of Mortals is characterized by ravenous drumming, by angry vocals and an explosive solo, everything set on a carpet of brutality. The Abomination is mighty and unleashes evilness and fear; its blasting drumming is punishing and technically amazing. The Abomination can conciliate rawness and melody with unpredictable tempo changes, that make this song remarkable.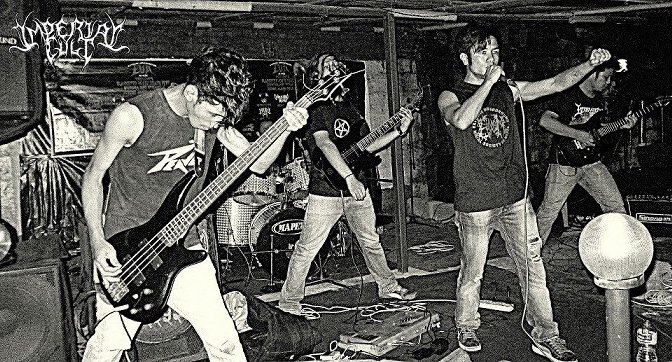 Black Stone shows again the characteristics of the Old School together with an already mature ability in composing music with a fierce yet melodic personal touch. The technicality of the band, concerning drumming and guitars is simply impressing. In Black Stone the guitarists are able to produce a wide range of sonorities.
Imperial Cult has been playing shows in Kolkata, Darjeeling and Nepal. Imperial Cult has been featured in an international compilation by SNRMB nepal (https://www.facebook.com/metalworlzzzzzzzzz) entitled "RAKTAPYAS – II (GLORY OF DEATH)" (http://snrmbnepal.blogspot.in/2014/07/raktapyas-ii-glory-of-death-article.html) alongside bands like Nervecell (U.A.E), Dying Out Flame (Nepal), Kartikeya (Russia), Narsamhaar (Nepal), Puteraeon (Sweden), Bidroha (Nepal), Binaash (Nepal), Turbocharged (Sweden) and many more.
Give Imperial Cult a try if you like the "old good times"! Imperial Cult are young, motivated, talented, ready to conquer the West and ready to evolution. Therefore I am already looking forward to their next release.

8/10

Review by dalia di giacomo