"come follow me, follow me into this bastard show"
In Blackest Velvet means fresh German Melodic Death Metal of impact and elegance. I am always very pleased when i can propose to our readers some Melodic Death of good quality which combines aggressiveness with creative and beautiful emotional melodies, able to catch ears and mind. The Maxi CD "InSuiSight" is the case. Some light drops of metropolitan hardcore are mixed so well with Rock and Roll appeal, effusive feelings and anger that the result is a darkened gratification. In Blackest Velvet, that gathers up also members involved in the well known combo Night in Gales, makes honor to the great vital vein that is pulsing in Europe, though some vague influences from Canadian style can be recognized as well (in the song Suicide One, for example). Everything is so brilliantly shaken with its own personality, nothing is forced : In Blackest Velvet are Rock'nRoll, are Modern metal , are Melodic Death of wide range, with some vein of bulldozing Hardcore and Dark metropolitan Rock, and you perceive all this as one and only watermark. So versatile and compact . We could say they fully explain our time and our society .In fact they makes honor to their moniker too (taken from the title of the 10th track of their debut album "Edenflow" through Prophecy Productions, i presume): so gloomy and so lively rocking at the same time, so energetically underground and so disillusioned, so dark and so groovy, menacing sinister but also opened up for many refreshing riffs. Current inspirations blossom on classical roots. Nostalgic but forward-looking. Though In Blackest Velvet's music is really deep and advanced, it tempts immediately , all songs of InSuiSight are very addictive and seductive without loosing an ounce in strength, Bastard Show in first row. All songs are new, never released before. Though there are so many differences between the Swiss Darkmoon and In Blackest Velvet they have in common the same magnetic catch. It is sufficient to listen to them just only one time in order to never forget them.
Addictive InSuiSight: this is stuff you can "use" and abuse a lot and a lot. After a -couple- of - years break, the band delivers this killing insidious second work (preceded just by a warm-up 3-song demo in 2004) with incredible belief in their capacities, and they are fully right cause they seem to live a fierce moment of creativity, new stuff is in preparation for a next full length album, that, i hope, can be released soon through an adequate label. A label that , at this point, could be a happy bunny i think, because In Blackest Velvet are bingo.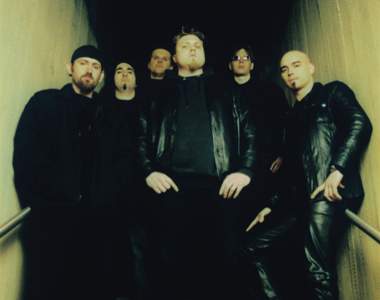 Versatile in a compact image, "InSuiSight" (sounds similar to In Suicide, isn't it..or "in sui sight" as introspection?? ) can reach a wide target, from Hardcore listeners to fans of Industrial and Gothic Rock, being anyway Melodic Death the main pillar for Melodeath maniacs.
Addictive and insidious "InSuiSight": six tracks (one instrumental) that can be violent, brutal, sorrowful, introspective, depressive or tonic and energizing, it depends from your mood. The musicianship is skillful and experienced, the rhythmic session is resistless thanks to the great performance of drumming and bass, while the incisive lead overdriven strikes are stabbing though not numerous, cause the lead is in general accompanying with a dark obscure cutting timbre. We could say that In Blackest Velvet emphasize low sounds but lead solos are not missed , as well as arpeggios and noninvasive emotional urban-anguished keys. the production too underlines the gloomy darkened timbre and so much that, if in a hi-fi the effect looks gorgeous, in a car stereo you have to adjust the volume. This is, maybe, the only reproach. Ex Night In Gales Christian Müller's mighty brutal and abrasive vocals, opportunely enhanced at times by varied backings provided by bassist Tobias Bruchmann (Night in Gales), appear so natural and go from a certain growling to unsmooth abyssal yet agreeable shouting. The first track Lamb of Liberty ignites the CD with implacable almost American heaviness, overdriven short exploits, obscure impressive double bass . Flames await is superb with a sorrowful anguishing intro that exploits in a true melodic death where the melody is erupting gloomy doom-y suffered. Suicide Sun is more brutal , unites European and American taste, with a certain blasting/hardcore appeal. Bastard Show is another superb track in which the modern hardcore influences in the hunting rhythm morph into a driving and pleasant melodic Rock'n Roll catchy ear-worm refrain , the rhythmic section paves the way for agonizing strikes of lead, vocals between Christian seems intertwined , the result is varied from growls to almost whispered clear. Whorehouse is a dynamic, uptempo, roaring Melodeath that rocks a lot. The instrumental Nothingness is pure urban solitude, where the melody is sorrow: an excellent bass work prepares a depressive field in which guitars and keys then intertwine tuneful, estranged and melancholic, a bit alienated. Six tracks that run away quickly letting you just asking for more.
we are the sons of the suicide sun!
and we pretend to be the peacefully ones
rating: 8.9/10
dalia di giacomo