Have you ever dreamed of a world without money? Maybe yes,in particular in these times of monetary crisis. But with what would you substitute money? Exchange, shells, firewood ? ah...gold ..everybody let's go to remote Alaska to mine gold! It's something ancient: coins of pure gold, and we land back to money as such; after all, money already represents gold...So what else could act as currency? ...Life?
Life. Imagine a society in a not too far future where genetics is so advanced (and accepted) that aging is stopped at 25 because aging genes are switched off. Imagine a future in which you never age, but the only way to stay alive (and to avoid overpopulation) is to be paid with time or, better said, with life to live. Time literally becomes THE money, THE currency. You earn time and you can buy giving away some of the time of your life. In such a future there are still rich and poor people. The poor must work and fight hard for every day, if not every minute of their life, while, on the contrary, rich people, who can also inherit incredible amounts of life can practically live forever giving away their time for luxury, because this, on the whole, remains still insignificant on the balance between the time they pay out and the time they have and earn. Indeed
Anyway the most important consideration which surfaces in this movie, is that to be rich of time can be a curse: you can be practically immortal considering the time you have, but you are not immune from accidents, illness and, above all, boredom. If you know that you could live forever or for a very very long time anyway, would you run the risk to expose yourself to a banal injury? No, because everything could break the enchantment of living for so long. Actor Vincent Kartheiser with his character Philippe Weis portrays so well the apathy of this new wealthy class which practically doesn`t live life in the way life is worthy to be lived. Therefore comes fear: fear of injury and fear of theft . Oh yes, time can be stolen! It is so simple to steal time: it is just a simple matter of physical force and aggression by placing the own time clock over the arm (and time-clock) of the victim .
Will Salas (Justin Timberlake), the hero protagonist of the movie, lives minute-to-minute in a poor region (or time zone), a ghetto called Dayton. He rarely has more than 24 hours on his "wristle". For his beautiful mother, Rachel, it is the same story. One day an unespected event gives him access to the world of the wealthy: Will protects a life-tired rich , Henry Hamilton, from a gang of thieves: the Minute Men. Henry makes then a present to Will of a century of time...But the movement of such a large sum in Dayton alerts special authorities called Timekeepers. Henry commits suicide and leaves a message to Willy: "Dont waste my time".
Matt Bomer, of the hit USA series White Collar, plays Hamilton. "Hamilton is sort of like that character in a Dickens novel, who imparts information to the protagonist that sets him on a new course. Henry wants to change things, but he doesn't know how to. He's 105 years old, lived a full life, and now he wants to end it. In Will, he finds somebody who can think outside of himself, who has the courage and the moral fortitude to actually affect change. So he gives him the gift of years, hoping that this brave soul can make a difference."
Willy, falsely accused of murder and having lost his mother, decides to make the best of this gift: like a modern Robin Hood he wants to steal the rich in order to give to the Poor: he begins a personal war of justice in New Greenwhich, the richest zone, where he meets Sylvia Weis (Amanda Seyfred) the beautiful, young daughter (and heiress) of the "old" corrupted and apathic businessman Philippe Weis (Vincent Kartheiser), whose fortune was built on a chain of time lending stores.
Says Kartheiser: "Where you or I might say, 'Well, you only live once,' or 'Live today like it's the last day of your life,' Weis and his friends and family don't believe there will be a last day. Weis and his ilk have centuries to accomplish their goals, leaving them at best unmotivated."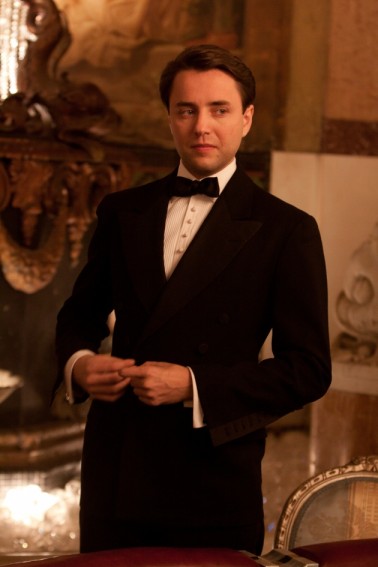 In Dayton people literally run for their lives, but in New Greenwhich nothing moves quickly, no one runs, because no one truly lives: ""the poor die and the rich don't live" Will says.
Niccol continues. "We decided that there would be no graffiti in the ghetto because no one has time to waste scrawling on a wall. In Dayton, where everyone's running, the camera was constantly moving, and when we got to the wealthy zone of New Greenwich, we would slow down the camera. We wanted to give you the feeling that time has somehow slowed down for these rich people. Similarly, the music is up-tempo in the poor zone and it would slow down for scenes in the rich zone."
When the Timekeepers, led by Leon, the true counterpart of Will Salas, try to capture Will, he takes Sylvia hostage and the "game" for life and justice begins.
"Sylvia dreads her life every day," reveals Amanda Seyfried. "She wants to have some kind of adventure. In a world like this, you spend so much time trying to protect your life that you don't really end up living. Everybody has bodyguards. They all eat very well, but very little, they don't drink or smoke; it's mundane. Sylvia just isn't made for this kind of life. She gets her wish for a different life when Will takes her away."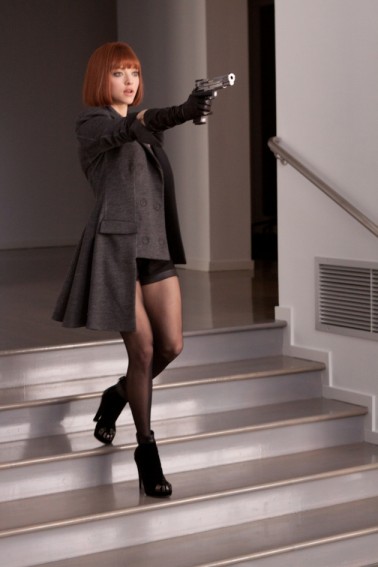 Executive producer Andrew Z. Davis was eager to work on a film that was both a great ride and a social commentary: "IN TIME has resonance. Everyone can relate to a story about haves and have-nots, which is essentially what the story's about. But, at the same time, it has action, romance, and a political message. And as everyone knows, a good thriller has to have a ticking clock, whether you're waiting for a bomb to go off or a hostage to get rescued. In this movie, it is actually a clock; time is the great discriminator."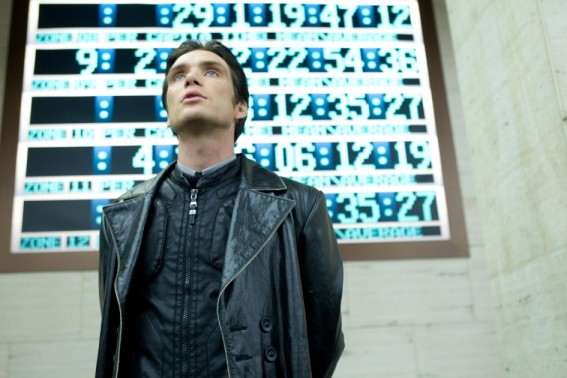 Justin Timberlake is really convincing and good in his role, the first role of protagonist-hero. He is absolutely not bad as actor. Yes, personally i like him quite much as actor. Another plus point of this movie is that you feel the same atmosphere of Gattaca. If the filmwriting would have inserted even more action and even more intricated details in the story, this movie could have been absolutely brilliant, but anyway still this is a good film worth to be seen in theaters and on DVD then. It makes you think (like Highlander did):...would you really live forever? Maybe yes, as long money is the money ;)