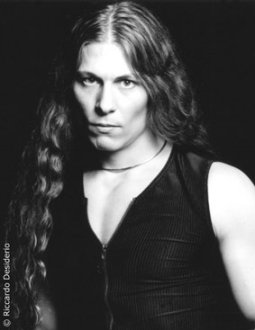 ABOUT 100 m HIGHER THAN THE CHEOP'S PYRAMID
dalia -
Hi Hubi! Your bright new great work "EmOcean" has been recently released. Can you tell us a bit its story: how did you come to prepare a concept album about this voyager in the Atlantic Ocean facing the myth of the lost continent Atlantis? Was there a tight cooperation between the musical composition and the text-writing? Which artists were involved and how long did the whole preparation last?
Hubi -
The ideas for the concept story were the result of some very captivating and vivid dreams that I had at night, and the morning after I simply knew that my next disc must be entitled "EmOcean" and that the album would deal with ocean-related mysteries, the underwater life and also ancient Greek mythology.
I had some FANTASTIC musicians "on board" of EmOcean and the final result of has also a lot to do with them and esp. the cooperation with Vivien Lalu. He's from Paris and he e-mailed me 2 ½ years ago because he had visited my site and knew me from a CD with a former group. His abilities really impressed me and since he liked the "EmOcean" concept very much, I asked him if he would like to play the keys on the album. I soon realized that he understood very well what kind of vision I had in mind for this album, and so we soon agreed that he would also compose the instrumental music according to my directions. We discussed each song in detail via MP3 and arranged the material together; then I started writing my lyrics & vocal melodies. That cooperation worked very well! The "EmOcean-crew" was finally completed by my Swedish friend Daniel Flores (Mind's Eye - drums), Dutch guitarist Marcel Coenen (Sun Caged, Ex-Lemur Voice), who had already played the guitars on my first solo album "CUT", and French bass player Jean B. Affonço a.k.a. "Bamby". Bamby lives in Paris, too, and actually plays in a hardcore band called Absolute. On the two bonus tracks "Crystal Moon" and "Tears of an Enchanted Sea" you can hear Joop Wolters from the Netherlands on guitars & bass. The other musicians of course had the freedom to interpret their parts in their own style and to include their own ideas and creativity. All of them did a real great job on EmOcean!
The preparations for "EmOcean" only took about 2 months, but from beginning to end the realization of the album took about 15 months.

Atlantis has a never-ending fascinating appeal: many artists have created albums around the lost continent. Your Atlantis is very emotional and seen through the waves of the seas. Why so much emotion for this topic?
"EmOcean" is not mainly an album about Atlantis… it actually deals with the sea and the underwater world in general. But it's true: Atlantis is still one of the most interesting mysteries ever. The tragedy of its highly developed culture touched me very much, and people on earth could avoid doing the same mistakes than our forefathers.


Allow me to say that your vocals sincerely enhance this feeling of deep emotionality....
Thanks! That's exactly what I wanted to express with my vocals J

EmOcean as Progressive/Rock delivers many influences converging from different sub-genres. Which influence has enriched more the album in your opinion? And which influences were the more suitable for your way of singing?
Well, I have been influenced by rather different kinds of music. At the age of 13-17, I was mainly into NWOBHM. When I listened to Dream Theater and Queensryche for the first time, I was totally thrilled and discovered my love for progressive music. Vivien is also very much into Prog music, as well as Daniel and Marcel, so I think you can clearly hear progressive influences. Nevertheless I don't consider "EmOcean" as a typical Prog CD… it contains many different styles that are hard to classify.

In EmOcean there are passages bound also to cosmic breath and cosmic attraction..."stargazing like a child"...; in the cover art there is a comet passing over the ocean (or falling in), and constellations too play a role in the concept.
Dolphins are related to Poseidon. From the moment that Poseidon appears in the Devil's triangle, is Poseidon a good divinity in EmOcean, or a Devil? Is Poseidon the Leviathan, after all, ruling the West?
In the "EmOcean", the sea god Poseidon is definitely a good and supportive character: His hint opens the door for the hero to find the key to the mystery… Ancient Greek mythology tells that Poseidon once sent a dolphin that should convince Amphitrite, the daughter of Nereus, to marry him. She hid in the ocean, but the dolphin found her and could manage to convince her. As a reward, Poseidon immortalizes the Dolphin by transforming him into the star constellation of "Delphinus" :-) So you see that there's indeed a special connection between Poseidon and the star constellation that appears in the "EmOcean" story.

Strange thing: Sapientia Vitae - this track delivers a message: our society will die under its own mistakes. Only Love can save us. A Love coming from an ancient wisdom (from the Atlanteans maybe?) whose decline is only due to the divine blood having been corrupted by humans. But couldn't be the contrary? That the divine blood corrupted the "primitive" humans? EmOcean tends to give to Atlantis a paradisiac contour thanks to the dreaming and varied atmospheric music. But Asimov affirms that the more a civilization gets evolved and the more it knows what wisdom is, but also what vengeance and conquer and power mean. Is EmOcean too "nice" towards a real Atlantis?
Not at all! The concept story points out that Zeus was forced to damn the Atlanteans into the deepest abyss because they had abused their knowledge. That represents a parallel to our world and society… The world is subject to polarities: good and evil, love and hate, wisdom and ignorance. I do think that it's very important for mankind to evolve, but since humans are too much dominated by their urges and desires, it's clear that growing knowledge can lead to the misuse of power and finally result in a tragedy. But I do believe that such mistakes sooner or later help mankind to act wiser in the course of time, even if the consequences of these mistakes can be very disastrous sometimes. It's a rather long-winded process, as humans often have to make the same mistake over and over again until they finally see that they were wrong. In "EmOcean", the Souls of the former Kings of Atlantis want to warn us and to awake our willingness to learn from our mistakes and the former mistakes of other cultures. "EmOcean" is an album about many topics… the sunken continent is just a wheel to transport this warning message to the listener.
Plato compiled the first written books about Atlantis and traveled a lot, to Egypt too. Is there a connection in your EmOcean between Egypt and Bimini Road?
There is no explicit connection in the concept story. But there's a passage about Edgar Cayce in it, and this man considered Bimini as one of the mountain tops of the ancient Atlantis. According to Cayce, a hall of records that contained the records of Atlantis had been constructed somewhere in the region of Bimini Road. He claimed that the hall of records was identical with the one in Egypt under the Sphinx.
In the song "Fantasea", the hero and the dolphin are passing big crystal pyramids. Some scientists call Egypt the "child of Atlantis" as they consider the pyramids of the ancient Atlanteans as archetypes of the Egyptian pyramids. The newspaper Newsweek once reported the discovery of a massive pyramid below the Bermuda Triangle with a height of about 260 m, which is about 100 m higher than the Cheop's Pyramid.
EmOcean is very different, concerning the conception from the previous CUT, that was a cover album. I have listened to the sample The Sun always always shines in TV and it's a miracle how you turned that moaning poppy song into an excellent Hard Rock track. But among those 7 pieces chosen in Cut only two gets my utter admiration in their genre: Broken Wings and Drive. And i see that "your" Drive presents many instrumental techniques that will be blooming then in EmOcean!!

In general, do you think that Prog is very "in" nowadays? And if yes why? Do people really take their time to understand this music?
I think that the progressive music scene is not very big, but I got the impression that those people who are open to different Metal/Rock style becomes more and more interested in progressive music, too! Many listeners are probably not really aware of the artistic efforts and all the thoughts that are put in such an album, but that's OK… the most important thing is that they like it.


Where is going Rock? Which can be its evolution?
I'm sure that the people that have been listening to Rock during the last 15 years ago will also like that music throughout the next 30 years… but teenagers of today won't be interested very much in this kind of music… I guess they just like commercial stuff like Nu Metal… but we'll see! Maybe there will be a revival of 80s/90s rock in some years… you can never know what happens!


Do you think to join, one day again, a Metal band, maybe a really Heavy' n Hard one, or do you definitely prefer a career with solo projects?
Producing solo CDs gives me a lot of artistic freedom and I've always dreamed of realzing CDs like "EmOcean", which would not be possible if I were still a steady member of a group… However, I will keep on participating in various projects and perhaps I will also join a group as singer again sometime in future… who knows?

Do you have a personal Atlantis to reach? A dream to fulfill?
Yes, I want to learn a lot in this life and I would like to release lots of interesting CDs…
Which is the kind of literature you prefer, which are your favorite books and authors?
My favourite authors are: Horváth, E.E. Kobi, Franz Kafka, Hermann Hesse, Sir Peter Ustinov, and many more…
My favourite books are: Great expectations (the modern version by Deborah Chiel), The Ultimate Prophecy (Moshé Zwang).

Do you think that the word "mystery" always walks hand in hand with the word "tragedy"?
No, I don't think so! To me, mysteries are phenomenons that we cannot (yet) explain and understand, but that does not mean that all mysteries are inevitably connected with a tragedy…

Hubi, which are your projects for the future?
My main focus is definitely on my next solo-CD, which will become a concept album again. In some weeks I will enter the studio and start with the recordings. Apart from that I will be part of some other projects: Last year I recorded vocals for the song "Eternity" of Mistheria's upcoming album "Messenger of the Gods", which will be released by LION MUSIC (this CD features lots of great guests, e.g. Rob Rock.). Recently I also recorded vocals for 3 songs of a cool Melodic Power Metal project called "Book of Reflections", featuring Vitalji Kupriji, Lars Eric Mattson, Andy Engberg and other international musicians. This album will be released through LION MUSIC as well, as far as I know in June 2004.

And now it's time for our typical GryphonMetal -last- question : the Game!! To the artists we interview for the very first time we propose the Game of the Tower: there is a very high tower, and, on the top of this tower, 3 bands are waiting for you. You must kick down 2 of them, saving only one. The 3 bands for you, Hubi, are: Pink Floyd, Led Zeppelin, Dream Theater...
I would kick out Pink Floyd and Led Zeppelin and save Dream Theater…
Thank you so much Hubi!!
You're welcome! Thanks a lot for your kind interest in "EmOcean"!