Dalia: What are the impressions about this tour?

Flux: This tour is the biggest and best tour we've ever played, maybe because of the success of Augen Auf in Germany and the new record "Wahrheit oder Pflicht". Everything is bigger and better. It is the first time we have the whole production with us and most of the shows are sold out or got moved to a bigger location as this one here as well, and we are very satisfied about everything.

The bright new release Brennende Liebe is featuring L'Ame Immortelle, is there a good cooperation among the artists of Gun? Exilia as well belong to the same label.

It's always like this, if you go on tour, the record company ask you if you mind to take a band of thiers with you, and we have asked them a record, because we didn't know Exilia before, but if we dont like Bands, we don't take them with us. It's not that you are getting forced by the Record Company to work with someone. Exilia is a good rocking Band and they are a very good live Band, they kick ass. Also it was interesting to have a Band with a female singer, to have a contrast to Dero. So it wasn't hard for us to take them with us.
The singel Brennende Liebe was in '99 when we was working with Nina Hagen. We have written this song after we finished the album, and it was clear that this song needs a female voice again and we where thinking about who could fit with it's voice to the song, and we know L'Ame Immortelle for a long time, from some festivals we played together. Now as they signed to Gun Records it was easy to communicate and we invited Sonja Kraushofer, the singer, for one day and when we heard her voice in the chorus it was clear for us that we don't have to look for another singer. The song brightens up and was shining like never before when she was singing.


Concerning Wahrheit oder Pflicht, the opener Augen Auf is very successful and sounds a bit different of the rest of the album. Lot's of people say that it sounds a bit like Rammstein. Do you agree?

I think you can never say that an Oomph! song sounds like Rammstein, because we influenced them, so it's the other way round. We started with this kind of music in 1991 and Rammstein where fans of our music, they come to our concerts when we played in Berlin and they gave us their first Demo Tape and they asked us if they could play as support Band with us. We've influenced them in their first records and they was telling that in the interviews. So, Augen Auf sounds not really different, but more like songs we've done in the past. It's not an unusual Oomph! song. We have worked on it like we did with the other Tracks, but it is a single and so you concentrate more and you produce it in a bit different way , because there are things which are more important for a single Track than for an Album Track, but it wasn't our intension to copy anything, it's always that we try to create something new.


In my personal opinion, there are many other songs on the album that show a bit of the technique of Paradise Lost of the Believe in Nothing era. For example "Diesmal Wirst Du Sehen"

I think bands like Paradise Lost or whoever you like to mention, love the same Bands, has the same roots and are together that long. I know Paradise Lost such a long time, and i think they started in the same year we started and we have played a lot of shows together. I think if sometimes they sound like us or we like them, it's just because we have the same roots and love the same Bands. I know that Paradise Lost love Depeche Mode, and you can hear Depeche Mode influences also in our music. It is a certain scene and we listen all to the same music and influences each other. The aim when we formed Oomph! was to create new music, and not only play music. We always wanted to work as composers mainly.


A question about "Going Down", it is a beautiful song. Why is it a bonus track "only"?

The hidden Track? Just because we found it interesting to put a hidden track on the record. We've written 20 songs for this album and all of this songs should be released we decided. We put only unreleased track on every single. On the new single Brennende Liebe, there will be tracks on the limited edition and on the normal edition which are not on the album. It's important to release as many songs as possible, good songs, ..on bad songs we are not working .. (laughing)
Ideas we don't like we through away before we start working harder on them. We have never done this before and so it was a spontaneous idea to put a hidden track on the album.
After we decided which songs are going to be released with the cd we have seen that there are all German songs and we didn't like to put an English title on the track list, so we decided to finish this album with this song as an hidden track.


A question about the bass tones in this album... because it doesn't seem.... but the bass tones of this album are great. I have noticed that when Wahrheit oder Pflicht sounds in the hi-fi , everything starts to vibrate...

... so you listen with high volume....

...yes, i like to listen on high volume, but, if kept at normal volume as well, glasses start to "walk" in the bar near my stereo.....

... do you like it...

.... yes,... for sure...

... thats good, because we try always to put a good sound on our record and in our music, and low end frequences are very important to make music impressive. It is like at the cinema, if you are watching a movie with dolby surround, the deep frequences create the emotions.


This question is about the lyrics: is there a conection between Gekreuzigt and Ego?

The connection is, that Dero is writing always about himself, about his life, about his mind, about he is acting and reacting... this is the connection. There are topics like religion , his views in his childhood, relationships, love, which are all come back in several records, because it's always in his mind, and he is always wondering about it, and this is the connection.


In your opinion, who (or what) is the actual new God in our society?

Maybe it's television, because people believe everything which is shown on tv, and they will do everything when they see a camera. It is ridiculous sometimes when you see what people do when they see a camera and what they are willing to do.


Which is in your opinion the biggest lie?

The biggest lie in my opinion,..... i don't know...tell me some lies.... i don't know.

You are talking in a song about lies...

There are some lies in our society and i think its always important to ask yourself questions about your life.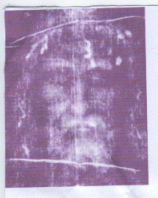 Indeed concerning religion, i have printed this one (shows a picture), .. any comment?


A comment?.. Do you know that we have this picture as a coverart?

..Nooooooooooooo ;))!..... that's why i ask...

...that's why you have printed it. So, what should i say, it is the cover picture of Gekreuzigt and we have been thinking about what cover art we could use, and this kind of picture has a kind of magic, because everybody is thinking about "is he the guy who called himself Jesus or is he not "? and its up-to-date, because with all our ability it is not proven if it is real or if it is a fake, so its kind of fascinating people.
.... and if you grew up with the catholic education, you will always find topics about God or Jesus interesting. If there is a movie about God or Jesus, i'm the first who goes to see the movie, because it always touches me.


This is a very particular question, a naughty one. Should i "read" this picture (shows the booklet to Flux) as Knife (nàif) or Naive (nai'f)?


(laughing)... You are really thinking more about this than we do. It is sometimes so interesting to hear you or other people what they interpretate about some designs or some lyrics, it's very interesting. I've never thought about that like this, it's just .... maybe it sounds boring to you, but it's just the knife that the girl is carrying here. The guy who did the graphics thought it would be interesting to let it appear again and he put it here like a symbol, because it is always good to have symbols in the graphics. The thing is, that we like Horror movies with psycho effect, where the horror existing only in your head, like the movie "Shining". There is only one murder, but this murder hasn't been necessary at all, but this movie it totally scaring yourself. ....

By the way, the girl is left handed...

Yes she is, and you cant say if her mother asked her to bring the knife to cut some cake or if she wants to step her, and that is what we find interesting, because it only happens in your head.


Last question. It is our typical last question we do to every Band we are interviewing for the first time, it is called the game of the tower. There is a very high tower and on top of this tower normally there are waiting three Bands, but for you there are waiting three artists, so you have to kick down two of them saving only one. For you are waiting Ozzy Osbourne , Marilyn Manson , Alice Cooper.

I would save Ozzy.

D: ...quite fast decision..

F: Yes, because i know that Marilyn Manson is a wimp, and Alice Cooper... i don't like his music, and Ozzy is so cute (laughing)

D: Thank you very much Flux!!