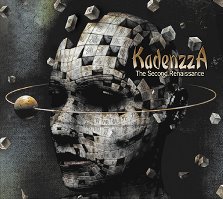 In my own Voice
Ghost in the Shell
The Embers of Reverie
The Abyss stares at you
Utakata
In the Woods
The Wolfoid
Mother's Flesh
Redemption


You Oshima - vocals, guitars, synthesizers, sampling , programming
G
uitar solos worthy of classic rock anthems and drums that would beat the flesh from mere mortals!
Kadenzzas' CD, the Second Renssaince is an grand achievement in the symphonic metal field. Sirenia has some competition. A Operetta that appears to be in two parts but yet with out all the lyrics I am not sure of the connection. Songs 1 – 5 make up Act I, then 6 – 9 complete the second Act in a truly frightening Technorganic rendention of Little Red Riding Hood. Reminance of the original Grimm Fairy Tales not the Disney version.
As I listened to this the first time, I was amazed at the quality and technicality of each song. There were guitar solos worthy of classic rock anthems and drums that would beat the flesh from mere mortals! But this was not average CD, as each song progressed and keenly worked itself into another I was aware of the immense project that was unfolding before me. As I mentioned there are guitar, drums, piano, organ, violin and clean and operetic vocals as well as the full orchestra. This is all done by Kadenzza's sole musician, You Oshima the genius with the synthesizer.
Song number 8, Utakata is just under 9 minutes and opens with a organ piece which moves into a short drum and guitar intro and then a womans voice, mystical and enchanting, Japanese. No one else is mentioned anywhere so this also could be his doing through the magic of electronics. It finishes with an instrumental finale that is worthy of Kings. But, it does not end there it is only the end of Act I. After a brief pause, it then begins Act II with number 6, In the Woods. A slow piano accompaniment to your mind as it apprehensively continues into the Dark Woods. A womans voice now narrates the new story. Enter the wolf on number 7 and continuing through 8, a frantic and disturbing foray of mechanised shreaking and growling as if you are being chased through the woods. The last song, Redemption, has Red being led away to the unknown presumably by the wolf.

As mentioned in an interview of the previous album, You describes his take on symphonic metal, "Musically this song is mixed extreme metal with symphonic orchestra, but not like Norwegian symphonic black metal, this song strongly contains the kaleidoscopic structure and progressive rhythm pattern. You may notice that it comes from 70's progressive rock, King Crimson or ELP... "
Kadenzza is from Japan signed to Holy Records. Kadenzza is a variation of the word, Cadenza - unaccompanied and skillful solo part inserted into the last chapter of concerto for violin.
If you truly enjoy music this CD is a great addition to any collection!
rating: 9.8/10