SUMMER DEVASTATION TOUR 2005
KATAKLYSM
GRAVEWORM - EMINENCE
27 June 2005 - at Endstation - WINTERTHUR - Switzerland
This was the last concert for Endstation.
GryphonMetal thanks the Endstation Team for having creating such a great venue, that was protagonist in Switzerland for almost 3 years.
We have cool memories of this place. It was unique.
We will miss it more than words can say.
GryphonMetal salutes you , Endstation, hoping that this is just a new begin!
Horns up now and ever!
" Wo ein Ende ist, ist auch ein Neubeginn!! " (Tenz)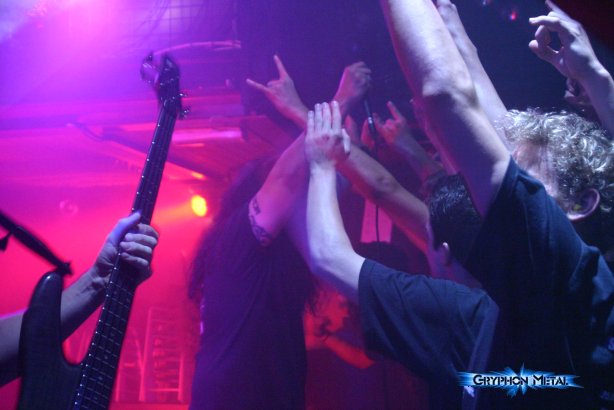 intro - 27th June: A hot summer day in Switzerland . And this bright summer day is herald of a summer night of true uncompromising, roaring and mighty music under the sign of the Canadian hyperblasters "par excellence": Kataklysm. Perfectly supported by the Brazilian Eminence and the Italian Graveworm, Kataklysm make the dead resurrect here in Winterthur at the atmospheric and unforgettable Endstation! Winterthur is one of the town reached by The Summer Devastation Tour which ends in Scotland- Glasgow, passing through the With Full Force Open Air. This tour marks the only European appearance for Kataklysm during this year. On 10th July they should enter the studio Victor and short later on the JFD Studios, in order to record the forthcoming album "In the Arms of Devastation" . This evening we can listen to an exclusive preview from it: the new song " Crippled & Broken" will be presented. In few words this concert is a true gift. And it will be a great success indeed , combining that enthusiasm and that force typical of the underground together with the devotion and respect that Kataklysm deserve and are able to arouse. Unfortunately this is also the last concert for the venue Endstation, which will close on 9th July. But i honestly couldn't think of a better way to say goodbye. To see Kataklysm here, so close to the fans, so interactive, so fit and enthusiast, so real, it's a thing that makes honor to Kataklysm themselves and makes their fans going crazy! Thank you for this!
At 20:00 the band Eminence, from Brazil (Belo Horizonte), who has released the album "Humanology", opens the concert with a lot of determination and angriness. Determination is the key word though, cause Eminence will be rewarded by much appreciation around the end of the show where the venue will get more and more crowded and when the audience begins to become lively and involved in the energetic rhythms à la Sepultura. In fact, there is really much from Sepultura in Eminence's music and temperament. Bassist Jairo Guetz (ex guitar and founder of Sepultura), who is without doubt a charismatic person, has written moreover many bass lines for Sepultura. Consequently those "Sepultura roots" are evident, but actually it is well worth cause Eminence know how to propose the thrashy-tribal Sepultura thematic in a fresh way enriched through a mix of Death/Modern metal with a drop of metalcore. The rhythmic is intense and magnified, supported by proper hammer-strokes of double bass drumming; Wallace Parreira's vocals are dynamic and angry. His vocal range is wide enough, starting from growling tones, reaching then comfortably thresholds of screaming. The result is quite relentless and inviting. Consequently the push on the audience's mood is unavoidable. "Ehi what's up? we are Eminence from Brazil !" This four piece combo is absolutely solid yet elastic, self confident, the classic bands that never gives up. Among the first songs proposed Overload and Citizen Zero unleash their unstoppable riffs and vibes. Onefortyfive triggers action in the people with a rhythmic percussive brutality. Hawking Radiation is a another track that meets the ears. But Eminence doesn't mean brutal rhythms'n riffs only. Indeed you can easily understand how deep is the search for technicality and originality. Guitar solos can be appreciated too. In some songs Eminence can become even pleasantly slower. But the consequence of that type of technicality must be paid: though the main tempo changes are not so numerous and never dramatic and always well proposed, there are often little changes in gear, many changes of spin we could say, that lead consequently to small changes in your headbanging too, once you catch a riff, this is already on the way of changing. This makes a song interesting, not predictable but anyway not always that comfortable. In few words you should know Eminence's repertoire well before getting confidence during a live performance. In that way these "nuances" become a pleasure and not an ambush. Anyway Eminence impact well , they are a strong yet nice band worth to be attended. The great mobility and general charge must be remarked. At the end of the concert Wallace can truly say "thank you fucking much" cause the audience has enjoyed the gig. A Brazilian flag is unfolded and shown by Wallace as final greeting . I don't know why this makes me remind immediately to Rubens Barrichello and Pelé. Where the hell is now Francisco Marinho? . Just a curiosity... a question for Jairo....who the hell is Satan?
Around 21:00, before Graveworm begin their concert, the announcement is given: the official announcement that Endstation will close. Therefore it's the right moment for obscure music a bit angry, a bit aggressive, a bit melancholic. Evil atmospheric intro , smoke and the band waiting through a darkness just painted by some blue ray. What is beginning is a true Dark metal concert, hold by the band from Brunico equipped with both Italian warmth and Germanic solidity. The best symbol of this fusion is front-man Stefan Fiori, whose vocals can range from Black Metal screaming to deep impressive growls. He combines a consistent and compact stage acting together with temperament and much interactivity with the audience. Graveworm are on tour with Atrocity und Leaves' Eyes-Drummer Moritz Neuner, who can celebrate his birthday just after midnight. I couldn't say Graveworm is a Black metal band, though many elements of Black are present. Melodic Black yes, there is, but not only: live too they are able to create an atmosphere with force and tons of heaviness and this atmosphere goes from Gothic to Melodic Death passing through those elements of Black in fact. This combo is around since 1990 (period of the cover songs) /'92 when happened the first development into Graveworm and have created many interesting songs, but I am totally fan of a pearl from them: their song Abhorrence (from the "Engraved in Black" album) a superb track. It is the track they play at the end of the concert this evening, therefore i cannot help but shout out a surprised "hoooo" of approval. And i was not the only one. Well done, cause Abhorrence live sounds great . From the concert of this evening i can relise that Graveworm passed through a long evolution path, remaining anyway faithful to their pictures of sinister darkness. Certain songs have an almost spherical appeal , and are suitable for the entrance of a carpet of keys. Other songs on the contrary seem more straight -in -your -face and guitar oriented. The musical content is nothing revolutionary or transcendental but , again, it works well and is interesting. Catchy but not commercial, Graveworm can surely trust their solid energetic aggressive though "polite" stage acting. In this way they appeal a wide target of dark listeners and can indeed take part of the bill of many events. Optically, their synchronous headbanging is cool and impressive. Songs as Fear of the Dark , (N)Utopia and Dreaming into Reality are making the concert powerful. Stefan with his incisive behaviour wins the audience that, in the meanwhile, is numerously gathered both in the pit room and around the balcony area. Practically almost full , the house is waiting for The Gods of Hyperblast, but is also giving support and attention to these Graveworm fronted by a man who can speak well German and wearing an Italian football team t-shirt at the same time. Power of South Tirol which binds two lands. "Hallo Winterthur!! wie geht's?!!" (how are you doing?). Winterthur is fine thanks and willing to sing along with Stefan. And Stefan invites on the "stage" two fans to sing and headbang together, adds personal words dedicated to the Endstation that will close and jokes a bit: "wollt ihr Pet Shop Boys?!!" No never, thousand times better Graveworm!. It is not easy to be welcomed with joy from the demanding Swiss audience. Therefore Graveworm have reasons for being really satisfied. "Letztes Stück ! Ihr habt noch Kataklysm! " (last track- you have still Kataklysm to attend). Abhorrence starts and ends wildly appreciated. Zugabe! Zugabe! (encore!) is the last request.
My personal emotion to attend Kataklysm is very big, (i usually shot Kataklysm's music into my ears like a projectile already at 7:00 every morning in good company of other songs from a restricted number of bands and good cups of coffee), as well as there are no enough words to describe the exquisite behavior of their Swiss fans. Great bangers, great connoisseurs of each note of their songs, never slipping into excesses of dangerous moshing. Each of us standing our own "tile" and only eager to listen to the mighty, excellent music and eager to see a memorable show unleashing various windmill. Said, done. The preparation of the stage with related last sound- check is scrupulous though not too long cause Kataklysm (as well as the other bands) have managed a very careful and precise soundchecking before the concert. And yes , Martin Maurais is no longer behind the skins , in January 2005 ex-Kataklysm drummer Max Duhamel took his place.
22:20. A big cloud of smoke is hissed out from the machine. Mr. J-F Dagenais is ready, Stéphane Barbe joins the group and front man Maurizio Iacono appears among shouts and applauses. Yes we have Kataklysm , the waiting is over! We deserve them! They deserve this audience, they deserve Switzerland! Winterthur let's go!! Lights are faded off, the intro is sinister and menacing. Not to believe! They don't launch any of the openers you could expect, they begin with Where the Enemy Sleeps, one of the best songs from the mythical album "Shadow & Dust" ,so we dive directly into one of the best pieces of Melodic Death ever written. Immediately is a plethora of headbanging's, the first rows are, as usual, the most passionate but no one steals the place to others, but, on the other hand no fan gives a single millimeter of conquered space away . Every single square inch is promised land and sacred for our windmills. As I slither (from the latest album "Serenity in Fire" and included in the soundtrack of the movie Alone in the Dark) follows with its cadenced killer mid tempo. Then Illuminati (Shadows & Dust) , which is becoming another classic with its subtle and merciless recurrent melody of the refrain. Astral Empire (from "The Prophecy - Stigmata of the Immaculate"), shot afterwards, is always soooo beautiful ehi damn with its breathtaking stop start passage ..."Third from the Sun".... and then it's Beyond Salvation , another killer from "Shadows & Dust", the song that opened up to me definitely the door - and pleasure - to the planet of Death Metal (ok now you know, hehehe) . The Ambassador of Pain ( the song i expected as opener) is shot now with terrible strength. The response of the crowd is formidable. Formidable is Maurizio Iacono's voice. Formidable is the bath of that sane underground enthusiasm which Kataklysm receive and that is the root, the blood, the life, the sweat, the heart, the begin of everything metal. Maurizio gladly brings the microphone to the fans while arms are raised high, hairs are shaken in relentless motion or swung side to side. Applauses and shouts sign every track. Maurizio tells the audience that Kataklysm likes to play these shows, so close to the fans. That harshness of underground nature keeps the music meaningful, brings in exaltation the Strong and doesn't forgive the Weak. And the great moment has come: preview. The song proposed during this tour as appetizer for the forthcoming "In the Arms of Devastation" : Crippled & Broken. What can i say. Still full Kataklysm style, deadly bulldozing yet accessible and quite mid tempo on its beginning, this song bursts out fast in order to slow down again to the mid tempo. It is always a difficult thing to make discern a brand new song when heard live for the very first time (just remembering now Paradise Lost at Wulfrun Hall in December 2004 or also Mnemic at Earthshaker 2004 - day 1), but if it's true that the good day starts off from a good dawn, this song is really fierce and so should be the whole album.
But Kataklysm can be very surprising again, after this preview, in particular when they present a song that was rarely if not even never played live before, as Bound in Chains (Shadows & Dust). It IS a gift! Serenity in Fire and In Shadows & Dust mark the triumph of the concert and is planned as the last songs of the set, but of course the encore is "oblige", no one even palely thinks to let Kataklysm go. The giant Manipulator of Souls and the evil melodic wonderful Face the Face of War (Shadows & Dust) don't quench our thirst but at least it is alleviated . Kataklysm has delivered a gorgeous gig, far better than the ones seen in Pratteln, that were already brilliant. In perfect shape Kataklysm's top-notch musicianship has given a very fit physical performance of resistance and relentless playing . All in all the sound was more than satisfactory for a club gig focused on such mighty relentless powerful brutal violent yet harmonic music with great walls of riffs and bursts of memorable melodic moments. The Endstation has provided the proper sinister and intimate frame. Maurizio too was touched by the destiny of the venue and has dedicated some words about this situation.
We too have a destiny: in whatever manner, we know that our fate is sealed "This is the life we chose, the life we lead, and there is only one guarantee: none of us will see heaven" (Paul Newman - The road to Perdition)... In whatever manner our fate will be sealed ...In the Arms of Devastation.
setlist Summer Devastation 2005 - Winterthur
Where the Enemy sleeps
As I slither
illuminati
Astral Empire
Beyond Salvation
The Ambassador of Pain
Crippled & Broken
Bound in Chains
Serenity in Fire
In Shadows & Dust
-----------
Manipulator of Souls
Face the Face of War